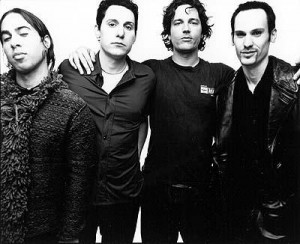 It is true. As much as we can revel in the fact that India gets the top-rated, current electronica superstars in the world to come here and play. India still will always be host to ageing/long-forgotten/on-a-hiatus rockstars. We are referring to Third Eye Blind, the Cali alt rockers who made it big in the early '90s with their hit track Semi Charmed Life and the rugged mush song, Deep Inside Of You. It surely has been a awhile since one heard from the rockers. The band took a six year hiatus at the turn of the century and only returned with a forgettable album three years ago called "Ursa Major." But that didn't stop them from performing a multi-city tour of India this month. The band is playing the Bacardi Go-Together Mix tour at all Hard Rock Cafe venues in the country. They have already played at Bengaluru and Hyderabad and will be playing Mumbai on November 30th and Pune on December 2nd.
Now according to some online reports, it seems the band is looking for inspiration in India, while working on their next album Third Eye Blind are planning on shooting the video of their as-yet unreleased song All The Soul in Mumbai. "We plan to shoot it atop a double-decker bus in the middle of Mumbai traffic,"  frotnman Stephan Jenkins told Rolling Stone India. 
Whatever their cause be, one thing is for sure. India sure does know how to bring out the retro when the sounds of yesterday take stage.
Comments
comments