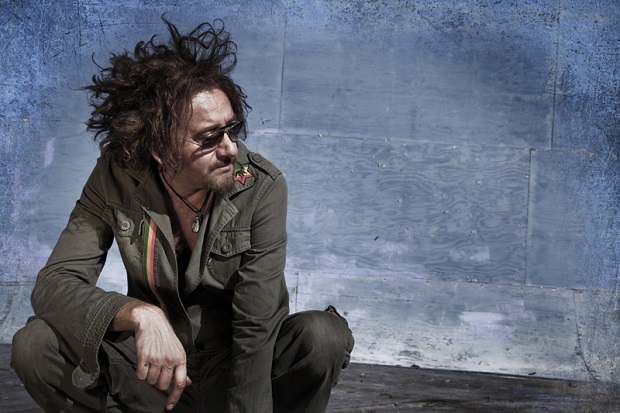 Worldbeat and reggae superstar Gaudi is "careless about music genres or music trends." He plays and produces with his instinct and more often than not that instinct is prodding him to go unhinged. What else can you expect from an artist who's best-known track "Dub Qawwali" is attributed to breaking down constricted genre barriers. The Italian producer is heavily influenced by reggae and Hindustani classical and folk music, resulting in contentious and rabid collaborations with artists like The Wailers, Yellowman, Nusrat Fateh Ali Khan, Trilok Gurtu amongst great music luminaries. His recent album "In Between Times," feature collaborations with Black Uhuru, Raja Ram, Michael Ross and author and philosopher Gregory Sams. While jostling for personal holidays between his hectic tour schedule (he took a quick two day breather in Goa while in India), Gaudi spoke to us after his booming set at SulaFest 2014 over the weekend about this upcoming set at The Blue Frog, Mumbai on February 7, 2022 about the changing direction of his sound. He is on India tour with beatbox and vocal artist Danny Ladwa, who accompanies Gaudi on most of his live sets. Gaudi will also be releasing a special 10-year anniversary dub version of his 2004 album, "Bass, Sweat & Tears" on vinyl. There are future collaborations with Freq Nasty and Beats Antique in the works.
Q-1. How was your second experience playing at SulaFest this year? Last year you woke up the entire audience with your theremin antics and bull horn.
Frankly, the energy this year was even more solid and grounded, still unpredictable but absolutely massive. There was a huge expectation this year for my performance, so when myself and Danny Ladwa (the amazing vocalist that works live with me) came on stage the crowd was 100% with us from the first note till the last. A fantastic experience.
Q-2. What can be look forward to your gig at The Blue Frog this week? "
For this special occasion I have prepared a unique "music journey" which consists of the three decades of my music productions, touching the deepest roots of reggae music, to the most soothing enchanted Indian melodies, exploring the tribal flavour of the black continent, all driven by a solid/sexy electronic beat. Ladies and gentlemen, put your seatbelts on. The journey is about to start.
Q-3. Two years in a row, you've played to an Indian audience. What keeps bringing you back to India? Can we expect more from you here in the coming year?
I always felt an incredible magnetism with this amazing country, so yes I am planning to visit you more and more often, it is my music that brings me here, this is the magic power of music.
Q-4. You have been consciously giving reggae a new contemporary definition through your collaborations with The Wailers, Yellowman and the likes. "In Between Times" is a clear way forward for the genre. Do you feel you need to keep changing the game and reinventing the genre with electronica?
The main formula for me is not to think what to do artistically in the future. I just follow my instinct, (I am) careless about music genres or music trends. I love reggae music, you can definitely tell from all my productions, this is the key that consolidated my credentials in the industry. I have been defined as "fearless music producer:" and I definitely can associate that description to my persona. If your profile is solid you don't need to re-invent yourself, I just expand my music knowledge, day after day. Music is an endless territory to explore, and I am ready to step into every corner of it.
Q-5. What can we expect from Gaudi in 2014? Any interesting collaborations, new sounds, new concepts you are exploring?
Yes there are some collaborations, productions and remixes ready to hit the market: tracks with Beats Antique, Sizzla, Banco De Gaia, Suns of Arqa, Dub FX, Captain Hook, Freq Nasty, David Starfire and Natacha Atlas. There is also a revisitation, in dub, of my bestselling album "Bass, Sweat & Tears" released 10 years ago by Interchill records. This time it will be released on vinyl by Six Degrees Records.
Q-6. For an artist who connects with such ease and pizzaz with his audience, how does Gaudi party? 
To the max, always. The party off-stage makes me understand exactly what the crowd wants when it is in the party mood. I treasure this precious information, and inject it into my music.
Q-7. Where all are you travelling in India post your Mumbai gig?
The Blue Frog gig in Mumbai is the last gig of my Indian tour, then we fly back to the UK, then Italy, then USA, Canada, Japan, Turkey, portugal, Hungary…
Danny Ladwa is a beatbox artist and vocalist who spoke to PopSplat about sharing stage with Gaudi.
Q-1.How is it collaborating with Gaudi?
Working with Gaudi, his music and his creative expression is a constant source of inspiration for me. On stage with G, I feel, is all about transporting the crowd and ourselves from one place to another and the other place always seems to be a better more ecstatic place. There is so much energy when we perform together, we bounce the energy between ourselves, triggering each other and then send this out to the crowd and of course it comes back. I find this communication through the medium of music has boundless potential and my collaboration with Gaudi is always an unpredictable experience. I absolutely love it.
Q-2. How do you relate to the Indian crowd's energy? Do you think they are responsive or need to be worked on?
Wow, the first time I experienced an Indian crowd was last year (2013) with Gaudi and as a performer you want to see people expressing their feeling about your performance. My experience in India last year and this year was amazing, the crowd really show their appreciation with a lot of energy. When you ask how they are feeling.. They let you know
Q-3. Have you heard any beatbox talent in India on your second visit to the country?
I'm still yet to hear a beatboxer from India.. I look forward to it though. I know they are out there.
Catch Gaudi and Danny Ladwa perform alongside Dub Pistols and BBC at The Blue Frog, Mumbai on Feburary 7, 2014, 10.30 PM onwards. Entry Rs 2,000. 
Comments
comments