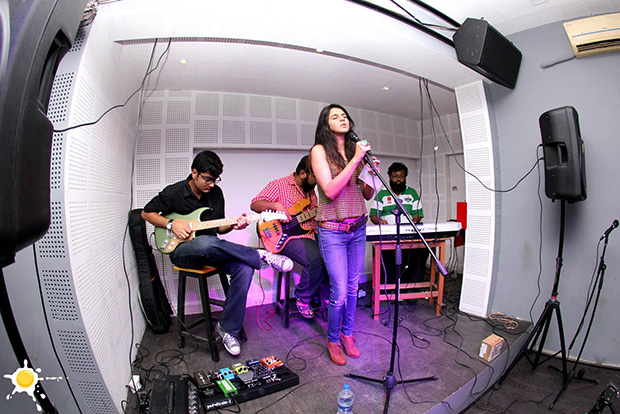 The erstwhile fortnightly gig-series may be a sporadic occurrence now, but there isn't an episode where we don't rock out. At this week's edition, Mumbai-based blues rock outfit Kanchan Daniel & the Beards will be releasing their debut single that they just finished recording in the studio a few days ago.  The song, titles The Road, is a "little off the genre and has a very classic rock vibe to it," says Daniel. Less for sonic reasons and more personal, Daniel has a deep and therapeutic connection with single.  "When I was 17 I was diagnosed with cancer and although I'm absolutely cured now, I realized how music had been such and important part of my life. Also this song is about doing a little soul searching and to keep on doing what you love. You know cancer was just a passing stage in my life, this song reminds me to keep kicking ass on the bigger stages of life," Daniel shares. 
We first heard The Kanchan Daniel & the Beards, then called The Kanchan Daniel Band at BOMB Thursdays last year in Andheri and since the band has gone through sonic, name and now lineup change. They performed under their new avatar at the weekly gig series Standing Room Only at The Hive recently. The band is now Mukesh Lobo on keys, Kush Upadhyay on guitars and ex-Blek Varoon Aiyer on drums, along with Daniel on vocals.
Completing the four-band lineup this week are singer/songrwiters Varun Athreya and Tejas Menon, and Kolkata-based indietronica band Oh Rocket. This would the band's first gig in Mumbai, who will also be releasing their debut album "The Clouds Woke No Clocks" in June.
Attend BOMB Thursdays on May 29 at Three Wise Monkeys, 9 pm onwards. Deets here. 
Comments
comments