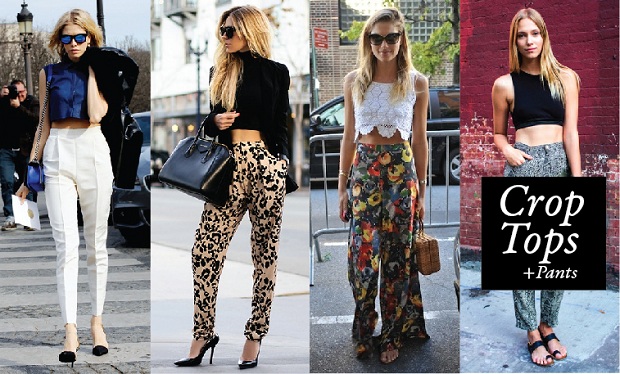 Summer brings with it a chance to bare skin and the urge to wear whites and fabrics that are light. You can feel the air getting warmer, the sun getting stronger, and the change in season is perceptible. There are several trendy ways to beat the heat. While some of them involve the beach and a popsicle, others involve a little peep show. This is all very cryptic, but the answer to beat this sweltering heat actually lies in two very simple words. Crop tops! Having seen them all over the ramp during the SS'13 shows, crop tops are very right now.
For all those with the questioning look, crop tops are basically tops that are cropped to strategically show just a sliver of your skin. An inch or two of your stomach without a side of belly button please. And, while not all of us have abs of steel, this trend is definitely going to make you strive to get there because who would want to miss a chance to bare some skin in this sultry weather?
The trick to getting this trend right, is to show just the right amount of skin. Crop tops come in various lengths ranging from really short ones that resemble bralets, to ones that are just long enough to graze the top of your skirt or your pant. Available in solid colors, stripes, sequins and various fun prints, crop tops are a versatile piece of clothing that can lend a bohemian look or an elegant look, depending on when and where you wear them.
There are several ways to style your crop top. You can pair them with anything from a pant to a skirt, but it is almost always guaranteed to look great with high waisted bottoms. Anything ranging from high waisted breezy palazzo pants to high waisted pleated maxi skirts are a good idea.
Brunch
For the day you can ideally color block your outfit by wearing a bright crop top with your white cotton high waisted palazzo pants or go for the now trending all white look. Wide leg trousers are a great relief in this heat and look good paired with crop tops. Either that, or maxi skirts are a good option as well. Loose and flowing silhouettes pair well with crop tops, so for days when you want to show that gleaming summer tan off, pick that A line skirt over your pants.
Sundown
For when the sun goes down, crop tops also double as a good party prop. Since matching pant-suits are now trending, wear yours with a crop top inside. This relaxed look is a winner and the blazer serves as a cover-up for the not-so flattering moments. You can also try pairing your crop top with a high waisted pencil skirt. This skirt if leather can look very biker chic and if floral printed can look very feminine. Mix the colors, match the prints and play with the textures to experiment with the different ways you can wear this trend.
If you are shy of baring skin, layer your crop top with a sheer white shirt or a denim shirt and leave the buttons popped open ever so casually. You can also tie your shirt up at your belly button to show just a hint of skin.
Not a trend to miss, a diet is an order!
Comments
comments