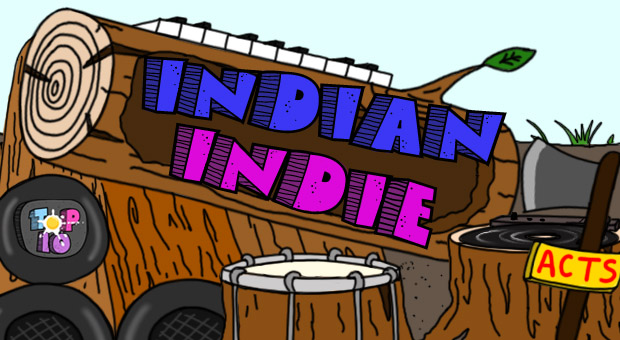 There were albums, international tours, festival sets, opening sets and some incredible gigs that made 2012 a contentious year for Indian indie acts. We opened our ears to the new indie awesomeness of alt folk rock (Peter Cat Recording Co), alt rock  (Blek), witnessed a metamorphosis of sound (Sky Rabbit), grooved to guitar-infused electronica (Dualist Inquiry), reggae (The Reggae Rajahs) and welcomed back long-lost sounds (The Supersonics) and even saw what it's like to perform for the Queen (Raghu Dixit Project).
Here's what we felt took the cake in 2012 by putting their best indie forward.
10. Peter Cat Recording Co
The Capital's indie folk rockers started 2012 with a bang, by releasing their album "Wall Of Want," a compilation of old songs and jams on January 1st, a follow-up to their 2011 release of "Sinema" also on January 1st. Even as we hope they will follow tradition and give us another record on New Year's Day, 2013 – we can't help but reminisce on the extremely mellow yet visual year they have had. The band also released a concert/travel/gig/rockumentary-style movie called "Love Demon," that they shot while on tour in 2011. After winning Toto Funds The Arts award in early 2012, the band spent the year playing gigs like the M.A.D. Festival in Ooty, Live From The Console in Mumbai, Bacardi NH7 Weekender in Delhi and Pune and numerous gigs from Delhi to Kolkata with their jazz-tinged, bluesy, indie folk rock.  You can next catch them at the Life From The Console fest to be held on December 29th and 30th in Goa.
Watch the movie:
9. BLEK
Mumbai found itself reclaiming the long-lost or ill-placed punk swagger that had gone missing in most band sets. In came, the superbly fresh-sounding alt rock trio BLEK that saved the day and the song. Chances were that if you went to a gig in Mumbai this past year, you'd wind up bang in the middle of a hyper-charged punk set courtesy this year-and-a-half year old band. Their debut EP, "Hexes + Drama and Other Reasons For Evacuation" found instant fans. The band has been nominated for the 2013 Toto Funds The Arts award and we will be rooting for them.
Watch this video of Blek performing at Blue Frog, Mumbai:
8. Demonic Resurrection
No other Indian band can boast of consistently packed shows, nearly sold-out merchandise and garner incredible support when a visa is denied. That was in 2011, when the death metal band's tour of UK got canceled where they were supposed to play the ill-fated Sonisphere fest. Following the announcement on social media, hundreds of fans of the band carried out what we can call in modern times, a Facebook revolt.  2012 was a step-up for the band when they did play their first UK tour accompanying a spot at metal fest, Bloodstock. The band is currently working on their fourth album, expected to be out in early 2013. Their Road to Bloodstock gig in Mumbai was one of the tightest sets and the most packed. It could not get any more louder than that.
Watch the band performing Where Dreams And Darkness Unite at The Unicorn in London earlier this year:
7. Thermal And A Quarter
With their jazz tinged, bluesy, thick beats and chugging guitar signature rock and roll, that the band proudly calls Bengaluru rock after their hometown, Thermal And A Quarter raised quite a storm in 2012. For starters, they were brave enough to release their 20-song, 2-CD fifth album titled "3 Wheels 9 Lives." Bruce Lee Mani and his motley crew of rock vets didn't stop at that. The band performed at the Mosaic Festival in Singapore and went on to play their first US tour as well in New York, Dallas and Seattle where they road-tested the material to put on their fifth album. Back in India, they played a multi-city tour taking their album across the country and we sangalong each time.
Watch this video of the band performing in Seattle:
6. Sky Rabbit
Years after the last band's gear and last fan's moshed-out remains exited the now-defunct Razzberry Rhinoceros in Juhu, Mumbai, the instinctual subconscious still conjures up residual memories from a gig while we hear a song, like it was yesterday. "Me for president/ And my anti-coke Ganpati/ Me for president/We'll fight this rank/A blasphemy/Asleep still?" entreats Sky Rabbit. The moment we hear the track on record, we recall an old, soul-bearing, drone-like performance at Razz where we heard the artists formerly known as Medusa for the first time. The song was their melodic "Anti-Coke Ganpati" and the year was 2008. Four years later the band are singing the same song, albeit toned-down and heavily sampled as Sky Rabbit, with a new electro-rock sound and mellow instrumentation in a new self-titled album. We spent the year following the band from gig-to-gig and festival-to-festival and we like the metamorphosis. .  You can next catch them at the Life From The Console fest to be held on December 29th and 30th in Goa.
Watch this Blue Frog special on the band:
5. The Supersonics
Existentially, over a period of time, few things manage to remain the same. But that is exactly how we felt when we found ourselves at one of the reunion gigs of Kolkata-based rock act The Supersonics in Mumbai. The band still created the same sated, hypnotic effect that greeted us when we last saw them perform in 2010. Shortly afterwards they disbanded. 2012 marked their return to the stage, with an EP and a nation-wide tour. Good to see some things never change.
The Supersonics appeared on the Tehelka Music Project earlier this year. Watch:
4. Dualist Inquiry
We discovered the young Chandigarh-bred live electronica act Dualist Inquiry in 2009, when the then LA-returned guitarist and DJ was looking to spread his music in India. Three years hence an EP-old Sehaj Bakshi, and perpetrator of the most infectious song of the year, Qualia, we have witnessed the incredibly good-looking boy collaborate with everyone from Swarathma, to Shaai'r + Func and even Sidd Coutto, and open for David Guetta and Fat Boy Slim. Bakshi is currently in the studio working on his debut album.
Watch the music video of Gravitat :
3. Indus Creed
Ever since their comeback from the cryogenic freeze of 16 years of no music, India's oldest rock band Indus Creed finally released their new album "Evolve." Right from their first gig at the Annual JD Rock Awards in February in Mumbai to Bacardi NH7 Weekender, GOD Festival and numerous gigs, we have been floored by the rock vets.
Watch this in-the-studio podcast:
2. The Reggae Rajahs
This combine of reggae and electronica artists have reclaimed Delhi's nightlife. DJ Mocity, Diggy Dang and Mr Hebalist started the year by holding a series of Regggae Royalty gigs in the Capital where they collaborated with and performed alongside artists like Ziggi Recado, Herb-A-Lize It Sound, BASSFoundation, Delhi Sultanate, The Ska Vengers and many more. If you haven't been for a Rajahs party yet, put that on your resolutions of 2013. It is life-changing .
Watch this introductory video of the band:
1. The Raghu Dixit Project
The Bengaluru folk rock act The Raghu Dixit Project are probably India's most viable alternative music exports. Their rooted Indian folk rock, spiced with Kannada and Hindi songwriting, lungis, ghungroos  and of course its affable frontman's booming, melodic voice have been making waves since their first album in 2009. Touring the UK consistently for the past three years and performing at the WOMAD and Glastonbury music festivals, this year Raghu Dixit went on to win Best Alternative Act award at the UK Asian Music Awards. This came after a year of filling theatres, pubs, festival arenas, auditoriums and even playing to a Royal audience in 2012. Raghu Dixit performed at Queen Elizabeth's Diamond Jubilee celebrations in London, collaborated with UK's Basement Jazz, performed at the Southbank Alchemy and the Bushstock festivals and appeared on BBC One presenter Andrew Marr's show. Later the band performed at their first US tour. Raghu Dixit was also invited to perform and collaborate with local musicians for The Dewarists Seassion in Scotland. The band returned in time for India's hectic gig season and performed at the Kingfisher Great Indian Octoberfest and Bacardi NH 7 Weekender in Bengaluru. The band may release their in-the-works sophomore album in 2013 and we can hardly wait for what they do next.
Watch the band performing Mysore Se Aayi, alongside dance group Nritarutya at All The Queen's Horses as part of the Queen's Diamond Jubilee celebrations in UK:
Comments
comments