"India's answer to funk alternative rock"- that's how Gingerfeet like to introduce themselves, and for the Kolkata band that is precisely what they aim to do. The five member act are Abhishek Gurung on vocals, Dibya Raj Mukhia on guitars and backing vocals, Vedant Razz on lead guitars, Abhinandan Mukherjee on drums and Lokes Mangar on bass and backing vocals, and the band has been on a roll since their explosion onto the indie scene since their debut abum "High and Above: The First Wave" released in September 2013.
We'll get to their sound in just a bit, but first their quirky sounding, almost edible moniker, Gingerfeet. Drummer Mukherjee, we suspect, feigns amnesia when he can't recall the story behind the name. "There's no rocket science story behind the name as such. In all probability, it might have been decided under the feel good effect of some good malt and woman's bare feet in our vicinity maybe. All in all, we named the band when we all met for the first time in Sikkim during fall 2012." And that's where the band's interesting story begins.
A common love for rock got the band together when they all met through common friends, even while they were all playing individually with other bands. A few jams later, "Gingerfeet was ready to rock and roll", Mukherjee says.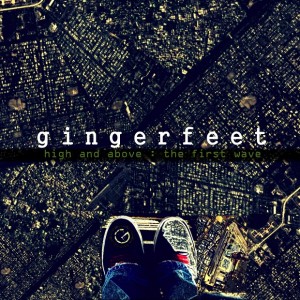 The band though wasted no time to win over fans wowing everyone right from their debut at the Hornbill International Rock Competition the same year. A very big feat in fact was being declared the winners of this first debut gig that they played. The road from there on saw them receiving more accolades, with them being labelled the winners of Hard Rock Rising 2013 for India. With that the band became one of the 25 bands shortlisted to perform at the global finale of Hard Rock Rising 2013, which took place in Hyde Park, UK. Such credentials for a band that had played only one two gigs in the country before speaks volumes of their talent that they possess.
By September 2013, although relatively young, the band had already managed to pull off their first full-length album, complete with nine tracks, and a whole lot of good things to speak about the band.  "High and Above: The First Wave" is an inaugural attempt at an album that defines young talent being of extremely high standards in this country. When the band says they are "India's answer to funk alternative rock," they somewhere describe both, what funk alternative is supposed to be, and a direction in which Indian artists need to be heading in terms of energy levels, professionalism and studio recording quality. Each of the tracks on the album is testimony to intense guitar play, backed with scintillating bass lines, intricately engineered drums and vocals that deliver a whole new world of feel and oomph.
While positivism seems to be a rampant theme in the music as well as lyrical structures of the songs, what really shines through is how they manage to do so while sounding punk-ass as fuck. It's amazing how the music delivers a punch, like a rebel in the streets looking to break shit down, yet the thematic setting would provoke much more rather constructive thoughts and ideas. What makes their album a stand out is the range of emotion that is encapsulated throughout; each song has a distinct sound, a feel within itself, making the flow of the album non-repetitive and one that can be heard for hours on end. The lyrics are written by Mukherjee and Gurung, and while he former concentrates on the more serious aspects of the theme, the latter spices it up with his animated take on things.

Give a listen to the album, and you know that the way these guys sound is pretty organic, and something that gives out little to external influence; their sound is their own. Finding the band sound and being comfortable while playing it separates the good from the not-so-good bands, and speaking about it, Mukherjee explains "Well, it's nothing but five musicians in a jam room doing what they love – making music. We have varied influences starting from rock n roll, funk jazz, hard rock to even heavy metal. The sound which you hear in the album is the culmination of ideas from the band together as a unit. We have never really slogged to find a particular sound which we want Gingerfeet to sound like, it's something that came to us naturally, we just gave our best inputs respectively and we are pretty happy how things have shaped up so far. In fact, we're stoked."
Gingerfeet are looking at a prospective tour in UK in June 2014, with the album receiving much critical applause from the nation. The reviews received by the band in fact led to a number of promoters from there now working out the possibility of getting them to play festivals there. The members of Gingerfeet have not exactly been happy about how the music scene has worked out for them at their home turf of Kolkata.  While, they managed to have only three gigs there, namely their debut gig, Harley Rock Riders Season IV, and the album launch, what has not worked in their favour also is the fact that CD sales have been lowest in that state itself. Yet hope remains, and the band is looking for a gig-filled 2014. on a final note Mukherjee says " In February, we are playing our debut gig in Mumbai and hopefully Pune, as a part of - The Scene organized by NH7. So we are really looking forward to that and a Hard Rock Cafe gig is also scheduled for Gingerfeet in the month of April in Hyderabad.We are looking forward to opportunities to play live in renowned festivals happening in India and in different cities across the country so that we can share our music and make ourselves heard."
You can buy Gingerfeet's debut album  "High and Above: The First Wave" here.
Comments
comments