Song Writing
Theme
Lyrics
Production
Artwork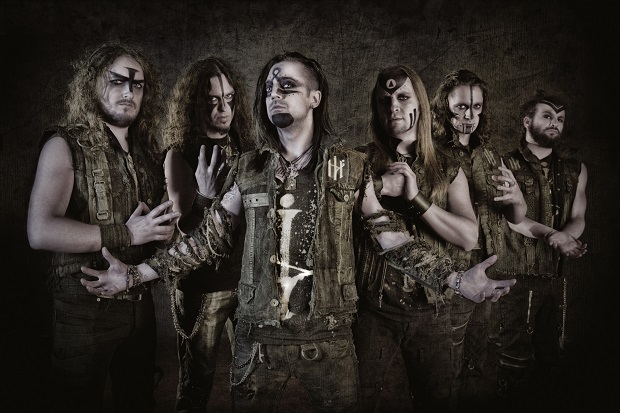 Italian power folk act Elvenking released their eighth full-length album recently titled "The Pagan Manifesto." Formed in 1997, the band is composed of Damna on vocals, Aydan on guitar, Rafahel on guitar, Jakob on bass, Lethien on violin and Symohn drums. Mystical tales of fantasy, and grandeur and the brilliance of hope are the lyrical themes that this album delves into. At the outset itself, this album is much more faster and heavier, more power metal than Elvenking has associated with, and if you are looking for those dreamscapes that the band has weaved earlier, you may be a tad disappointed.
The first track of the album, The Manifesto starts off as a calm, folk song, steadily progressing into the depths of old school power metal. For those familiar with Elvenking's style of music, this track definitively stands for the musical styling of the band. A minute and a half later, the second track King Of The Elves treads on for a good, long 13 minutes. Though this is the longest track in the roughly hour-long release, multiple listens of the tracks only lead to discovering more and more technicality, more beauty and a total breakdown of all musical structures, all while still sounding affirmatively awesome. Then at 09:16, the track gets into an entirely different sound and zone, with Avantasia's Amanda Somerville taking over as guest vocalist, and giving a rest to the aggressive vocals Damna employs, ultimately leading to a duet between the two. This track is a colossal in both, structure and feel, and is one that shows good promise of a long remembered favourite.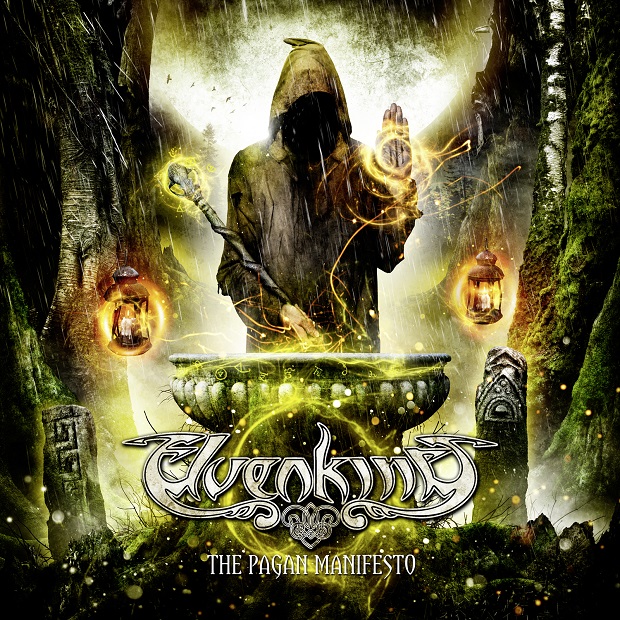 The whopper of an album continues on, with track numbers three and four, Elvenlegions and Druid Ritual Of Oak kicking in that old-school feel again with brilliant choral choruses and sweet guitar solos. The latter is among the most unique of songs on this albums, with Damna's vocals doing a whirlwind of sorts going weirdly off time every once in a while. What's even more beautiful is, as the album progresses right from the start is the thematic scheme that follows right through, even though the ever changing music. Moonbeam Stone Circle has some of the best guitar solos, though both guitarists Rafahel and Aydan have delivered stellar guitaring all through, riffs and solos inclusive.
While the bass guitar seems subdued through the earlier part of the album, bassist Jakob changes that in The Solitaire with an intense intro to the song along with drummer Symohn providing drum rolls. Violinist Lethien's beautiful violin play in the acoustic Towards The Shores brings a much needed breather to an extremely heavy set. Short-lived though is that breather, as the band knocks in another punch of adrenaline with Pagan Revolution. This track again is pleasantly guitar-solo laden, which is always a good thing.
The band's versatility comes shining through with the tracks Grandier's Funeral Pyre, Twilight Of Magic and Black Roses For The Wicked One. Each of the songs is not only a great example of good metal, but also that symphonic elements are very much an interesting part of metal when employed well. The album ends with Witches Gather, which is a brilliant showcase of those symphonies coming to a fitting end.
While the album is a fantastic listen start to finish, it is quite a task to really go through the album over and over, considering the majestic feel of the music. And while that feeling is brilliant in itself, what it leads to here is a sense of monotony in the music from time to time. Also, while the drums, violin, vocals and guitars seem perfect to a tee, a definitive bass line is absent, and most would agree to feeling that void throughout. All of that said and done, if you are into power metal, and are an Elvenking fan at that, there's little that can deter you from enjoying this work of art.
Comments
comments