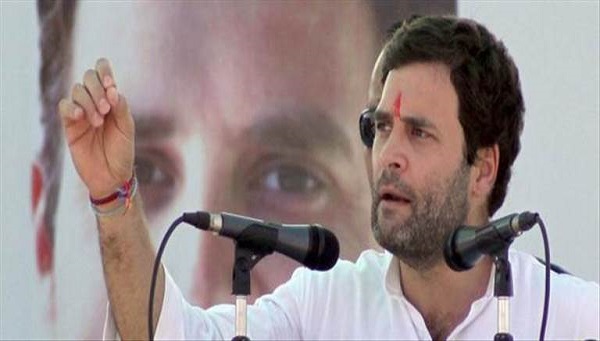 Recently in Parliament, Finance Minister Arun Jaitley remarked that people who have been criticising the Prime Minister's foreign visits need to realize that at least his whereabouts are public knowledge, and that he's performing a national duty when he is abroad. Mr Jaitley also pointed out the difference between national duty and a jaunt. And went on to mention that the BJP government was a soojh-boojh sarkar.
These well-crafted sentences were all directed at the Congress Party's Vice-President Rahul Gandhi. India's favourite object of ire, the prodigal son who did not deliver. The heir apparent who smiled while facing the party cadres after a shameful rout in the General Elections. The desi Han Solo who, despite the vest, could do little in the face of the right wing's (media marketing) blitzkrieg.
Rahul Gandhi's 56-day sabbatical, his timely return to make an appearance at Congress Party's Kisan Rally. His extempore speech, new and improved style of coherent delivery, his raising of the issue of #Net Neutrality in Parliament, his general finger pointing at the failings of the BJP's tenure in power, his well-publicized train journey to Punjab have all led to the ruffling of well groomed saffron feathers.
One is reminded of another crushing defeat that the Congress Party had faced. The one post the Emergency in 1977 and what happened after.
The world in general had declared that Indira Gandhi's political career was over, it is well documented that she felt so herself. But then, Rahul's grandmother, former Prime Minister of India, braved a rain soaked visit astride a temple elephant to the remote village of Belchi in Bihar to hear the problems of the dalits who had been wronged there. That visit turned the tide and was at the helm of the political juggernaut that led Mrs Gandhi back into Parliament and later to her third term as the Prime Minister of India.
Of course it was a different time, an exceptional woman and an astute politician who the Janata Party's loose coalition was up against. Any comparison here would be chalk and cheese.
Because, here there is absolute majority in Parliament. There are deep coffers. There are suits and boots. There are bloody-thirsty primetime TV anchors. There is Narendra Modi against Rahul Gandhi. And there is the venerable Amit Shah.
The only thing Rahul Gandhi has working for him, for now, is the distinction of having grown up in the same house as two Indian Prime Ministers. Basically his Gandhi gene, whose love affair with the people of India is what endeared him to the vote bank in the first place, but later, left a bad taste in their mouth (Read Uncle Sanjay).
What I'm simply trying to say is, that things look like they may be headed for an interesting turn of events. And that the Gandhi love affair with Indian politics cannot be written off like we thought it could. Of course everyone would have preferred Rahul's sister taking charge and channelling her grandmother's charisma like she did for a short while around this time last year. So for now it looks like we must make do with what we have.
Welcome Rahul Baba 2.0! #GiveThemHell
Comments
comments