Ambience
Window Display
Pricing
Staff
Collection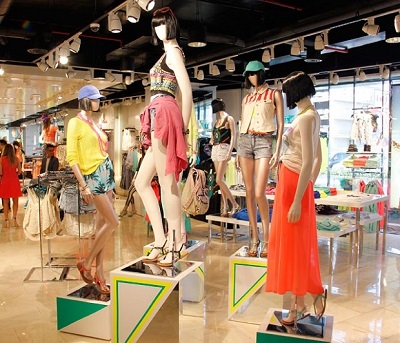 Amongst people's rising hope and curiosity, the much awaited Forever 21 store opened in Mumbai three years after its flagship store in Delhi. And while the buzz over the pending store opening was on for over a year, it finally happened earlier this month. A week after it opened, I was on tenterhooks and had to go do the store darshan. Having shopped at the store during my travels abroad, I love the clothes, the reasonable prices, and most of all the jewellery. Since my travels, I always managed to get my yearly fix of Forever 21 through cousins, family and friends with some light pestering. I was content, or so I thought.
Located at Infiniti Mall, Malad tucked in between stores like Zara and Mango, the store facade looks bright and promising. The two level store is huge and spacious.
CLOTHES
The stock is updated to the current collection on the online store. This is a promising start since Forever 21 has never shipped across to India. There is the usual pile of studded leather jackets, stripes and florals. What stand out are the bottoms. Aztec printed denims, floral palazzos and shorts, pop-coloured anti-fitted pj pants, and skinny jeans ranging from neons to pastels - all look striking. The tops are pretty much the same as you find in other stores with a surge of stripes, studs and lace.
The denims look attractive and make for a good deal. Jeans for a measly price of Rs 700 come in shades of blue and black. Since denim shirts are quite the trend currently, spotted, are racks of denim shirts and jackets all priced very reasonably between Rs 1000 and Rs 2000, with a lot of options in terms of stone-washed and studded shoulders. Denim cut-offs both ripped and otherwise are spotted across the store as well, the perfect solution to the city rain.
JEWELLERY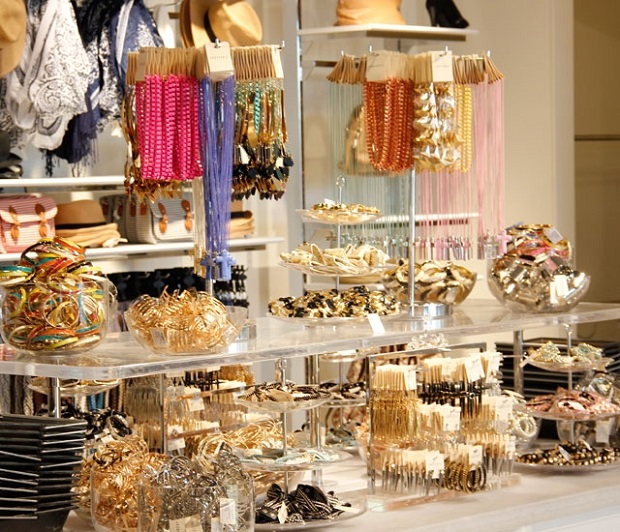 The jewellery here is the best bargain and the prices can put to shame stores like Accessorize. Priced sensibly, the options are endless. There is a sea of statement necklaces and other tit-bits ranging from rings to arm candy. Right from the scarf to the 1980s retro bow bands, there is a whole section dedicated to just headbands. There was also a tiny corner allocated to some funky eye-wear. From polka dotted sunglasses, to floral ones, the choices though less, were fun and retro!
SHOES
The footwear collection is comparatively smaller, but then again this is not a brand that's known for its shoes. Amongst suede pumps, ankle strapped heels and neon flats, I spotted a pair of tan brogues with a blue heel. The only pair that looked worth the black and blue toe, the result of an unruly crowd.
HANDBAGS
Scattered across two levels, there are very few handbags that is disappointing. There are the usual studded hobos and clutches along with some coloured satchels. Forever 21 internationally has a very good collection of handbags, so here is hoping for some to arrive soon!
BIKINIS
Only two on the racks, that seem very generic and boring. The absence of lingerie is also very disappointing since they usually have good and reasonably priced lingerie.
At the billing counter, you might be tempted to toss in striped nail-care set, make-up brushes, make-up pouches and some cute pairs of socks all priced between Rs 100 and Rs 200.
I am not quite sure the store lived up to the hype, I returned home with four items precisely, none of which was a clothing item. It's new and flashy for those who haven't shopping in this store before, but for all those who have been there and done that, the store will seem lacklustre. But the good news is that we all have a new store to shop at, that's here presumably to kick some Spanish ass!
PS: I write this while I await an order that my friend is getting from the US later this week.
Comments
comments