Menu
Pricing
F&B;
Ambience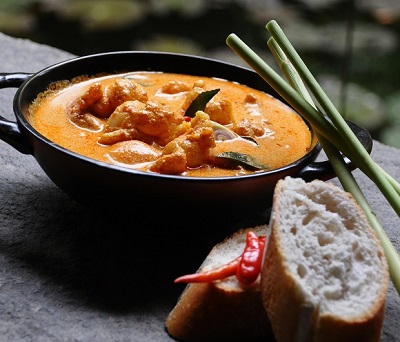 Soon to be visitors to Vietnam ourselves, we were excited upon receiving an invitation to dine at the Vietnamese Food Festival hosted by the Taj Mahal Palace & Towers in Mumbai. The 10-day event is on at their Shamiana restaurant till October 26, courtesy The Blue Ginger. The latter is an acclaimed restaurant at the Taj West End in Bengaluru, whose chefs have flown down especially for this event.
On our visit on an afternoon, the lunch buffet was underway, so the restaurant was more crowded than usual. We were offered the menu and given recommendations by a hostess who had flown down from Ho Chi Minh City. Our first pick was a Vietnamese staple, Pho, which we opted to have with tenderloin (Rs 950).
The noodle soup came to our table looking and smelling delicious, with an array of condiments and flavour enhancers on the side. We first had at as it was served, the delicate but lovely flavours hitting all the right notes. Adding basil leaves, bean sprouts, chilli sauce and a little more than a dash of lime made the dish even better – the sprouts adding a nice crunch, basil adding earthiness, lime lending it a tinge of tartness and the chilli sauce giving it a kick that elevated the dish in spades. This was easily our favourite dish of the day, and the quantity being so generous, we were tempted to finish it. Unfortunately, that would leave us with no room for the dishes to follow, so we put it aside reluctantly.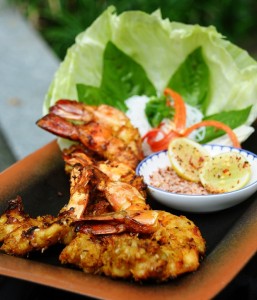 Appetisers included Crispy Fried Calamari with Plum Sauce (Rs 950) and Grilled Prawn Lemon Grass Chilly (Rs 975). The latter arrived first, and had juicy, well marinated prawns that we enjoyed the mild flavours of. The calamari was thankfully not to oily or over/undercooked, had just enough crunch and went perfectly with the sweet plum sauce. We did wonder, however, what gave it the 'Vietnamese' tag. For us, it's a common feature on the bar food menus of several restaurants – Asian or otherwise.
Already decently full (we blame it on the Pho), we took a long break before contemplating mains. In the meantime, the bartender whipped up a couple of memorable Vietnamese cocktails that we can't wait to indulge in again. First up was the Ginger Kaffir Limeade (Rs 795) – a heady mix of kaffir lime vodka, Cointreau, ginger, suagr and lime, which we ordered a second round of because it was so good. The other cocktail was also very impressive, but we'd rate it just half a notch under the first one. Called the Invisible Fish (Rs 795), it rated high on the unusual factor, with fish sauce, egg white, lemongrass and grapefruit among the ingredients. The result was a slightly pungent, strongly flavoured drink that was balanced by a good amount of the fruit.
After a half-hour break, we were decidedly full, so mains were a meagre affair. We went for just a small helping of rice with Spicy Chicken Red Curry (Rs 1,150 a la carta) from the buffet. The curry, a slightly pungent version of other Asian counterparts, was hearty and filling.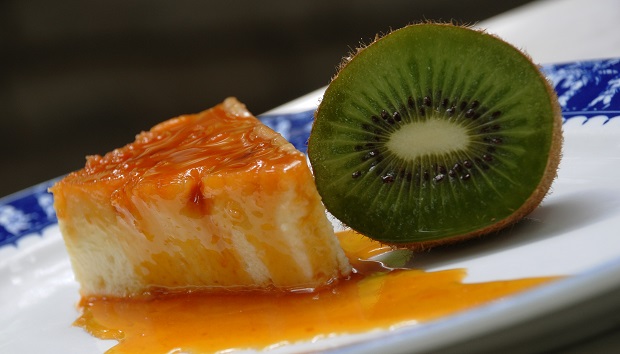 To round off the meal, we opted for the Coconut Caramel Custard (Rs 675). Unlike the rest of our fantastic meal, this one was a disappointment as it completely lacked in coconut flavour and tasted to different from caramel custard's that we've had at far more ordinary joints.
We enjoyed our meal at the Vietnamese festival, and going back shouldn't prove an expensive affair as is the case with several five-star hotels' restaurants. A bowl of Pho, some starters and a shared dessert won't burn as big a whole in your pocket as anticipated. While the festival is only on for a few more days in Mumbai, till October 26, Bengaluru residents would do well to make a trip to The Blue Ginger.
Comments
comments