After indulging in italo disco and synthpop in it's previous editions, "Electro III" will be gauging the influence film and game soundtracks have had in the development of electronic music. So much of what influences our tastes (and many artists) can be manifest in the nature and limitations of the technology of an era. In the case of low budget films (as with italo disco), composers produced synthesizer scores for its affordability and the breath of its experimental possibilities.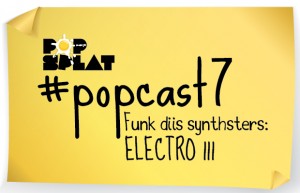 In the case of Iconic film scores like The Terminator Theme (by Brad Fiedel) or Axel F (by Giorgio Moroder's protégé Harold Faltermeyer), the mainstream appeal of their respective films cements the music into the pop culture pantheon as pioneering works. In the case of game soundtracks, early composers were limited by the amount of memory available on early computers and consoles which limited the music in both texture and harmony. But this gave the music a very distinct character (most famously in the theme for "Super Mario") which still lingers in much electronic music today.
In today's #PopCast we feature some influential synthesizer scores from films like "The Terminator," "Midnight Express" and "Suspiria," as well as an assortment of electro and synthpop tracks by the likes of Danger, Mrs Jynx, Jackson And His Computerband and Autechre, of which some espouse the soundtrack aesthetic that defined early commercial synthesizer music.
#PopCast 7 Funk Diis Synthsters: Electro III by Popsplat on Mixcloud
00:00 – 01:30 – Introduction
01:30 – 04:13 – The Burning Train- R.D. Bruman (1979)
04:13 – 06:35 – Suspiria (Main Theme from "Suspiria") - Goblin (1977)
06:35 – 10:41 – 4h30 – Danger (2010)
10:41 – 14:01 – Vox Populi - Jupiter (2010)
14:01 – 17:05 – Lucky Star (Moustache Machine Remix) - Madonna (2013)
17:05 – 20:45 – Fast Life – Jackson And His Computerband (2005)
20:45 – 22:55 – Empire Ants – Gorillaz (feat. Little Dragon) (2010)
22:55 – 26:15 – Property Of The Month – Mrs Jynx (2011)
26:15 – 28:54 – All You're Waiting For – Classixx (2013)
28:54 – 32:45 – Clipper – Autechre (1995)
32:45 – 36:40 – VHS Sex – Com Truise (2011)
36:40 – 39:00 – Intro music from "Heimdall II" – Martin Iveson (1992)
39:00 – 41:59 – Axel F (Theme from "Beverly Hills Cop") – Harold Faltermeyer (1976)
41:59 – 44:35 – Bambaataa's Theme (Assault On Precinct 13) – Afrika Bambaataa (1986)
44:35 – 47:39 – Chase (From "Midnight Express") – Giorgio Moroder (1978)
47:39 – 51:39 – Theme from "The Terminator" – Brad Fiedel (1984)
51:39 – 54:43 – Crystal Voice (Theme from "Firestarter") – Tangerine Dream (1984)
Comments
comments