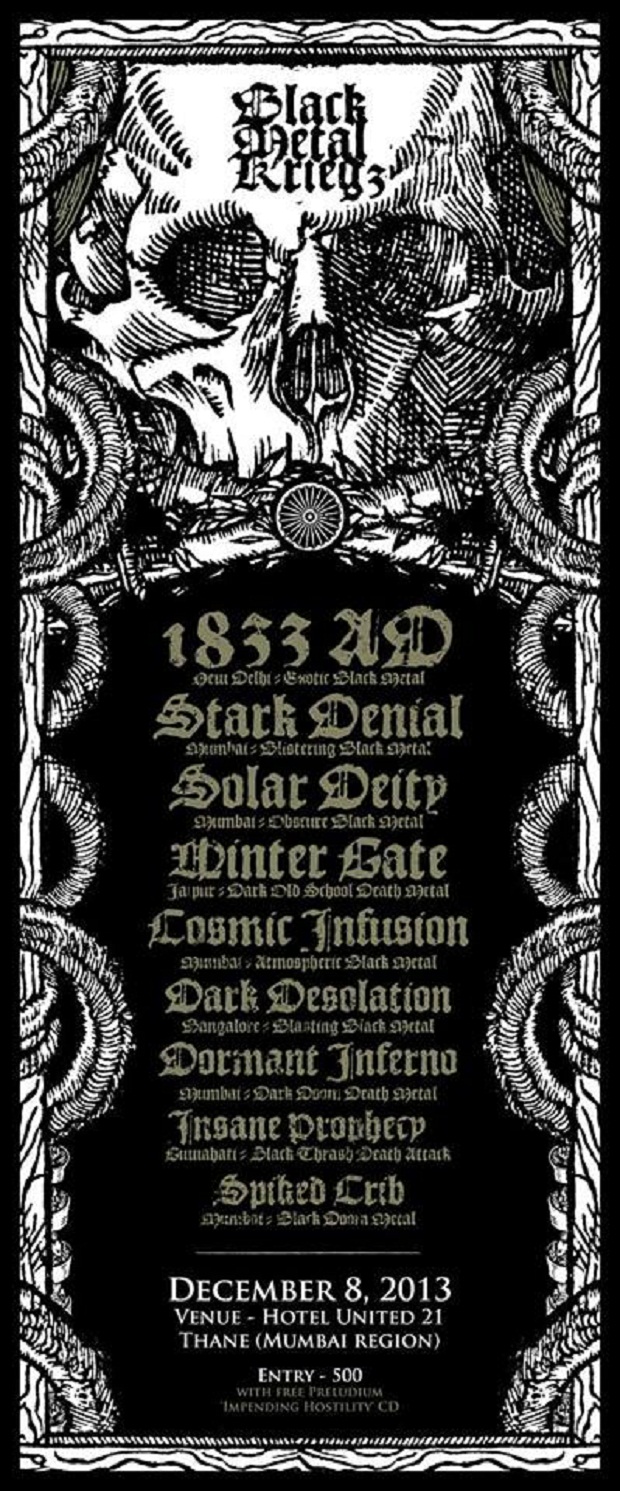 Metal festival Black Metal Krieg 3′s  beacons surround us. Thane's United 21 is all set to become the prime altar of sacrifice as not one or two, but a brutal nine-band line-up get into the ruts of turning this public house into a heathen abbey of sorts at the gig organised by band members of Stark Denial and indie metal label Transcending Obscurity. Transpiring on December 8, 2013, it is time to heed the death knell, give into the call of the infidels, put your war paint on, and let your heart blacken. With the heretics this time coming in from Mumbai, Bengaluru, Jaipur, Guwahati and New Delhi, this is one attendance you don't want to miss. Black Metal Krieg has earlier been held in late 2010 and early 2012, and while Spiked Crib, Stark Denial, 1833 AD, Insane Prophecy, Dark Desolation, Cosmic Infusion shall be returning to the stage this year, bands making their BMK debut include Solar Deity, Dormant Inferno and Winter Gate. Sri Lankan depressive black metal Dhishti had also played at the first edition of  Black Metal Krieg. We're thinking the same thing. There's no dearth of costume drama in the genre. Here's all you need to know about the bands making their presence felt at the fest.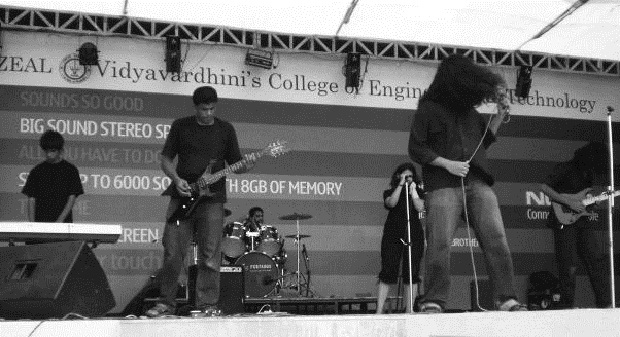 Act: Spiked Crib
Play: Mumbai black metal act Spiked Crib consists of Gareth Mankoo and Khyati Bhatia on vocals, Bruce McKoy and Abhimanue Gautam on guitars, Vineet Nair on drums,  and the band's newest member GurAaftaab Singh Grewal on bass. A band that was formed in part by the immortal Vincent Pereira, the line up saw an incredible 13 bassist changes since his passing, and seem to have finally settled down to Grewal's style of bass play. The band has been out of action for the past two years and will be making a comeback at BMK3.
Sounds Like: Spike Crib used to have a very symphonic feel to their music back in the days when they started out. The keyboard used to be much more evident than in the evolved music they play today. Also, a two year hiatus has meant that the band has been exploring a lot of new sound, sticking to their black metal roots, becoming much heavier than their earlier sound. Says Gautam, "Selectively opting out of the genre-rut, the band has composed tunes with narcissistic pleasures. A result of which is a genre-insensitive, gut-grinding mix of music built and inspired from several genres." Interestingly, one of the last gigs the band did play before their break was an earlier edition of Black Metal Krieg.
At BMK 3: With a new bassist in tow, who hails from Punjab, Spiked Crib is pretty kicked to be playing this particular gig. With them opening the gig, the first track will most possibly be a tribute The Lament of The Beast.
Watch: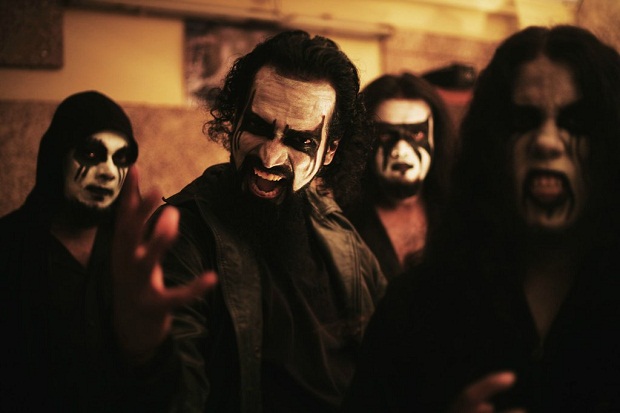 Act:  Cosmic Infusion
Play: The second black metal act from the city, symphonic blackers Cosmic Infusion are Sushan Shetty (ex Infernal Wrath) on vocals and keyboards, Amnish Lohire (ex Infernal Wrath) and Nakul Rathod (ex Infinite Redemption) on guitars and Amey Chautray (ex Infinite Redemption) on bass. A band that saw it creation in early 2003 and was up for four years initially, the corpse-painted black metallers returned  to active band duties in 2012, and according to the band, they are "now stronger than ever."
Sounds Like: Cosmic Infusion are heavily atmospheric, and there is a very old-school feel to their music. Get ready to pack your bags and travel to the Nordic farlands when these guys play their set. With deep emphasis on keyboard symphony melding into their own brand of extreme metal, Cosmic Infusion is definitely amongst the best symphonic black metal bands in the country. Though black metal may not be the popular genre of choice in this city, there is no doubt they put up a show that keeps everyone mesmerized.
At BMK 3: The band is going to try and play its self-titled EP in its entirety at the gig. If they have the time, they shall play some more. Also, says Shetty, "This gig is special to us, as we will be launching our DVD "Rise of the Funeral Smoke Cosmic Infusion Live" in Mumbai at this very gig."
Listen: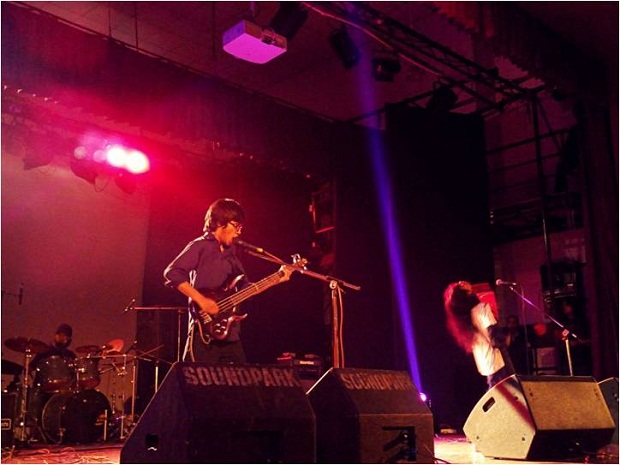 Act: Insane Prophecy
Play:  Guwahati's Insane Prophecy is a blackened death metal outfit that has with its two earlier performances in Mumbai this year made a niche for itself as one of the craziest young metal outfits from the country.  With twins Xulfi Nawaz on guitars and vocals and Ifty Sarwar on bass guitar, the band has seen a whole lot of line up changes right since its inception in 2007, and for quite a while now, has Plague Throat's Malice filling in on drums.
Sounds Like: No one would blame you if you saw the light-framed twins and mistook them for amateur musicians playing a random set at a gig. Their set however, whether live or recorded, packs in a punch that squarely hooks your jaw, and leaves you writhing and awestruck at the same time. Their music is punctuated with unbelievable breakdowns, deep guttural growls and drum play that can leave you mesmerized. The band is one among a host of others that prove that possibly the best music in the country does come from the northeast. Says guitarist vocalist Nawaz , "Insane Prophecy let us express our thoughts on the manipulation of people in the world and it releases the monstrosity we lack in our personal life." Anyone who has watched them play would vouch for that monstrosity part.
At BMK 3: Speaking about their impending set at the gig, vocalist Nawaz elaborates, "We will be playing songs off our EP, and this time the set list has two new songs, one of which is also going to be released in December. I believe fans like us for the overall outcome and energy of the set list, and so we hope we will cook good this time too."
Listen: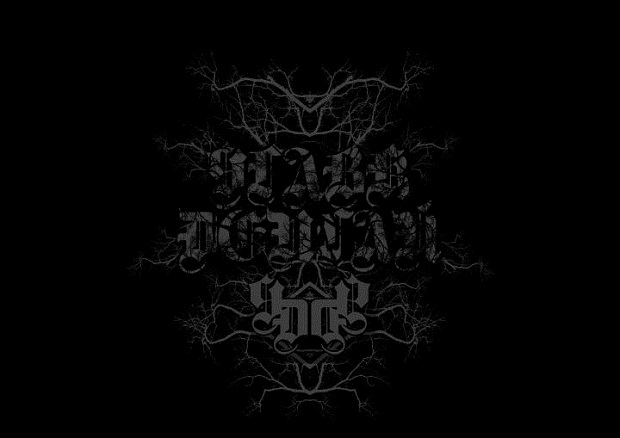 Act: Stark Denial
Play: Mumbai's Stark Denial is a black metal act that likes to keep its sound extremely old school, and believes in black metal as something that defines all the band members themselves. Composed of vocalist Kunal Gonsalves, guitarists Ruark D'souza and Sunny Menon, bassist Paresh Garude and drummer Vineet Nair, this band is also one that saw a whole lot of line up changes throught the years, before it finally settled down to this one.
Sounds Like: Stark Denial's music is as true and kvlt as black metal gets. With a whole lot of intermittent riffs, intricate drum work and shrieky, throaty vocals, the band are a big hit among the crowds that they play to. The band are also the organisers of Black Metal Krieg 3, and shall be on the gig circuit after exactly two years.
At BMK 3: Says Gonsalves, "At Black Metal Kireg 3, Stark Denial will put up one of their most powerful performances ever, as we will also be launching our debut EP titled "War". We will play songs from that as well some other tracks, maybe a cover as well."
Watch:

Act: Solar Deity
Play:  The third band from Mumbai playing at BMK 3 is Solar Deity. With their very own brand of satanic black metal, this until recently two-member band that has been raising hell since its inception in early 2012, is now composed of Aditya Mehta on guitars and vocals, Niraj Singh Chauhan on guitars, Amogh Sharma on drums and Animesh Das on bass.
Sounds Like: Without a doubt, Solar Deity's brand of satanic black metal is an acquired taste in itself; you either absolutely love it, or you walk away grumbling about what you have just witnessed. Three EPs and a single old, the band's music celebrates Satanism above all else as a theme, and there is constant progression and regression in the pace of their songs. It shall be interesting to see how the inclusion of the new guitarist and the drummer shall influence the band's sound.
At BMK 3: Says Das about their set at the gig, "Pure Satanic Black Metal is what we are going to serve. The set list will be a good mix of the old and the new, and yes, we will be going 'Through The Hallways Of Narak'. About this gig, all we can say at this point is 'watch us at BMK3′."
Listen: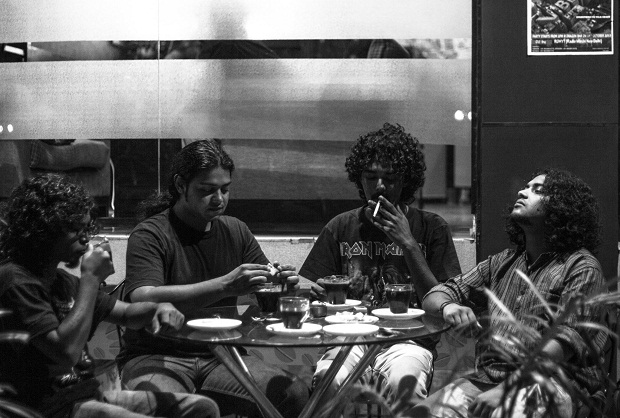 Act: Winter Gate
Play:  A band that has gone through a fair bit of transition through the years, in terms of their music as well as the member line up, Winter Gate is a progressive death metal act from Jaipur. Formed in 2008, the band in its current form consists of Mandeep Yadav on bass, Sudeep Saxena on drums, Devashish Dutt on guitars and vocals, and Krishanu Bora on guitars.
Sounds Like: A band that swears by classic death metal, the members of Winter Gate also keep a very open mind while writing material for their music and also try to incorporate a whole lot of different ideas and sounds in their music; a reason why categorizing their music as one specific genre is rather redundant. There is a good load of breakdowns in their music, with a rather raspy vocal support from Devashish Dutt. Also, tracks like A Wreath Of Mist embody atmospheric sounds.Their music incorporates a rather old school feel with strong
At BMK 3: Says Dutt, "We will be playing our Earlier Release "DisIllumination" in its entirety, as well as some new tracks from the upcoming record."
Listen: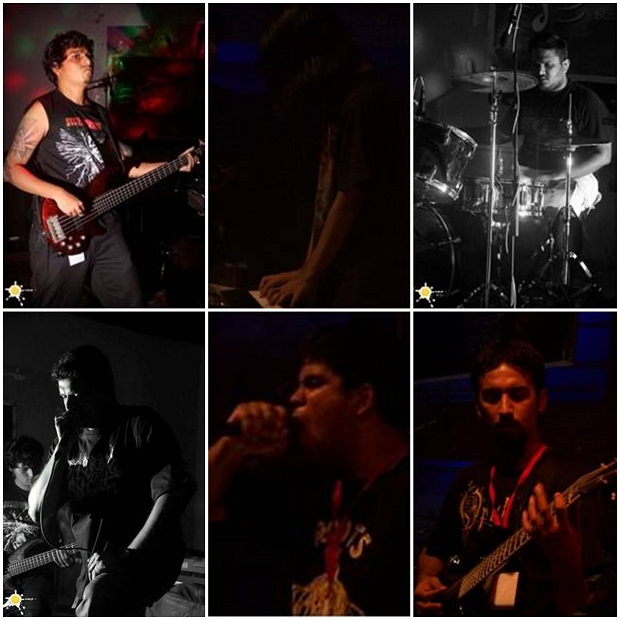 Act: Dormant Inferno
Play: Probably the only doom metal outfit from the city, Dormant Inferno is the final band from Mumbai that will be playing at BMK 3. Formed in 2009, the project which was initially a two man project, eventually saw a whole band coming through in the years that followed, and today, the line up consists of Sunny Bhambri on guitars, Aurko Mukhopadhyay on keys, Paresh Garude on bass, Vineet Nair on drums and Kunal Gonsalves on live vocals.
Sounds Like: The first thing you notice when you hear Dormant Inferno's music is that they are into creating an ambience of reeking doom with deep guttural vocal and extremely heavy sounding guitars. Following in the treadmarks  of the earliiest of doom metal bands, Dormant Inferno's music is heavily structured on exquisite, wholesome bass lines.  The band have returned from exile only recently, having gone on an indefinite break following former vocalist Gautam Shankar's exit from the band in  2010.They made their comeback at the recent Entombed Metal Fest, have released an early EP called "In Sanity" and have also been a part of the multi-artist Motorhead tribute album.
At BMK 3: About the upcoming gig, guitarist  Bhambri reveals, "On keyboards, Ajitesh from Varcas will be joining us as Aurko has some academics and exams lined up. For our setlist, we are definitely more keen on playing our originals for the audience because that's what are about. It's a short set list since there are 9 freakin' bands on the roster! We could be doing a small surprise, who knows."
Listen: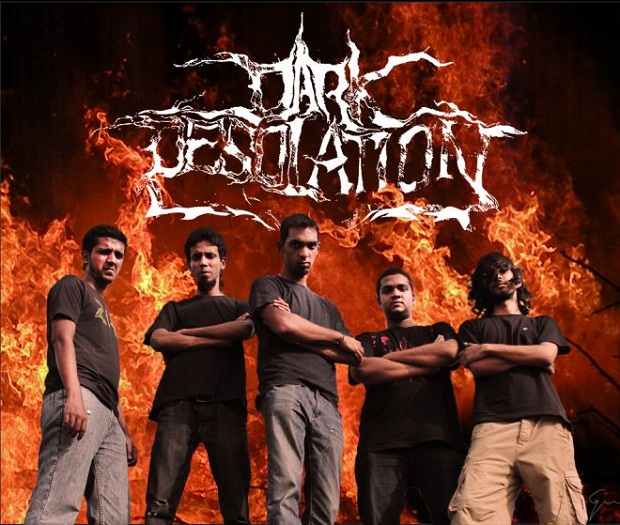 Act: Dark Desolation
Play: Bengaluru's black metal act Dark Desolation is made up of ShredAj and Dharni on guitars, Maggot on vocals, Jake on bass and Karthik on drums. Formed in 2010, the band's members have had black metal inculcated deep not only in their music, but also on a personal level, as Shred Aj states,  "Dark Desolation draw inspiration from sheer interest towards the genre and the music."
Sounds Like: What one gathers from listening to Dark Desolation's music is that their brand of black metal is a very unique one; while in essence you'd collate their music with religion-bashing and formlessly spreading aggression, musically they relate with more unorthodox style of guitaring for a black metal band. Divulging on the themes in their music, ShredAj rays, "Dark Desolation is all about feelings of hate like depression, darkness and the negative side of the human, as a band and personally."Doused in corpse paint, and laden with metal spikes, these are a band displaying the works at live gigs.
At BMK 3:  Speaking about their BMK 3 set, ShredAj elaborates, "We're going to be only playing originals and this time, we've changed the set list to bring in our new tracks in there. The band will be using new gear on stage and new tones which we're happy about. We do have a special song which is our original again and for a change its going be a slow/heavy track.
Watch: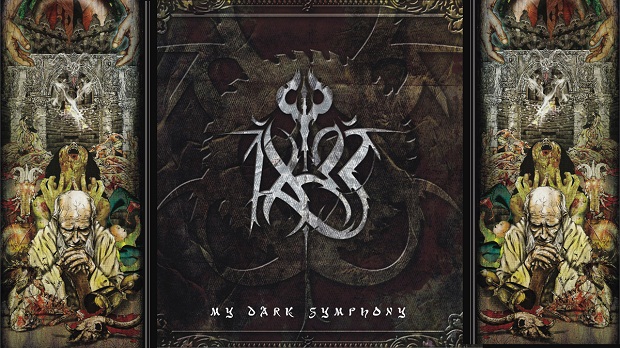 Act: 1833 AD
Play:  New Delhi's 1833 AD were formed in 2004, and are composed of Nishant Abraham on guitars and vocals, Rahul Mehalwal on guitars, Raghav Sehgal on drums and Fragarak's Kartikeya Sinha filling in as session bassist, as Sushmit Mazumdar left the band just recently.  The last time the band had been to the city was during the Rolling Stone Metal Awards.
Sounds Like: There are so many distinct features about 1833 AD's music. Thought the band plays black metal, there is the persuasion of so many styles and musical elements in their music, including the use of a large amount of melody through the guitar solos ad riffs, the moroseness of the band giving it a very gloomy, doomy feel, and each instrumentalist throwing heap loads of personal style. Add to that vocalist Abraham's vocal support and shrieks and it's not a surprise as such to see why they are among the most popular black metal bands in the country.
At BMK 3:  Emphasising exactly why fans must not miss BMK 3, guitarist Mehalwal states, "Black Metal Krieg 3 would be an extreme metal carnage and we will not spare any mercy this time. For those people who had seen us at Black Metal Krieg chapter I, they know what we are capable of, and this year it would be quadrupled in magnitude. We would be playing our album "My Dark Symphony" in its entirety along with a few surprises thrown in. This is not a show to be missed for any extreme metal fan."
Listen: 

Black Metal Krieg 3 By Stark Denial & co-sponsored by Transcending Obscurity featuring Spiked Crib, Cosmic Infusion, Stark Denial, Solar Deity, Dormant Inferno, Dark Desolation, Winter Gate ,Insane Prophecy  and 1833 AD will be held on December 8, at United 21, Thane, 3.30 pm onwards. Entry- Rs 500, Early Bird- Rs 400. For more details, visit the Facebook page here.

Comments
comments