When:
September 24, 2022 @ 6:30 pm – 8:30 pm
Where:
Alliance Francaise de Bombay
40
Theosophy Hall,Vithaldas Thackersey Marg,New Marine Lines,Churchgate,Mumbai,Maharashtra 400020,Marine Lines,1st Cross Ln,New Marine Lines,Marine Lines,Mumbai
Maharashtra 400020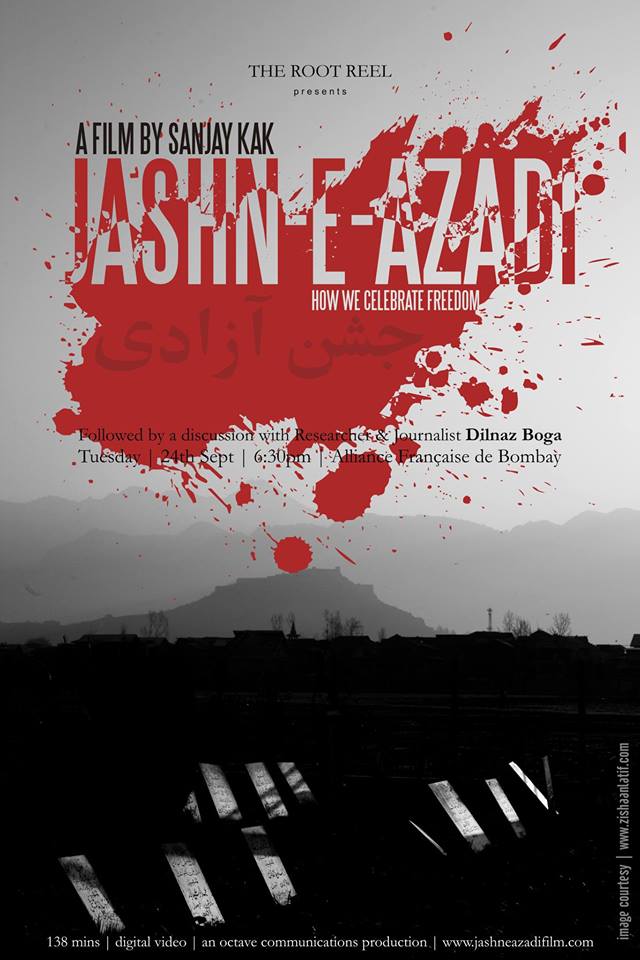 JASHN-E-AZADI
"How We Celebrate Freedom"
English (subtitled), 139 min, 2007
It's India's Independence day, and its flag ritually goes up in the heart of Srinagar, Kashmir. But the empty streets and the sullen silence that greet India's claim on Kashmir spark off old questions about freedom – azadi – and the denial of freedom. After 18 years of an armed struggle, with 60,000 dead and nearly 7,000 missing, Kashmir's people begin to look within their ledger of loss. Using a mix of verité footage, rare archival material, poetry and text, a provocative look at Indian democracy, and a reflection on power, resistance and "freedom's terrible thirst".
Followed by a Discussion with Journalist, Dilnaz Boga
Selected Screenings:
International Video Festival of Kerala;
Munich Dok.Fest, Germany; International Documentary Festival, Amsterdam;
Film South Asia, Kathmandu;
Osian's Cinefan Film Festival, New Delhi.
RED ANT DREAM
"Let us declare that the state of ward does exist and shall exist"
120 mins | Gondi, Odiya, Punjabi with English Subtitles
This film chronicles stories of resistance from Bastar, Odisha, Punjab…and speaks about the life of revolutionary possibility in India. 'Let us declare that the state of war does exist and shall exist', the revolutionary patriot had said almost a hundred years ago, and that forewarning travels into India's present, as armed insurrection simmers in Bastar, in the troubled heart of central India. But to the east too, beleaguered adivasis from the mineral-rich hills of Odisha come forth bearing their axes, and their songs. And in the north the swelling protests by Punjabi peasants sees hope coagulate–once more–around that iconic figure of Bhagat Singh, revolutionary martyr of the anti-colonial struggle. But are revolutions even possible anymore? Or have those dreams been ground down into our nightmares? This is a chronicle of those who live the revolutionary ideal in India, a rare encounter with the invisible domain of those whose everyday is a fight for another ideal of the world.
The third in a cycle of films that interrogate the workings of Indian democracy, Red Ant Dream (2013) follows Jashn-e-Azadi (2007) about the idea of freedom for Kashmir, and Words on Water (2002) about the people's movement against large dams in the Narmada valley.
ABOUT THE ROOT REEL
The Root is an initiative to propagate cultural, social, political and environmental issues through diverse media & merchandise. We have created a platform called The Root Reel, which showcases relevant, thought provoking films from across the world. We are constantly reaching out of film-makers who have captured their concerns through cinema & would want to share their stories with a larger audience.
We believe in the power of film to raise awareness of various issues that concerns all of us and hope to move people to action through these stories. Our mission is to increase awareness, highlight resistance, promote action as well as nourish hope through compelling, powerful and informative films.
The objective behind The Root Reel is to be a mirror, reflecting upon stories around us & try bringing them closer to the urban audience.
Explore - Engage – Enlighten
For more details contact: 09820095432
Diya & Nitesh
ABOUT THE DIRECTOR
Sanjay Kak is an independent documentary film-maker whose films Jashn-e-Azadi (How we celebrate freedom,) 2007, Words on Water, 2002, and In the forest hangs a bridge, 1999, have travelled nationally and internationally winning many acclaims and awards, reflect his interests in ecology, alternatives and resistance politics. His other film work includes One Weapon, 1997, and Harvest of Rain (1995). He has also made twinned films on the theme of migration, This Land, My Land, Eng-Land! (1993), and A House and a Home (1993): Angkor Remembered (1990),. In 2008 he participated in Manifesta7, the European Biennale of Art, in Bolzano, Italy, with the installation A Shrine to the Future: The memory of a hill, about the mining of bauxite in the Niyamgiri hills of Odisha. He writes occasional political commentary, and is the editor of Until My Freedom Has Come – The New Intifada in Kashmir, (Penguin India 2011, Haymarket books 2013).
Comments
comments