Directon
Acting
Cinematography
Music
Story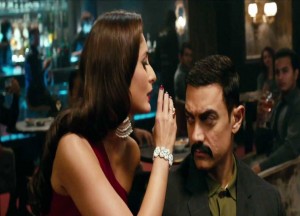 The biggest challenge of a mystery is to keep it a mystery wrapped in layers, in grips of twists and turns that set a thrilling pace and has everyone on the edge of their seats playing the whodunnit guessing game. Writer/director Reema Kagti's "Talaash," is a game that flashes the search warrant, but one that doesn't need a super sleuth to crack and decode. Here's a spoiler alert for all Hitchcock-Poirot fans out there – this one is a piece of cake for you guys, and the ones who devour all those Hollywood psychological "bordering-on-paranormal" mystery dramas. But to be fair to the lady – she has come miles from her "Honeymoon Travels Pvt Ltd," and chose a relatively unexplored genre in Hindi cinema.
"Talaash" does have the elements that keep you hooked, till the interval that is. Post the break "Talaash" loses its steam and huffs and puffs towards a predictable plot (i.e. for those who have guessed it by that time). That it starred the most saleable 'hit' man of Bollywood, Aamir Khan, (aka ghost director), one hot heroine Kareena Kapoor Khan, the queen of hearts Rani Mukerji, and man of the moment, Nawazuddin Siddiqui along with talent like Shernaz Patel, Sheeba Chadha and Rajkumar Yadav made little difference when it came to being compared to the biggest star of all – the script.
The story is linked with all the right ingredients - a mysterious death, unexplained murders, blackmail, shady people and shadier setting. Cinematographer KU Mohanan brings out the 'sin city' part of Mumbai while Ram Sampath's score gives it the right mix of spook and haunt. A star dies in a freak car accident, and Inspector Surjan Shekhawat (Khan) swings into action to piece the case together. In his quest to find the truth, an emotionally scarred Shekhawat who carries a lower handle-bar moustache, and the guilt of his eight year old son's untimely death, finds himself in the dark forbidden alleys of Mumbai – the red light district, in brothels drowned in sin, secrets, sleaze and smoke, and finds himself an unlikely informer and confidante in a stunning prostitute called Rosie (Kapoor). Running parallel to this murder mystery is Roshni (Mukerji), Shekhawat's suffering-in-quiet desperation wife, who deals with her pain and angst by confiding in Franny (Patel), the next door neighbour who can talk to spirits and is the medium between her and Roshni's son, Karan.
It was Khan's (also the producer) suggestion to not 'over publicize  "Talaash" as it would be a give away. The producers, Ritesh Sidhwani and Farhan Akhtar agreed. The film attempts at noir, but its writers Kagti and Zoya Akhtar and Anurag Kashyap, who has penned additional dialogues, fail to keep the suspense. If only it could hold like M Night Shyamalan's "The Sixth Sense."
Still, what makes it worth the watch are its characters – more than Aamir, it is Siddiqui as the limping Taimur who is memorable. He slips into this form effortlessly, and even has a chase sequence where he hand-wheels away, a befitting tribute to Mazhar Khan in "Shaan." Also, for Siddiqui, the investigation scene with Aamir at the police station is a déjà vu. Many years back, Siddiqui debuted as a small time criminal in a blink and miss role, who is brought in for investigation by ACP Rathore's (Aamir) team in the film "Sarfarosh." Khan as Shekhawat is stern, honest, principled, while Mukerji as Roshni is bang on with her restrain and outburst. Kapoor is soft and smooth as Rosie, flirting with the camera, appearing as an enigma herself, drawing Khan out, whispering clues in his ears. A vital link in the film, she gets to mouth a couple of cheesy lines too and wear hot hooker clothes.
The film flaunts few real frames - the argument between a husband and wife, a mention of AIDS, on why parents make their children dance in public, the convincing portrayal of Mumbai cops on duty and the prostitutes. It's a case of lost and found, the irreparable loss of a child, a missing girl, wandering spirits, of desperation and loneliness. Somewhere down the reel, the film ceases to be a mystery and hinges on emotions and relationships. The star cast, the music, the atmospherics are brilliant. There is little clutter of dialogue, if only it was not that easy on the audience, if only it had tormented and tortured and made us rattle our brains more, the talaash would have been gratifying.
Comments
comments