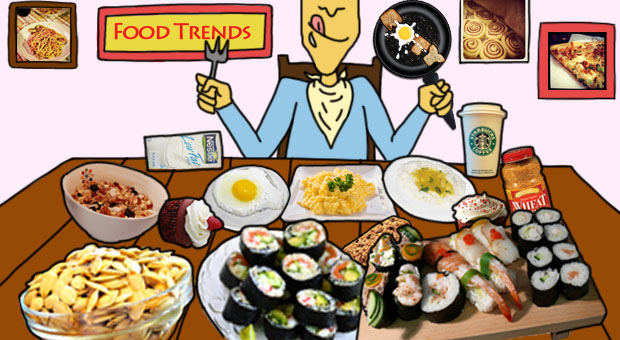 Food can be like fashion at times. You aren't socially acceptable if you're not eating the right things or dining at the right spots. The recession-hit economy didn't stop new restaurants from opening in India as hungry people continued to explore new cuisines. Carbon foot-printing became the buzzword with preference being given to local ingredients, while desserts took on new meanings and health conscious people found new ways to make food more fun.
We have moved on from fretting about ingredients being organic to worrying about how far they travelled to get to our plates. Most of us won't recall out mother ever buying kadipatta from the markets. Instead there was mostly always a tree in the backyard, we were sent out to pluck a few leaves off for garnishing. While most restaurants here don't find it possible to grow their own produce, there has been a marked change in the ratio of imported ingredients to local ingredients. Tie-ups with nearby organic farms are proving to have the freshest produce and no one's complaining about it being cheaper either.
It's a clear sign of things going wrong when we start looking for healthy desserts. Yet it seems that even the innumerable slimming parlours aren't enough for our "health" (read figure) conscious generation. Ice-cream parlours have been gradually taken over by frozen yogurt. Claiming to be a healthier option with its skimmed milk and preservative-free status, frozen yogurt saw enough takers this year to warrant the opening of atleast seven brands within Mumbai alone. With the wide range of flavours being offered, we can't help but wonder if the heart-broken actresses in tomorrow's chick flicks will choose to replace their tubs of ice-cream with blue berry flavoured frozen yogurt – We hope not!
Alice must have dropped off some of her shrinking syrup to the bakers in town. Not content with cakes and pastries, elaborately frosted cupcakes and macaroons were the latest addition to their menus. It proved to be such a hit that soon cupcake boutiques were opening up in every third bylane. The red velvet cupcake, at one point, was the hottest dessert being talked about in the Twitter universe. One starts wondering if we're taking the miniature food a tad bit too seriously, when mini cupcakes start making the rounds too.
Didn't your teacher in fourth grade teach you "Sharing is Caring?" No no, we're not talking about sharing that succulent crab cake with a complete stranger but fine-dine restaurants have taken a hint from local dives where sharing a table is made part of the dining experience. While some choose to integrate it as an extension of the bar, others have standalone tables meant for 12-15 people taking centre stage at the diner. Restaurateurs like the concept because they're an efficient use of space and don't require reservations while for us it's an opportunity to meet new people.
Grandmothers wiggled their fingers saying "I told you so," as we started ordering shots of wheat germ juice as energy boosters. This year made that trend move closer to home, with the focus shifting to seeds with magical properties. No no, "Jack And The Bean Stalk" is still just a fairy tale! These tiny seeds are not only packed with a number of nutrients but the continued intake of these is said to help flush out toxins while giving multiple health benefits. Seed therapy this year, consisted of pumpkin seeds, flax seeds and most recently Chia seeds.
Depending on your morning race to reach office on time, breakfast can mean anything from scrambled eggs on toast to crepes to idlis drowned in sambhar. With people increasingly appreciating breakfast, the number of all-day breakfast joints has steadily increased. For those of you who can't avoid hitting the snooze button on your alarms, health bars and individually packed portions of muesli and oats are now available at your nearest department stores.
If 2011 was about tea, coffee took a stand in 2012. Starbucks made its entry into the Indian market amidst much fanfare, while Udupi cafes continued to bask in the aroma of the unmistakable south Indian filter coffee. If you prefer making your coffee at home, online retail websites now offer to deliver your favourite Arabica blend, while coffee workshops tell you all about getting the most flavour from the beans. This one particular gentleman Sahil Jatana, showed us how to be a coffee connoisseur.
GOURMET DOES NOT MEAN FIVE STAR
If nothing else, the MasterChef series has made sure that home dinners can't always mean a simple daal-sabzi–and-roti fare. While the neighbourhood kirana store might stock Thai green curry paste and Chinese stir fry sauce, he definitely won't have the best black truffle mustard. There isn't reason to book international tickets yet as gourmet grocery stores are lining the shelves with goat cheese and raspberry flavoured vinegar. The next step was the opening of online gourmet sites promising to deliver choice ingredients with just a few mouse clicks.
After being restricted to mostly five-star eateries with five-star prices, Japanese cuisine has finally become more accessible. The light food boasts of being one of the healthiest in the world and is proving to be a hit in India, even though most of its ingredients are imported making it a pricey affair. Gourmet grocery shops have shelves devoted to Japanese ingredients and bamboo mats should you want to serve homemade sushi at your next dinner.
The food is piping hot, just begging to be tasted but what do we do instead – take a picture! Forget X, Y or Z this is the food generation that cannot savour a meal without letting the rest of their world know about it. While social networks here are flooded with pictures of last night's dinners; restaurants abroad are using this to create Instagram menus with images from diners. Technology crawls further into the food world as more restaurants are choosing tablet menus over traditional printed handouts.
While 2012 was all about discovering new ways of making food fun, 2013 could take it to a whole new level with maybe grander seven-course meals and gigantic desserts. We'll only have to wait to find out. Till then, happy eating.
Comments
comments