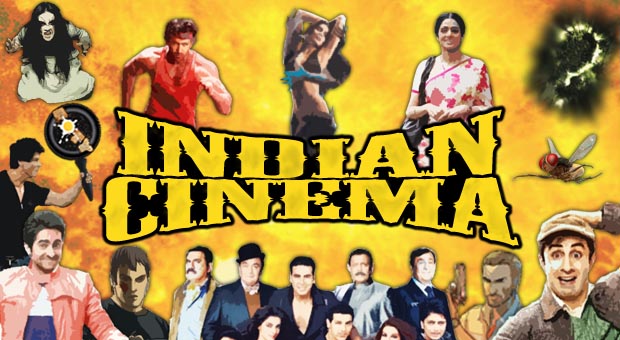 Inspite of the world-is-coming-to-an-end prophecies, the Hindi film industry soldiered on, broke records, made imprints and entertained audiences. The year started with a big bang, thanks to Karan Johar who broke the dreaded January jinx by raking in big bucks with his version of the cult classic, "Agneepath." Sridevi made a rocking comeback, Mahesh Bhatt signed on porn star Sunny Leone as his leading lady (it happens only in India!), Saif Ali Khan pulled off a half decent desi Bond ("Agent Vinod") while Salman Khan continued with his dialogue drama. Cinema lost some of its greats - Rajesh Khanna, Yash Chopra, Prabhuda Dasgupta, AK Hangal, Jaspal Bhatti and  Joy Mukherjee. Here is what we believe shot Bollywood to the national news network.
The Indian filmmaker stamped, signed and delivered as he went globetrotting this year, cashing in on crowd sourcing and collaborations – from Cannes, Toronto, Berlin, New York, San Francisco, Venice to Busan, London, Abu Dhabi – Indian cinema flashed in the international festival circuit big time. Anurag Kashyap's explosive "Gangs of Wasseypur 1 &2," Vasan Bala's "Peddlers," Gurvinder Singh's "Anhey Ghore Da Daan" (Alms for the Blind Horse, the first Punjabi film to make the Venice International film festival cut), Ashim Ahluwalia's take on C-grade eighties film "Miss Lovely," Prashant Nair's "Delhi In A Day, Rohit Khaitan's dark film "Prague," Nila Madhab Panda's mesmerizing "Jalpari" and Anand Gandhi's philosophic "Ship of Theseus." The year also saw first of its kind international collaborations with the Dutch, German and the French in Jagdish Rajpurohit's "Bumboo," Onir's "I Am" and Anup Singh's "Qissa."
One thing Bollywood excels in is taali-seeti-maar-paisa-vasool entertainment, and the hit roll has surprisingly got it lot of international attention (money talks!). With absolutely no comment on the script, story and occasional nuisance value these films delivered, the 100 crore club includes members like "Ek Tha Tiger," "Rowdy Rathore," "Housefull 2," "Jab Tak Hai Jaan," "Bol Bachchan." The only saving grace in this list - "Agneepath" and "Barfi."
You may sign on the biggest star-cast out there, but script is still the hero. Films like "Kahaani," "Vicky Donor," "Talaash," "Shanghai," "Oh My God," "English Vinglish," "Luv Shuv Tey Chicken Khurana," "Paan Singh Tomar," "Superman of Malegaon" proved that point. It also brought to fore the inkhearts, writers, thinkers and word weavers Bollywood had been dismissing for a while now. From Swanand Kirkire, Zoya Akhtar, Reema Katgi, Advaita Kala, Irshad Kamil, Anurag Basu, Urmi Juvekar, Zeishan Quadri, Habib Faisal, Deepak Venkateshan, Juhi Chaturvedi, Sanjay Chauhan, Tigmanshu Dhulia, Anvita Dutt Guptan and Sameer Sharma … Bollywood was a winner this year because of these men and women.
Spy, action, horror, political – 2012 had its share of suspense, combat, exploits, adventure, scares and whodunnits. Finally, the industry is taking thrills and chills seriously and is moving past the Ramsay Brothers charade. If you still haven't checked them out, get a DVD  this holiday season (at your on risk please). Our recommendations – "Chakravyuh," "Agent Vinod," "Hate Story," "Bhoot Returns," "Raaz 3," "Tezz," "Ghost," "Blood Money," "?:A question Mark," "Valentine's Night," "Rush," "1920 – Evil Returns," "The Forest." I think we're a little spooked ourselves.
Graphic novels ruled Indian cinema this year. Films were being inspired from them and inspiring them. Look forward to pageturners like "Agent Vinod – The Jungfrau Encounter," Abhishek Sharma's "Munkeeman" (picked from the monkey man of Rakeysh Om Prakash Mehra's "Delhi 6″), Rajkumar Gupta's upcoming film "Ghanchakkar" too will take the shape of a novel, then there is the dark comic "Sudershan," about a chimpanzee in Bollywood. Prakash Jha is all set to give his "Chakravyuh" a graphic garb as well. After the success of "Zombie Talkies – Bloodfest" in Bollywood, Sidhartha Jain, CEO of iRock is driven towards creating more comics. Amar Chitra Katha is working on its collection while Anurag Kashyap is waiting to launch his new movie "Doga" based on a Raj Comics character.
It had slipped into the shadows, succumbed to a lack of vision and initiative, but this year saw the resurrection of the National Film Development Corporation. NFDC's Film Bazaar was the big boost, so was its restoration project that saw multiplex release of Kundan Shah's cult classic "Jaane Bhi Do Yaaron." NFDC raised its language film count by adding Assamese, Konkani and Rajasthani films to its library. There is Bidyut Kotoky's Assamese film "As the River Flows," Laxmikant Shetgaonkar's Konkani film "The Man Beyond The Bridge"and Seema Kapoor's Rajasthani-Hindi film "Haat". The two other NFDC-produced films are Aijaz Khan's "The White Elephant" made jointly with NDTV Imagine, and Joydeep Ghosh's three-in-one Bengali-language literary adaptation, "Maya Bazaar."
Back off Khans, Kapoors and you too Roshan. 2012 gave a standing ovation to the new, up and coming, rising stars, starting with the talented Nawazuddin Siddiqui, the character driven Irrfan, the multi-tasker Tigmanshu Dhulia, effortless Manoj Bajpai and Deepak Dobriyal, newbie Huma Qureshi, Yami Gautam, Ayushmann Khurana, the queen Rani Mukerji, and the class apart, Sridevi, of course!
Amit Trivedi ("Ishaqzaade," "Luv Shuv Tey Chicken Khurana," Aiyyaa," "I Am," "Trishna"), Ram Sampath ("Talaash"), Ajay-Atul ("Agneepath"), Abhishek-Akshay and Bann ("Vicky Donor"), Sneha Khanwalkar ("Gangs of Wasseypur") – some of the best music came from the quietest corners, the ones who do their work and move on. Bollywood's playback got more sugar and spice when music directors took the mike and sang –Trivedi, Sampath, Khanwalkar, Salim-Suleiman, Shankar, Ehsaan, Loy – please don't stop the music!
A little fly had the world chasing it. Dalits in Punjab got noticed. The east spoke up and the south blew in 'hot' winds like Prithviraj, Vikram and Surya. That's right, Indian cinema saw regional excellence in films like Rajamouli's "Eega," Gurvinder Singh's "Anhey Ghore Da Daan," Bidyut Kotoky's "As the River Flows," Mahesh Manjrekar's "Kaksparsh," Umesh Kulkarni's "Deool Tukaram," Balaji Sakthivel's "Vashakku EN 18/9″ and Rituparno Ghosh's "Chitrangada."
What is Bollywood without a wee bit of gossip, scandal and wedding bells! The Oscar nomination list was one of the first, with questions being raised on "Barfi's" selection. Shah Rukh Khan's countdown to his multiple showdowns were next – the IPL fiasco, how he broke his golden 'no-kiss' rule for Katrina Kaif, his close association with Priyanka Chopra, Piggy Chops making up with Karan Johar, Farah Khan and Shirish Kunder's disappointment with Akshay Kumar over "Joker," Saif Ali Khan losing his cool at a restaurant, Ajay Devgn dragging YRF to court, Anurag Basu accused of plagiarism, Salman Khan's legal hassles, Sherlyn Chopra's privates in public, Manisha Koirala's health, star babies (Aby's baby and Aamir Khan's son) under wraps, the on-and-off relationship between Anushka Sharma and Ranveer Singh, the big fat weddings of Saifeena, and how shall we put this one Vidya Balan and Siddharth Roy Kapur – Balanur sounds fun! Yeah, the list is long and exciting!
Comments
comments