Beyond the Chicken curry, India's main course meals and options are so diverse that it would literally take a TV show host an entire season to just go through each regions dishes. Attempting the best representation of the nation's versatile cuisines, we offer you two variants: curries best enjoyed with steamed rice and combination meals. Are you ready to choose?
Big Bites with Steamed Rice
Vindaloo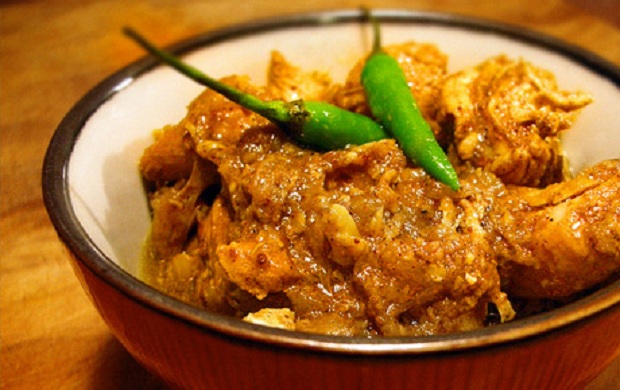 We're yet to know a non vegetarian who has been to Goa and does not rave about the vindaloo. Though a vegetarian variant has made its presence in restaurants we recommend the pork or chicken vindaloo. This spicy tangy dish stays far from the calorie counter with its oodles of butter and fat. "Me and me mum and me dad and me gran with a bucket of vindaloo" Those are lines from Fat Les' song Vindaloo.
Kadhi Chawal
If little Miss Muffet was Indian she would have been sitting under a tree in a village in Haryana polishing off a plate of Kadhi chawal. Ask anyone from the northern states of India what their idea of comfort food for a wintery afternoon would be and they'll give you visions of the steaming gram and yogurt gravy with bite sized pakodas. It is a vegetarian dish but as we write this article we're putting kadhi with chicken pakodas on the to-do list. Doubt if it would be better than the original though. Don't get confused between the Gujarati, Rajasthani, Sindhi, Bohri and UP versions of this dish. They're all just a little bit different from each other but then it is just that difference that makes them unique.
Rogan Josh
Rogan Josh is a signature Kashmiri dish but its origins lie across the mountain ranges in Persia. Could a dish get more exotic than this? The cold winters of Kashmir have resulted in their cuisine being mainly non vegetarian. The traditional multi course meal in Kashmiri cuisine is called Wazwan and would be incomplete without this rich and creamy curry.  The red colour of this dish doesn't come from tomatoes but from dried red chillies. Don't get scared it isn't hot enough to set your mouth on fire.
Jadoh
The Khasi tribesmen in Meghalaya decided that there were enough versions of biryani competing for the top spot and named their version of this dish Jadoh. The differences run much deeper than just a name as to start with, this delicacy is made from red rice instead of the long grained basmati we are so used to.  It is traditionally cooked with pork instead of mutton or chicken. Jadoh attracts attention mainly for its colour that comes from the red rice and abundant green chilli.
Bai
Contrary to popular belief, daily meals in Mizoram are often totally vegetarian and meat is a must only on weekends and festivals. Then again when they do eat meat they don't discriminate much between animals. The distinctive flavor of Bai centers around fermented soya bean and is offset by spicy chillies. This aspect of Mizo food sets it apart from cuisine in the rest of India where a dish is defined by a combination of elements. Don't be put off by the strong smell of Bai.  Afterall, it is based on fermented soya bean.
Fish stew
According to adivasi legends, the Nagas came to India via the sea in wooden canoes. It is only fair then that fresh water fish plays an important role in their cuisine. Depending on the tribesman cooking your dish expect it seasoned generously with fermented soyabean or Akhuni and bamboo shoots. Did you know Nagaland is an organic state by legislation?
Happy meals
Dal Baati Choorma
It is impossible to talk of Rajasthan and leave out Dal Baati Choorma. Rajasthani cuisine is based on hardy lentils given its extreme climate and arid soil. Dal Baati Choorma is a combination of a spicy dal, baked wheat bread (baati) and churma that is a sweet made from wheat flour and dry fruits. You can choose between dipping your baatis in daal and churma or going the more traditional way and layering a generous helping of churma and daal over the crushed baatis. If this dish is going to make a regular appearance on your menu we recommend a gym membership to counter the liberal servings of ghee that accompany it.
Haleem
Andhra cuisine is rich and varied but a speciality that cannot be missed is the high caloried Hyderabadi Haleem. This meat and lentil stew has Arabic roots but it is the combination of regional spices that give the Hyderabadi Haleem its unique flavor. Though this Muslim dish is available as a snack food throughout the year it is a staple dish during the months of Ramadan.  Hyderabadi Hallem is the first non vegetarian dish to be awarded a Geographical Indication status. (2010)
Sattu Parantha
Chickpeas gain a new avatar when they are roasted and ground to be made into Sattu. This traditional Bihari powder is best tasted when mixed with thin slivers of onions, chillies and other spices to make stuffed paranthas. Accompanied by raita or chutneys this is a complete dish that is perfect for any time of the day. Some versions of the sattu filling include mashed mango pickles to give it a tangy taste.
Bisi Bele Bhaath
Bisi Bele Bhaath is a signature dish from Karanataka. This wholesome meal is a spicy combination of rice, lentils and vegetables in a thick yet slightly runny consistency. It might look simple but its preparation is a tedios affair unless it is made using premixed powders. Eat it while it's piping hot with fried papads on the side. Occasionally the rice in this dish is replaced by poha
Makki di Roti with Sarson ka Saag
All Hindi films set in Punjab have atleast one scene of the lush corn fields. The harvest from these fields are used to make delicious makki di rotis. They make the perfect afternoon meal when accompanied by a fragrant spinach preparation called sarson ka saag and dollops of white butter. All you can do after such a meal is lie back on a charpoy in the shade of a tree. The ingredients of this dish make it a traditional winter delicacy.
Comments
comments