Animation
Dialogues
Storyboard
Music
Female Friendly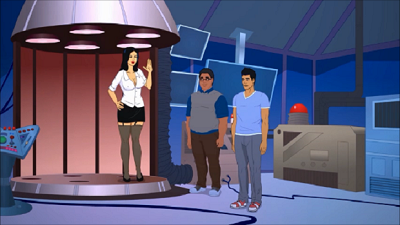 Self-confessedly there has never been a dirty movie phase. Barring the one-off teenage experiment to take the trek to the local video library to borrow what can be qualified as a grade-C Hindi dirty was more thrilling than the actual movie experience. Of course in a nation where filmmaker Kanti Shah channeled millions of young boy's imagination, there was nothing that was really erotic but was voyeuristic. Till erotica lit and Hentai came along, James Dean was just a name. But watching the exile returned comic strip-turned-animation "Savita Bhabi Movie" is an eye-opener into Indian female-friendly porn.
If we've caught you rolling your eyes at a supposed list of reasons why you should be watching porn, no this is not it. But for scores of women who are secretly burying their heads into dark horror series of erotica novels or have been unmoved by the hugely talked about "Fifty Shades Of Gray," comic series creator Deshmukh's revival of his censored Savita Bhabhi character in a visual medium could potentially win him a large female audience.
Alongwith the handiwork of animators and studios around Europe, Canada, Phillipines and Lithuania, Deshmukh brought "Savita Bhabhi Movie" back to life. If you can get past the tacky storyline and the odd misogynistic Punjabi song woven into the lovemaking scenes (yes they are not just sex scenes), the porn long is a winner. But that's not why you would want to stream the movie anyway.
The 25-minute long animated movie is based in the Jetsonian future of India in 2070. Heavily influenced by the American animated series of futuristic push-button age, people travel in flying cars and scooters (the two-wheeler, manual Bajaj is now airborne). Robots walk around the human population acting as cops/maids/parking attendants. Newspapers have given way to portable, disposable news tablets. Mumbai has been changed back to Bombay to benefit a new industry named Bombay Industries. Vehicles still run on fuel, new reserves of which have been found on the Moon. The Government has banned most websites including porn sites, and weed-out proxy servers thanks to the efforts of a regressive "Technology Minister," Rakesh Gupta. 
Two renegades, "a nerd and his fat friend" are on a mission to keep their web freedom alive through a futuristic Anonymous-like hacking forum. The hero, Suraj Khanna, the nerd while browsing idly finds a collection of Savita Bhabhi comics circa 2008, 09 before the comic wesbite was shutdown. Aroused he takes his new treasure across town to the mahal-like lab of his friend Hari. In an Inception-mimicking fashion, Hari can transport both Suraj and him into a scene from the comic book where they can enter the bodies of the characters and make love to Savita Bhabhi. Welcome to the paradigm of a comic in a comic.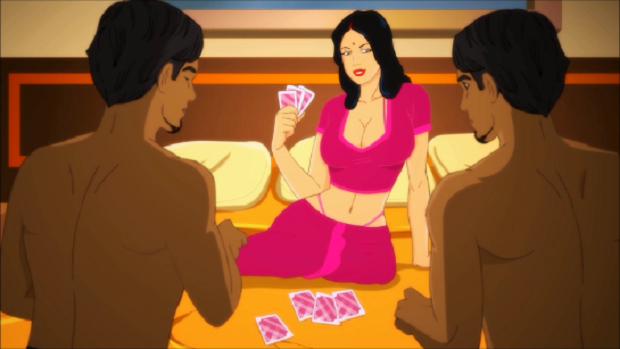 This is the first love-making scene of the movie where Suraj and Ravi find themselves in Savita Bhabhi's bedroom as Varun and Tarun engrossed in a gripping game of strip poker. Punjabi singer Manpreet's Gulli forms the disastrous background score to which Bhabhi gives a blowjob to both the boys, while displaying her ample bosom for their tangible pleasure. The scene ends when the aroused boys climax that causes a system-overload malfunction in the Hari's machinery causing all three of them to find themselves stark naked in his lab.
Dumfounded by her arrival into the future as a real character now, Bhabhi wills to discover the truth about future India. As Hari figures out a way to send her back to the present, Suraj and Bhabhi enjoy a second love-making session this time aided by another Punjabi song, but with a softer tone. Punjabi folk singer Ssameer's Saaiyan leads Suraj and Bhabhi into a soft embrace where they share passionate kisses and carnally orgasm over one another. The setting is perfect and so is the score. Even though Bhabhi seduces the young Suraj in her temptress ways, the sex is almost artistically animated making it sexy and erotic. Truly female-friendly.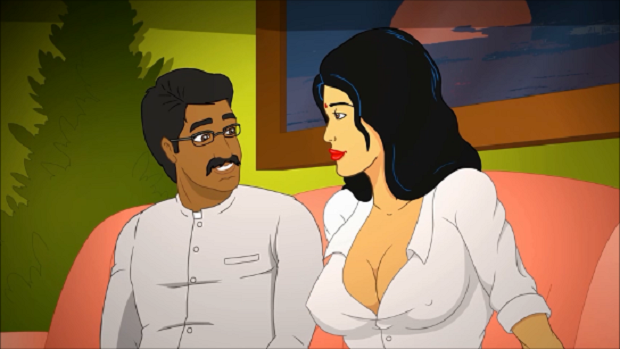 Soon enough, Bhabhi learns she must seduce the minister Gupta in order to secure her passage to her reality. Hari and Suraj arm her with a lens camera and an in-ear speaker phone to record her "interaction" with the minister. Her dramatically, righteous self proclaims inertly, Meri ek chudayi se poore desh ka bhala hoga. Dialogue writers from Empire Studio have attempted to give "Savita Bhabhi Movie" a complete mass appeal, with all the dialogues in Hindi. The crass is almost poetic.
A sting operation, a sex-tape and a livid caricature of a prudish-pervert Indian politician hybrid is brought to justice with cum-covered sleaze. In no time, Bhabhi is back in her present bed being woken up gently by her unassuming husband. Just another day in the life of Savita Bhabhi.
Mumbai-band Shor Bazaar's fantastic 2010 ode to the character, a year after her website was banned, Savita Bhabhi is the official song of the movie. Creator Deshmukh has employed the perfect medium to send the correct message out to his critics. You can't close your eyes to hypocrisy, and you will be titillated by a character that is in personality a subversion of the ideal Indian woman. Go on watch it, it is all about feminism.
Watch the music video:
Savita Bhabhi Movie can be streamed on the website savitabhabhimovie.com. In order to watch the movie online you need to pay a one-time membership fee of $24.95
Comments
comments