Direction
Acting
Screenplay
Cinematography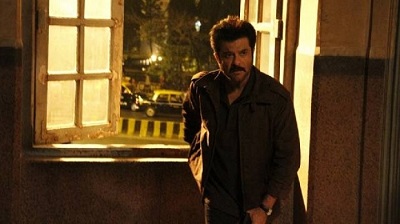 Four hours down, and ATU Chief Jai Singh Rathod (Anil Kapoor) is racing against time to put together the piece of a very mindboggling puzzle. Episodes three and four of the "24 India" continue to keep the pace steady and edgy, teasing and taunting the closet Holmes and Poirots in us. While it's a tad early to jump to a whodunnit, anyone who is familiar with the American series, must be enjoying the Indian run.
The story so far, is so good – it's confirmed that Kiran (Sapna Pabbi), Rathod's daughter has been kidnapped by the terrorists planning the future PM's assassination. Tech geek of ATU (Anti Terrorist Unit) Jia hacks into the SD card handed over by deceased Agent Wasim Khan (Anupam Kher) to Rathod. The source leads to Nikita Rai's (Mandira Bedi) comp, and Rathod spares no second in grilling her till he finds out Nikita's innocent, and has been set up. In the meantime, RAW's eager-to-put-Rathod-down-head, Gill (Yash Suri) comes sniffing the leak, and locks down the ATU declaring Rathod incompetent. Rathod manages to escape the office and chases the first clue decoded on the SD card. A thrilling race down dark serpentine back alleys leads to our first suspect who threatens Rathod to leave else he'll never see his daughter. In the meantime, a harried Trisha (Tisca Chopra) is still searching for her missing daughter, while the future PM Aditya Singhania (Neil Bhoopalam) confronts his mother, Mrs Singhania (Anita Raaj) on the cover up she did years back to save her son from possible murder trial and jail. Already blackmailed by an ambitious reporter with this explosive piece of info, Aditya decides to come out in the open. Scrambled at the moment, the end task is to reach the mastermind controlling the entire situation. Is it the man (Ajinkya Deo) driving Trisha around pretending to look for his daughter - Jhanvi who escapes the kidnappers and meets with a serious accident, or agents Rai (Mandira Bedi) and Tejpal Singh (Adhir Bhatt) or Aditya's right hand man? Waiting for the next hour to strike.
"24 India" airs Friday and Saturday at 10 PM on Colors. You can also catch full episodes on the channel website. 
Comments
comments