Direction
Acting
Screenplay
Cinematography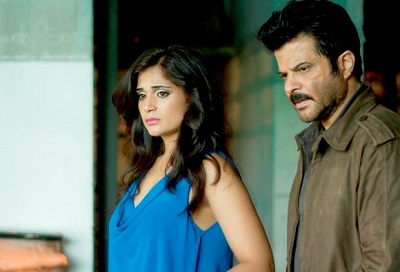 We've crossed the halfway mark, and "24 India" is picking momentum with every suspenseful hour. Okay, so the family is rescued, the ladies – Trisha (Tisca Chopra) and Kiran (Sapna Pabbi) are rushed to a clinic while Jai Singh Rathod (Anil Kapoor) is taken to the ATU headquarters for pooch-taach. Meanwhile, journalist Mehak Ahuja's (Suchitra Pillai) death raises eyebrows, making Aditya Singhania (Neil Bhoopalam) suspicious of foul play. He is proven right when the rat, KK confesses to the murder and asks Aditya to step down and make way for Prithvi instead else he will be implicated in Ahuja's murder. Aditya and family confront Prithvi, who of course denies, and confronts mom Megha Singhania (Sujata Kumar). "Yes, I did it," she screams. "For you, because you are more capable, and this is your right," she continues venting.
Prithvi has clearly not approved of mom's tactics, while Naina Singhania (Anita Raaj) implores Aditya to see all this with a clear and cool head. He is more popular and ambitious, and who is to say he is not behind all this, Naina hashes is out with Aditya. The Q&A session with Jai enters a new level with Abhilasha (Shabana Azmi) is interrogating him while a new player is seen boarding the show.
Bala, the new LTFE assassin enters and takes over. First thing he does is stab the life out of Karthik (Ajinkya Deo). Second, and an explosive one, is when he opens the door for Naina's closest aide, Pooja and makes out with her. Another gaddaar exposed, for the viewers that is.
Back at the clinic, Nikita (Mandira Bedi) is sent to check on mother-daughter, takes control and drives them to a safe house.
Two hours, a snitch, a threat, an assassin and a plan B later, including Divya Singhania's (Shivani Tanskale) failing health, "24″ opens the chapter of Operation Trishul. A secret mission headed by Jai and ordered by Aditya's late father to put down LTFE chief Ravindran. Rings any bells? Now, Ravindran's son (we are guessing), Bala is back to settle the score, and on his target are Jai and Aditya and their families. Ah, so filmi. But who is funding and fuelling it? That time will tell. Stay tuned.
"24 India" airs Friday and Saturday at 10 PM on Colors. You can also catch full episodes on thechannel website. 
Comments
comments