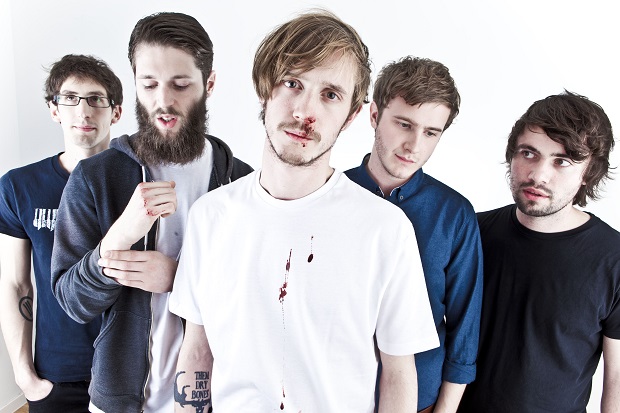 Five East Londoners, who found individual expression in making music with bands who played sounds that were as diverse as grunge, prog rock, metal and even those occasional acoustic ditties, made for an unlikely group. Yet singer/songwriter Peter Liddle, guitarist, keyboardist and vocalist Matthew Taylor, bassist and vocalist Scott Miller, drummer Jon Warren and violinist Will Harvey found a way to kick that harsh angst and grow mellow together as a pastoral, folk rock act called Dry The River. Known to cause nosebleeds (as their nomadic profile picture shows), their emo lyricism is masked by infectious and string-and-keys-led melodies and mellifluous vocal display. The band released their debut album "Shallow Bed" in 2012, to joyous fan and critical appreciation. Their simplistic folk tinged rock is reminiscent of the Mumford And Sons and Beirut gravitas, which is why the band is quickly gaining fandom to play at UK festivals like The Glastonbury, The Great Escape, Green Man, Bestival and many more. The band just finished their extensive Europe winter tour and are in India to play the Nokia Music Connect in Mumbai and Bacardi NH7 Weekender, Delhi. They played the Weekender edition in Bengaluru over this past weekend. We spoke to frontman Liddle and co-vocalist Taylor about their expectations from the tour, their sophomore effort, how Matt Reynolds dreamt up their name and everything in between.
What are you looking to experiencing in India since this is your first time here?
Liddle and Taylor: We're really excited to be coming to India. We are playing Bengaluru and Delhi as part of NH7 Bacardi NH7 Weekender, and in Mumbai for Nokia Music Connect. I think the whole trip will be out of the ordinary for us as we have only ever toured in Europe and US, so we are looking forward to absorbing a place that's very culturally different to home.
When Fink came to India last year, he talked about how while sitting in UK years ago, he'd read about Mumford And Sons and Laura Marling's India tour and how excited he was to experience it. Have you heard from or of any artists in UK who have played in India and had a story to tell?
Liddle and Taylor: We just finished a tour in Eastern Europe along with with Biffy Clyro, who said that their experience in India was eventful and very different from the shows that we may be used to, but they had an amazing time. We are eager to see how Indian audiences will react to our music and hope to come away with great stories to pass on.
Take us through the genesis of Dry The River. What's the story behind the name?
Taylor: We all met through the alternative music scene in South England. We used to see each other's bands and record with mutual friends. Peter wrote the first Dry the River songs alone and called us up to play on a demo recording of four of his songs. After that we just continued to write and record together as it seemed to be working. Peter came up with the name, I'm not sure where it came from and I like not knowing. He makes up a different story each time he's asked. Today he says it came from our good friend as transcendent musician Matt Reynolds who dreamt it.
All of you guys were in grunge and metal bands before coming together to start a folk rock act. That's a huge change of music, almost polar opposite to what you guys were doing individually. How and why did the shift happen for you all?
Liddle: That's true to an extent, though it was quite a gradual shift in reality. I think most musicians who play alternative or even pop music probably began in some sort of rock band in their youth - its like a rite of passage. I think we arrived at our sound quite naturally by simply growing older, maturing as musicians and expanding our musical palette. Appreciating all kinds of music opens more possibilities and inspires more interesting songwriting.
What are the sounds and musicians that inspire the music of Dry The River?
Taylor: They are spread so far and wide that its very difficult to make any sense of them. Peter as the primary songwriter has an appreciation of people like Leonard Cohen and Paul Simon as well as more contemporary bands like Arcade Fire. The rest of the band have fairly conflicting tastes, from Rush to Gram Parsons to Brian Eno.
Do you feel a lot of artists tend to gravitate towards folk rock, since as an indie genre it is somewhat gaining a lot more popularity now with some of the contemporaries of the genre?
Taylor: I'm not sure - that style of music has certainly grown in popularity but now perhaps it's waning a little. In our case we weren't really aware of that scene when we wrote the first record - most of the songs predate releases by the flagship bands of that genre. It's up to the listener to continue to be vigilant and seek out great music regardless of its genre.
As a band whom do you think you are compared to most? Does that bother you?
Liddle: Comparisons don't bother us at all, we understand that people need touchstones in order to refer to new artists, no matter how loosely referential. We are compared to Mumford And Sons but also have been compared to Fleet Foxes and Radiohead and Jeff Buckley. I don't think we sound much like any of those people but those comparisons serve as access points to the music and that can't be bad.
You are working on your second album. Can you talk more about it's songwriting process. Your first album was a culmination of your journey through four years of songwriting. Thematically, how will the second be different from your debut?
Taylor: We took a different approach to writing this album. Peter included me at the very early stages and we developed the songs together. We also worked with a producer, Charlie Hugall, whilst the songs were fairly raw, to help us realise them in full-band form. Thematically I think the songs are slightly more grounded in reality and perhaps less overtly grandiose. They are a little more concise too.
When will the album be released? Will you playing some unreleased material at the gigs in India?
Taylor: The album will come out next year and we'll definitely play one or two new songs from it at the shows in India. We're really enjoying playing new songs for the first time in our career.
Catch Dry The River perform at The Scene UK alongwith And So I Watch You From Afar, Zervas & Pepper and We Were Promised Jetpacks on November 26, 2021 at Blue Frog, Mumbai. They will also play the Delhi edition of Bacardi NH7 Weekender between November 30 to December 1, 2013.
Comments
comments