Direction
Acting
Screenplay
Cinematography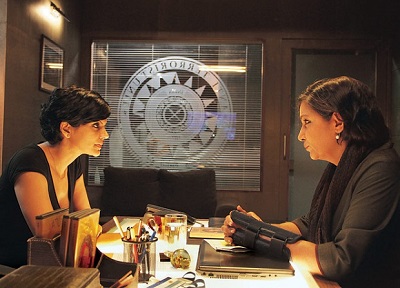 Before I get down to decoding and dissecting this week's hours, here's a newsflash: "24 India" will hopefully see a Season Two next September/October 2014. That sounds like Indian television is finally growing up to the international formula of annual editions of story progression. 

Now, the catch-up: A change of clothes, a change of scene and couple of bloopers were the highlights of this week's "24″ countdown. With ten hours to go, loyalties are being questioned, suspects are being scanned, eyebrows are being raised, authority has been established and a few masks are coming off.
Nikita (Mandira Bedi) suspects that Trisha (Tisca Chopra) and Kiran's (Sapna Pabbi) lives are danger and scurries them off to a "safe house." (Yes, we apparently have these in India too and to us is not just the title of a Denzel Washington movie). Along with her, leaves a team headed by Agent Nakul while Agent Raunak is still en route to pick Jai Singh Rathod's son Veer (Adhish Khanna) from his academy. In the meantime, Aditya Singh Singhania (Neil Bhoopalam), orders Abhilasha Grewal (Shabana Azmi) and Kamaljeet Sood (Shivkumar Subramaniam) from RAW to bring in Jai for a one on one. The two meet, and Operation Trishul unravels. Now here's where it gets filmi – Operation Trishul was ordered by Singhania's late father and headed by Jai to finish the LTFE forces in Sri Lanka and its head, Ravindran (this is all LTTE, Jaffna, Prabhakaran on repeat mode leading to the then Prime Minister's assassination – for better understanding, watch Shoojit Sircar's "Madras Cafe").
Unfortunately the mission claims the lives of Ravindran's family too, and while Jai believes they had cleared the mess, Ravindran's elder son, Bala (Nishant Kumar) returns to avenge his father's death by targeting Jai and family and Singhanias. The smart cookie uses Singhania's closest aide and press secretary Pooja (Pooja Ruparel) to gain access into the life and times of Singhanias. Jai, on the other hand, contacts an old colleague on the erstwhile mission, Singh, and asks him to forward intel on Op Trishul. "Yeh to personal ho gaye," scoffs Singh as a matter of fact.
Actually, that's increasingly becoming an issue with "24 India" – the nonchalant, dispassionate tone of delivery. Sometimes, it's too zombied to make any impact. For instance, Jack Bauer (can't resist the comparison) instantly comes across as a maverick who is a die-hard patriot. Somewhere, Kapoor as Jai is turning too robotic, and sadly, the director is allowing it. Till now, if anyone has caught our undivided attention is hands down Neil Bhoopalam as Aditya Singhania, his brother-in-law Vikrant portrayed by Rahul Singh and Anita Raaj as Naina Singhania.
Speaking of the family, Prithvi, to earn Aditya's trust, brings him his mother's angered "confession" to getting journalist Mehak Ahuja (Suchitra Pillai) murdered with the help of political tout KK. Let's see if it works.
Back at the safe house, Nikita starts Trisha and Kiran's debriefing. Somehow, Trisha brings up the topic of Jai having an affair with someone in the ATU, and suspects Nikita as the partner in this crime of passion. Honestly, this is where "24 India" becomes all soapy with an irritable Trisha extracting information out of Nikita, making it the most futile piece of conversation in the entire episode. Maybe it was needed, but it stuck out like a sore thumb, Trisha doesn't let bygones be bygones, and as a result Nikita leaves.
Outside, another assassin (the fake photographer Mark) is keeping an eye on the safe house, and plans a swift attack. The man, with amazing ease, takes down one agent after another. Agent Nakul sees him, and instead of warning his team on the walkie talkie (blunder), he rushes Trisha and Kiran out of the house, bundles them in a SUV, and speeds off.
Blooper number two: Mark shoots an agent down, he falls in the pool, and floats, and voila, not a drop of blood. Blooper number three: Mark chases the car – on foot – and fires. Nakul is shot in the shoulder, he loses control and the car somersaults into the bushes. Blooper number four, and the biggest: Actually, that is part of the story – Agent Raunak is stopped by a hitch-hiker, and the agent supposedly on a high profile mission – stops.
The hitch-hiker pulls out a gun and shoots him. Dead. Seriously – are agents that stupid and terrorists that smart? Is it that easy? While you ponder over it, here is a little clue – only folks in the ATU knew someone has been sent to pick Raunak. The rat is still in the ATU. Keep guessing as the clock ticks and Jai loses agent after agent.
"24 India" airs Friday and Saturday at 10 PM on Colors. You can also catch full episodes on thechannel website.  The makers of the TV show are also out with an interactive 3D mobile game, "Safari Storme 24 – The Game." You could give a shot as well and tell us how it plays.
Comments
comments