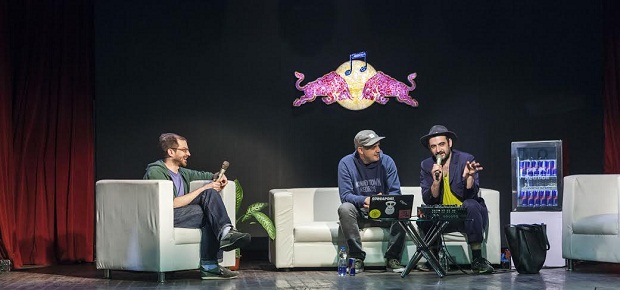 The Red Bull Music Academy hosted Berlin's internationally renowned "intelligent" dance music exponents Modeselektor for a tête-à-tête with Todd L Burns, former editor of Resident Advisor yesterday, and also for a live DJ set by them later in the night at the same venue, Blue Frog Mumbai.  While the conference began with Burns introducing the Red Bull Music Academy, speaking about the intensive program it runs and also how participants benefit from the exposure, travel and collaboration through the two weeks that the program is run over, guests DJ Jeet Gupta and sound recordist Sonal D'Silva, who were in earlier batches of the academy, shared their experiences of and insights about the program.  While Gupta spoke animatedly about making a transition from purely being an Indian classical instrumentalist to introducing electronica in his set, D'Silva spoke about getting a perfect idea about what she wanted her career to span into, understanding the technicalities of her craft better.
Modeselektor's Gernot Bronsert and Sebastian Szary then came on stage and within the time that they were on stage spoke a world of information regarding their music, their labels and the journey for them as musicians over the last twenty years. While they started by describing the software they used for their sets (Maximum P for their live sets, Logic Studio for recording) they also described their need to create their own customized software. One of the main factors for them getting into music the way did was the anarchic nature of Germany's reunification, leading to massive underground parties, and the need for electronic music, which then became a culture of sorts, making Berlin one of the prime electronic music hubs on the planet to this day. The duo being Red Bull artists themselves Bronsert described the parties then as the "true spirit of partying- taking ecstasy and dancing", and clearly though Berlin has changed from it's almost lawless state to something much different now, the party scenes prevail by and large as the same.
Evolution has been a constant part of the duo's music with elements ranging from jungle drum and beats to Detroit techno. In time, the two also got into an association with Pfadfinderei, who manage all of the visuals for their sets. Modeselecktor got its name from an echo setting on a Roland Space Echo effects unit. Describing their ever growing passion for producing music, Bronsert also spoke about how they'd start making five minute songs that would loop and evolve and morph into 17 minute behemoths, which is where they realized the importance of setting deadlines and sticking to them.
Modeselektor has three studio albums to their credit, along with a large number of collaborations including one with Radiohead's Thom Yorke, and a host of compilations and EPs. The duo also have to their credit two labels of their own, Monkeytown Records and 50 Weapons, through which they forward new and upcoming DJs, do a lot of recording, and also live events for the artists they are managing. While the initiative seemed like a brilliant way to burn money at the start, probably what worked to their benefit was the amount of work that came in, and also the opportunity to connect with a lot of people. The aim for the duo through these labels is to foster a friendly-for-all paradigm where everyone could enjoy music, irrespective of age.
Bronsert and Szary have known each other from primary school, so their camaraderie is pretty thick, as is their understanding of music and interaction with each other. Speaking about their music composition style, their ability to mix music has only gotten tighter, as Szary states, "Throwing material away is not an option, as every track has a story, and is a memory itself."  Adds Bronsert, "Track making is essentially random, it's living- a track can take as little as two days or as much as two years to complete production."
This was the duos second run in with the country, having played in Kolkata in 2009, and Szary spoke about how although it's good to see so much electronic dance music coming out globally, what was a little sad was the fact that genres and music now is all fad and media-based, and hence music dies a very quick death, leading to time to really enjoy it. He also spoke of how how Modeselektor would  rather not be compartmentalized by genre and rather celebrate music as it is. As a word of advice to DJs today, SZary was quick to say, "Just do what makes you happy. And don't copy, too much". While they are not composing any new material at the moment considering their ongoing travels, Szary informs that 2014 shall see them putting out new material.
Late into the night, Modeselektor played their DJ set at the same venue, playing their popular tunes, including Evil Twin. They will be playing at LAP,  New Delhi on December  6, 2013
Comments
comments