Direction
Acting
Screenplay
Music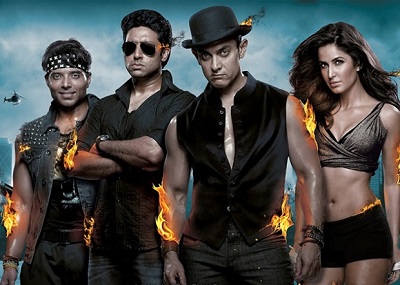 First, my apologies. It is inexcusable to come up with a review mid week post the release. But c'mon, it's "Dhoom 3," and considering the major hype and hyperbole that comes with it, it really doesn't matter how many stars I give. Adrenaline pumping action, high speed chase, super chor versus super cop, sexy lady on the floor – here's a formula that guarantees ka-ching, and so, the only star that, actually who, counts here is Aamir Khan.
"Dhoom 3″ belongs to him, even when he is tap dancing with immense intensity, in a bowler hat. Still, as much as we wished Khan to pull off a "Thomas Crown Affair," an "Oceans 11," or even a "Now You See Me," "Dhoom 3″ circles around "The Prestige," replete with high-octane vrooming action and special effects. There is no deep thought, logic or even hardcore bloody dishum dishum here; not even a regular heist/robbery plan in play. It's plain revenge with Khan showing off his six-pack abs.
Unfortunately, the super cop Jai Dixit and his sidekick Ali, viz Abhishek Bachchan (yes, the "still an ACP" joke is following him), and Uday Chopra, can't even flaunt that. So consumed is "Dhoom 3″ with Khan that others are shadowed by his mere presence. Even Katrina Kaif looks like a singing-dancing circus prop. This was not the case with "Dhoom 1″ and "2." The preview
"Dhoom-s" had more characters – John Abraham and his gang, Hrithik Roshan and Aishwarya, Bipasha Basu adds more chutzpah to. But here, it's a cold windy, gloomy Chicago, just like the angst ridden joker, Sahir (Aamir Khan) and the poker faced goras as supporting cast.
My advise: it really is not worth spending 900 bucks in big cities for. If you are dishing a 200, go watch for Aamir. Rest, leave those bogging down "great expectations" at home please.
Comments
comments