Known so far for their quaint set-up and complimenting acoustic programming, Andheri's The Little Door is bringing the party to their revelers with new weekly night of electronic music curated by DJ Reji called Beat Blender. Every Thursday, Reji will be curating the artists performing at Beat Blender. What's awesome about this particular weekly gig is the fact that it crosses across genres and music sensibilities, and every week shall see a not so subtle genre shift in the music that is played.
DJ Reji, who also curates Mixtaped! every Wednesday at The Den in Bandra says, "Beat Blender was formed when The Little Door (TLD) team got in touch with me and they told me that they wanted to change the music and vibe of their Thursday nights. The venue is already two years old and is undoubtedly one of the leading hot spots in Andheri West. It is packed almost every night of the week with patrons swaying to EDM and commercial music seven days a week. The team's decision to introduce and expose their patrons to a whole different chunk of music."
In it's first edition, Beat Blender shall feature the bass-thumping duo of  Mark Fulgado and Pratik Dhongdi, who make up Bajje Squad. PopSplat spoke to Dhongdi, who gave us an insight into their sound.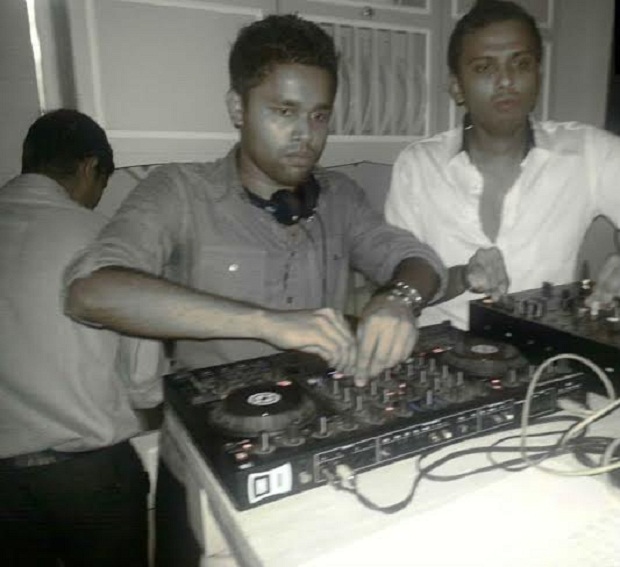 What is Bajje Squad?
Bajje Squad is the brainchild of Mark Fulgado (Bramfatura,) and myself, Pratik Dhongdi. We are inspired by the uprising of bass music; and fuelled by the desire to kick some serious ass when it comes time to hit the decks. We have a very simple motto and if you asked me to define it, in sheer dictionary style, here's what I would say -
Bajje | ba-jay |
Verb (past bajjed | ba-jay-ed | past participle bajjaoed | ba-ja-ò-ed |)
1 play the music loud and non-stop
2 create a state of euphoria and cause energy to be spent rapidly
3 to get shitfaced.
Bajje Squad promises nothing short of a workout for those on the dance floor, and to cater to the inner-bass-head in everyone by bringing the house down with an electrifying music experience. Bajje by definition means to play music loud, to get people moving and to get belligerently wasted. So, let's Bajje?
So Bajje is a term coined by you?
That's actually an interesting story — when we were thinking up a name, we hit a wall for a little while and had no clue where to go. We then shelved the whole thing entirely and hoped we would be struck by some form of inspiration. Before I go on, I should probably explain that in our circle of friends we use the term, that we have coined ourselves, bajje in context to something that is staggeringly epic. It's hard to explain what it means because it means different things in different contexts. It could mean bajao a song or it could mean 'that's awesome!' depending on how you use it.
Can you use bajje in a sentence? Ten points.
'Hey man, have you heard this new song? I just want to bajje it all day.' or 'How bajje is this artist man?' and so on and so forth. While we were coining the name we heard a couple of friends drop the word, casually, and decided that since we love what we do so much we may as well just call ourselves Bajje Squad because we thought that it would be a fitting, and bajje name for the two of us.
How long have you guys been playing and what have been the crowd reactions to your music?
We have been doing what we do for the better part of a year now. We play a huge variety of genres because we tend to sway towards playing what sets that we would like to listen to. The crowd that has come out to see us perform and supported us have always been taken by surprise because no two sets are even remotely similar. Needless to say, those that have come out to a gig have turned up for the next one. So I personally believe that we're on the right path.
What are you going to be playing at the Beat Blender?
Like I said earlier, we're really experimental with our music selection. At our gigs we've played everything from Deep House to Dubstep to Drum and Bass and even some Glitch. This time though, we're more inclined to playing Deep House with a little bit of Drum and Bass for bass-heads like ourselves.
The first Beat Blender will be held at The Little Door, Andheri West on March 6, 2022 at 10 PM. Entry Free. For more details and updates, clicks 

here

.
Comments
comments