Acting
Direction
Screenplay
Cinematography
Score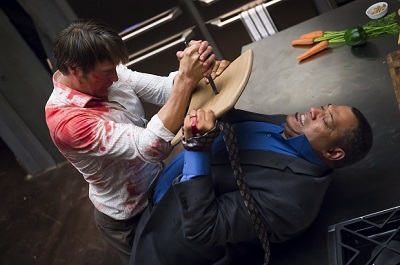 Creating a Japanese meal is a delicate art form. The portion and plating has to be crafted with chopsticks. The fish has to be treated just right and the garnish must always be precise, not a leaf more or a slice too thick. "Hannibal's" Season Two is going to be testing the head chef Dr Lecter's (Mads Mikkelsen) table manners. That was established in the premiere episode, "Kaiseki" (which means a multi-course Japanese dinner).
At the end of Season One, we saw Will Graham (Hugh Dancy) finally losing his lucid mind and finding himself committed to the Baltimore State Hospital for the Criminally Insane. He's been accused of crimes committed by Lecter. No one knows that but Graham and that's what Season Two will be about. Graham will have to play the mind game of clearing his own name and proving Lecter's guilt. For now though, his nemesis has taken over his place in Jack Crawford's (Laurence Fishburne) army of investigators as the psychological profiler. There was even a neat case for him to solve, about five dead bodies hardened by silicone injections and discarded in the dam. For Dr Lecter it's a big thrill, "I got to see what Will sees. I was in his shoes today," he later tells Dr Du Maurier (Gillian Anderson).
But the more interesting crimes were being committed to Graham's state of mind. He's been isolated and his memories are being triggered. He's putting together the pieces and recalling what Lecter did to him. He's still hallucinating, he still sees the looming black stag with antlers that have come to haunt him since he worked on his first case on hunting down the Minnesota Shrike in Season One. It's become a metaphor for danger and serial killers for Graham since then. Everytime Lecter comes to visit him, he sees the black stag not a Human being. He recedes into his mind every now and then to decode and dig into what went wrong and where. And then he remembers. A drugged Graham is orally probed with an endoscopic pipe by Lecter who plants a piece of an ear lobe that became crucial forensic evidence that eventually framed him.
This dance of proving his innocence and Dr Lecter's guilt will last a whole season, as is established in the opening scene. Over an elaborate dinner table meal, Crawford and Lecter play a deadly, bloody, vein splitting death match.  Before anyone dies, we rewind back 12 weeks to current day. It promises to be a full of intrigue, blood, deceit and what we imagine, gluttony. Let's see what creator Bryan Fuller does next. His cinematographer, James Hawkinson, seduced us with his elaborate kill tableaus in Season One. Besides a more or less low on gore episode, he leaves us with an arial shot of bodies stacked in circular symmetry. The mystery looks like it will be solved in the next episode. Mr Fuller, as your Graham goes fishing every now and then in his isolated cell in custody, we are hooked.
Watch the next episode of Hannibal on March 9, 2014, 9 pm onwards on AXN India.
Comments
comments