Put on 'em dancing shoes and head to Beat Blender at The Little Door, at 9 PM on this Thursday, May 8, 2014. It's where  Fuzzy Logic is playing this week. Fuzzy Logic is the indie electronic project by Arfaaz Kagalwala, and has been on for a good four years now. Besides this electronic project, Kagalwala has also played earlier with rock, funk and electronic outfits such as Galeej Gurus, Zebediah Plush and Tempo Tantrick, Fuzz currently performs live electronic sets as well as plays drums with his alt rock band Slow Down Clown.
We spoke to the man behind Fuzzy Logic and this is what he had to tell us.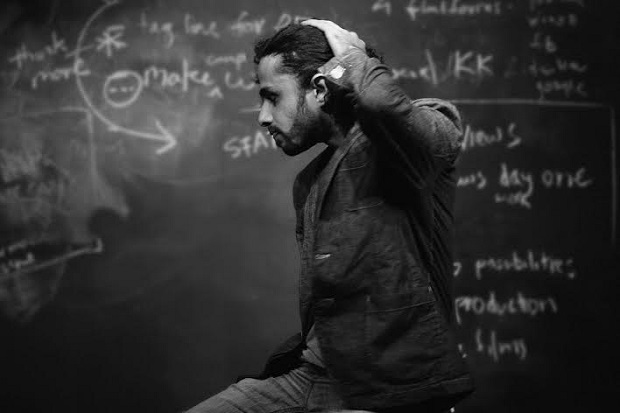 Who and what is Fuzzy Logic? (a little history on the act, and formation)
Fuzzy Logic is my personal electronic music playground. It began as a purely bedroom production endeavour after the disbanding of my previous electro duo Tempo Tantrick in 2011. I began writing songs and producing electronic music that did not stick to any particular style or genre. In fact, the idea was to be able to experiment with different sounds. The first couple of tunes were dark, grungy and downtempo and gradually I began to shift towards dubstep and more recently EDM. However, it was meant to be a purely production based outfit and I had no plans to take it live. By the time 2013 had arrived I had produced well over a dozen tracks and received a fair amount of coverage in the media. It was during this time that I decided to go 'Live' and began working on my live act which at times involved collaborations with instrumentalists. Currently, a typical Fuzzy Logic set is hybrid DJ set involving live vocal looping and textural sample layering over melodic house, techno and nu disco beats.
Fuzzy Logic is quite an interesting name for a music act. What is the history behind the name selection?
Fuzzy has been my nickname in music circles for over a decade now. The music that I make (for the most part) is constantly changing, does not adhere to any formula and is an extension of my own twisted logic or way of thinking. Also, Fuzzy Logic is a form of variable logic applied mostly in artificial intelligence. The beauty of the Fuzzy Logic algorithm is that it deals with undefined and ever changing values to create a single, defined output. An example of this technology would be in computer tablets which recognize hand written messages and convert them to text. So I found this to be a fitting name for a musical endeavour that is inspired by such a large and indefinable range of music.
How long have you been playing your set, and what have been the crowd reactions to your music?
My set is currently in its second avatar and is more defined and streamlined than it was about a year ago. I inaugurated this new set in December 2013 along with a 3 track EP release titled "Money Talks" which was released along with a music video. Fortunately, the response to the set has been overwhelming and so I have been playing numerous shows across the country ever since. Crowds in different parts of the country react differently but overall I have received a very positive response to the new set and I see a lot of smiley, happy faces in the audience. I have noticed that it also seems to be more female friendly, maybe because of its melodic and groovy sound as opposed to the more banging sets out there. It is designed to evoke a feeling of contentment and happiness.
What are you going to be playing at the Beat Blender?
At Beat Blender, I will be playing a hybrid DJ set that covers common ground in the deep house, techno and u Disco space. I call it hybrid because as opposed to a regular DJ set, it involves the use of live vocal looping and layering of samples/textures with the use of MIDI controllers to add that 'Live' element to the performance.
What does the future for Fuzzy Logic look like in terms of gigs and studio work? 
The future of Fuzzy Logic is a bit fuzzy as of now. This Beat Blender gig will mark the end of my second tour this year and I'm looking forward to releasing a bunch of new singles and beginning work on a brand new animated music video. I plan to take a break from gigs as well for a few months so as to rework my current set. I have a bunch of new analog gear that I want to integrate into my performance and so I plan to get busy and holed up in my home studio working on just that. There are also a couple of collaborations with visual artists and other musicians in the pipeline that will surface soon enough.
Beat Blender With Fuzzy Logic will be held on May 8, 2022 from 9 PM onwards at The Little Door, Andheri. Entry FREE. For an RSVP to the event and more details, click here.
Comments
comments