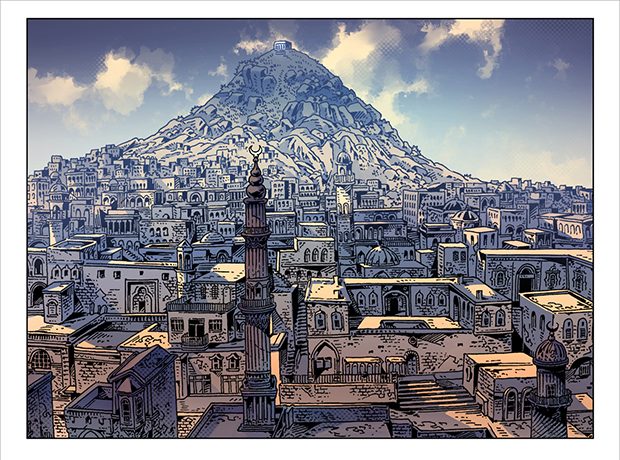 Giving the silicon city of India it's cultural re-interpretation had to be a challenge. But Hyderabad-based journalist-turned-fiction writer Jai Undurti took it upon himself to bring the city to life with his unique Hyderabad Graphic Novel Project. Stitched together with an array of stories that Jai wrote and collaborated with illustrators, the graphic novel came to life. Along with website Helter Skelter, Jai will be conducting a three-hour comic writing workshop at The Hive. We spoke to Jai about the stories in his head and what entails comic writing.
Q-1. When did you start The Hyderabad Graphic Novel?
"Hyderabad: A Graphic Novel" started as part of an archiving project initiated by a local NGO. I was interested in exploring the idea of cities further so along with a couple of friends started the "Every City Is A Story" initiative. We are moving on to Bengaluru next, and hope to release the first volume by September.
Q-2. Do you collaborate with various artists for illustrating your work?
Yes – that is the best part of the job really. You send the script – and the next day you receive the art, it really is the best form of alchemy. I've been fortunate to work with some amazing talent. "Hyderabad…" owes enormously to artist Harsho Mohan Chattoraj from Kolkata. I've been collaborating with Harsho for the past four years now. He has a unique style with distinct muscular linework and incredible detailing.
The master himself, Mukesh Singh did our cover. He actually did 17 thumbnails before we finally hit on this. The discarded options were quite brilliant too; I had the most difficult time picking one. Mukesh's approach is very thoughtful, combining both craft and a very developed sensibility. Regarding the final cover with the Princess, he says, "I think of her as … the soul of the city keeping her secrets in the vast archives. The days know not what the years have seen and the years have seen much. If you care to indulge her she will whisper her secrets to you, a panel at a time. The genie T-Rex is the beast to her beauty."
Neeraj Menon's colours are sensational – he puts a lot of thinking in picking the palette. It is always a pleasure to try to guess his choices; and he almost always surprises you. 
Now I'm working with American artist Stan Chou on a robot epic set in a dystopian India, provisionally titled "The Robots of Dharma". I am also back with Harsho on another project, an occult action story called "Necropolitans." This one I can see writing for the next few years at least, there is so much material to work on.
Q-3. What are the key things that people need to keep in mind when they make the shift from one field to another, like in your case from a reporter to a creative writer?
I continue to work as a journalist, albeit as a freelancer. There are lots of things from journalism I draw upon – the need to express yourself concisely and with clarity.  To answer your question I think it helps that you should have wide-ranging interests. Little bits of information and experience that you are able to use in whatever you do.
Q-4. Are there any graphic novels and novelists that are part of your must-read list?
I'm a huge fan of Alan Moore ever since I read "V for Vendetta". Some of my favourites include Alan Moore's "Promethea," the "Deathnote" manga by Ohba & Obata, "Persepolis" by Marjanne Satrapi, "The Tale of Brin and Bent" and "Minno Marylebone" by Ravi Thornton, "Mister Wonderful" by Daniel Clowes, "The Arrival by Shaun Tan" and "El Borbah" by Charles Burns. Tintin and Goscinny and Tabary's Iznogoud have had a special place since childhood.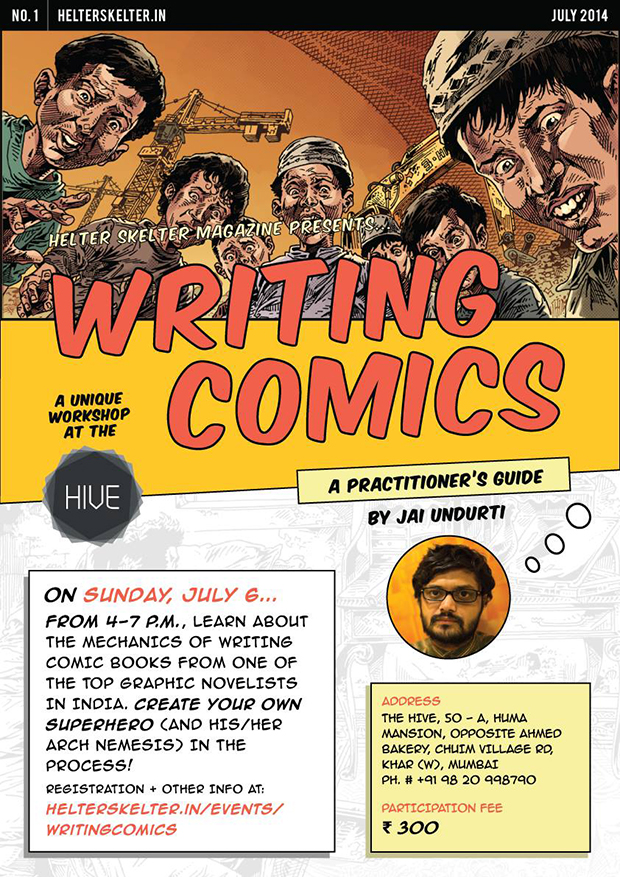 Q-5. What will your writing class at The Hive entail?
It will be very much a practitioner's perspective. As they say, a creative project is really one big (hopefully good) idea; the rest is detail. I will take the participants through some of the concrete problems that need to be solved when you come down and start putting pen to paper. I'll also take the participants through the challenges of creating "Hyderabad: A Graphic Novel."
Attend [Helter Skelter Workshop] Writing Comics: A Practitioner's Guide with Jai Undurti on July 6, 4 pm to 6 pm at The Hive. Register here.
Comments
comments