When:
November 16, 2021 @ 8:30 pm
Where:
Blue Frog
Mathuradas Mills Compound
Senapati Bapat Marg,Lower Parel
Mumbai 400013.

Cost:
Rs. 500 post 6:30pm. Seating is on a first come first served basis. For pod reservations call 022-6158 6158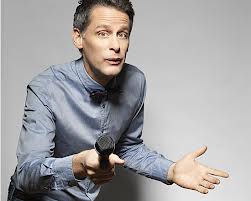 Scott Capurro (USA)
Not for the faint-hearted, Scott's un-comprising take on his gay lifestyle and white trash background make him as challenging as he is funny. A Perrier Award Winner, he has recently had his first novel published "Fowl Play", a comedy about murder and date rape, to rave reviews.
Rohan Joshi
Rohan Joshi is a stand-up comedian, writer, columnist, and occasional screenwriter. He used to be a full-time journalist, and it was this strong background in the highest form of Indian comedy that there is, that inspired him to quit, and pursue comedy full-time.
From opening for Vir Das to performing at the Fringe Festival, Edinburgh in 2011, Rohan has spent the last few years performing around India, and indeed, around the world. When he's not doing stand-up at comedy-clubs or for corporate clients, he's a member of Weirdass Comedy, India's first and foremost comedy consultancy, and improv troupe, the Cardinal Bengans. He is also a humour-columnist for the Mid-Day, one of Mumbai's largest tabloids.
As a stand-up comedian, Rohan's material is political, observational, and adult in its sensibilities. Note however that "adult" does not always mean mature. Rohan resents the suggestion that he might in fact be mature.
TIME Magazine put Rohan at #1 on their 100 Most Influential People Who Might Lie About TIME Magazine Statistics List, and Newsweek calls Rohan "Huh? Who?"
Gursimran Khamba
Gursimran Khamba is a comic, writer and co-founder of India's biggest comedy podcast All India Bakchod. Widely regarded as the country's edgiest comic, he enjoys making people laugh at things that make them uncomfortable, thus leading to many people getting offended and cancelled cheques. He is also a columnist for Firstpost and can be read on gkhamba.com
Comments
comments