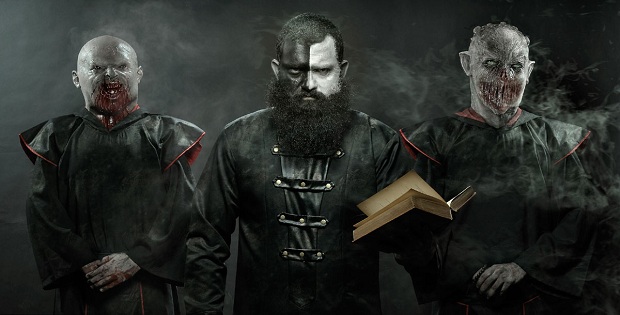 It's been a hell of a tumultuous time for Mumbai metallers Reptilian Death. Despite owing their genesis to being a "spoof death metal band," in the words of frontman Sahil Makhija, Reptilian Death rose from that mediocre design to become a serious uprising since 2001. Up until 2006, in their active years the band unleashed five records - three EPs, a split CD and a full-length album, "Total Annihlation." Since 2008, Reptilian Death have been hissing every now and then collecting new members and recording their comeback album. A lot has changed since "Total Annihaltion." The new lineup has Makhija on drums, Nishith Hegde (Albatross) on guitars, Ashwin Shriyan (Demonic Resurrection) on bass and Vinay Venkatesh (Bhayank Maut) brutalising the mic with his vocals. The band will be releasing their sophomore record, "The Dawn And Consummation And Emergence" on May 19 through Universal India. We spoke to Makhija about the songwriting process and evolution of the band.
Q-1. As a one-man army behind the birth of many metal projects like Demonic Resurrection, Workshop… what is the story of  Reptilian Death?
Reptilian Death was my spoof death metal band. Having heard a bunch of artists like Anal Cunt and Anal Blast, I felt inspired to take that to the next level and that is how Reptilian Death was born. I started out as a solo project with a five song concept called "5 Easy Ways To Murder Someone." The live band took form in October 2001 when Demonic Resurrection was unable to go and compete at the National Law School of Bangalore's festival Strawberry Fields. I was so impressed by that fest from my attendance there previously in 2000 with Demonic Resurrection, that I just had to go again and since DR was not available I put together a live lineup for RD including a close friends Husain Bandukwala (bass) and Jaiveer (guitars) and myself doing drums and vocals. That was the birth of Reptilian Death and that is how our journey began.
Q-2. Along with Demonic Resurrection, this is your oldest project? You released an EP shortly after you announced the solo project in 2001. Was it at that time an experiment to push your own limits or was it something you knew was going to evolve into a full band that it has become now?
Back in the day there was no announcing as such. I just had an idea, wrote and recorded the songs and uploaded them on mp3.com at that time. There was never any intent to form a band, it was just an idea that evolved on it's own. As a person I'm unable to stick to doing just one thing so RD is just an evolution of myself.
Q-3. How many lineup changes have you had for the band in the course of all these years? .
The bands first lineup was myself on drums and vocals, Bandukwala on Bass and Jaiveer on guitars. We had Girish Menon (our guitarist who passed away in 2004) from sometime in 2002 till 2004. For a short stint we had Nitin Rajan on vocals with Sunny Shaik on guitars. After that we had Sugath join us on vocals who also recorded on the 2006 EP "Intestinal Feast" and we had Arjun (guitars). Finally in 2007, we did a few shows with Pradeep Pande (ex-DR, Infernal Wrath). Bandukwala was the only constant member through the years.
Watch the new lyric video for O, which also features session musician Daniel Kenneth Rego on guitars:
Q-4. Shortly after "Total Annihlation," Reptilian Death went into hibernation only coming out for an odd gig here and there. Was sustenance a problem or inspiration or direction of the band or just plain time?
It was simply that the band was a side project and happened as an when. There was no real goal for me with this band. It was merely to play drums and write music that was pure death metal as and when I had time. So we were always just sporadically making appearances.
Q-5. One of the most endearing qualities about you is your level of multitasking, energy and effort you put behind all your bands. You worked on the Workshop, in-the-studio Demonic and Reptilian Death albums almost around the same time, atleast they have all come down to the almost very close release dates. Take us through your all the different songwriters that are at constant work at the same time in your head. Also where did you record/mix/master the album?
I produced, mixed, mastered and recorded the Reptilian Death album myself. It was also my first time recording acoustic drums so I had to actually kick my own ass to play properly. I recorded guitars three times from the album because the first time my amp blew after 10 songs and the second time I was not happy with what I had recorded so it was a crazy process for me. Since the songs were already written over a period of time there wasn't much confusion in my head about the music. Workshop, RD and DR are all very different projects with different sounds and different members so it was not tough to manage that. The real trouble was just doing one album after another so I just gave myself time and paced everything out the best I could. I'm still in the midst of the DR album right now.
Q-6. When did Vinay, Nishith and Ashwin become a part of the band and why did you shield Nishith and Ashwin's identities at the dramatic set your performed at The Deathfest?
Reptilian Death is not about the people. It's about the persona. No one in the band is constant. Tomorrow I might play guitars and someone else might play drums. That is the reason I still do not reveal the names of the members. The only one you see and know is Vinay on vocals. I however just looked around through personal contacts and auditioned various people to play in the band and if they passed the audition they were in.
Watch the video of the performance:
Q-7. Take us through the writing process of The Dawn Of Consummation And Emergence. What is the story and how different is it in sound and treatment from Total Annihlation?
This album was about six years in the making. It's the longest I've ever taken to write an album. This is also the first time I discarded a song as well. I left the lyrics and vocals completely upto Vinay. He changed the game completely with his lyrics and his vocal ideas and he didn't follow the standard death metal pattern I was used to, but overall I think the album is more than just music. It's an experience. You should dwell into the story along with the music and you'll hear that there are moods created by the music and vocals. "Total Annilation" was a more amateur album and I have evolved as a musician over the last eight years so it's a huge jump.
Album Launch Tour
May 19, 2022 - Blue Frog, Mumbai - Metal night along with Solar Deity and Albatross
June 16, 2022 - Blue Frog, Delhi - Metal night along with Artillerie and Guillotine
Comments
comments