Direction
Acting
Screenplay
Music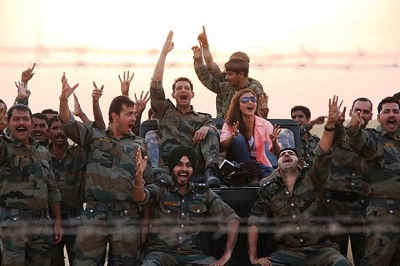 As a kid, I would listen with rapt attention to "jolly good" army uncles, couple of pegs down, telling stories of bloody war, border banter and all sorts of crossfire. A shitload of ugly truth was bared in the process – political interference and manipulation, missing soldiers, POWs languishing in jails, media mis-reporting etcetera etcetera. But all this was interspersed with episodes of friendship across the barbed wire, of cracking locker-room jokes, teasing and taunting on either side of the fence. Written and directed by Faraz Haider, "War Chhod Na Yaar" plays up the lighter moments amidst news of war. Instead of firing rounds of ammo, Captains Qureshi and Rana, (Jaaved Jafferi and Sharman Joshi) from Pakistan and India respectively, find a better way to sort out the issue – they indulge in a harmless round of Antakshri.
In the meantime, netas on both sides sign the deal with the "devils" – China and United States of America for launching "the bomb" on India. Enter war correspondent, Soha Ali Khan as Ruth Dutta (we have to get over our Barkha Dutt fixation) reporting live from the Indian border, who realizes that no one wants a war except the corrupt leaders and global bullies. In between the humour in uniform, there is Facebook cutting across borders and acting as a voice of the people, bombs that are made in China and don't work, three stooges of ghuspetias – Afghans lead by Mukul Dev and a Dalip Tahil raise to the par of four. Our favourite Tahil was a Punjabi speaking Chinese politician mouthing Sidhuisms.
Touted as India's first war comedy, "War Chhod Na Yaar" loses steam with repetitive one-liners, a phuss round of PJs, and too much lecture-baazi towads the end. Too bad, 'cause War Chhod Na Yaar had the potential to be a real blast.
Now, "MASH" on Comedy Central is the real war winner here. Hilarious yet impactful and soul stirringly memorable. For more laughs, Sergeant Bilko is super (although it's not a war story, but still, amazing).
Comments
comments