Continuing the funk aesthetics and genetics we covered in the "Bass Junkie" and "Psychedelic Soul" editions of "Funk Diis Synthsters," we open this edition with a few important questions: What is Funk? Is it just funk, or the funk? What constitutes funkiness? How does one get "funked up?" Why can't one get enough of that funky stuff? These are part and parcel of life's rich tapestry of unanswerable questions.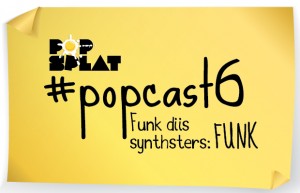 Funk (as a genre of music) was an outgrowth of the psychedelic soul sound in the early 1970's that was characterised by strong bass lines, tight horn sections, a syncopated percussive guitar style and complex rhythms. Musically (at that time) it was revolutionary, with many classic jazz artists such as Miles Davis and Herbie Hancock taking to the style whole-heartedly. Miles Davis' baffling quote "Don't play what's there, play what's not there," as explained by legendary guitarist-producer Nile Rodgers in this clip (from which we've included a soundbite) goes some way to explaining what makes a track funky (here epitomised in the meticulously arranged track In Time by Sly And The Family Stone).
In today's #PopCast we will be showcasing the genre's pioneers such as James Brown, Sly And The Family Stone and The Meters. and some of its exponents and proponents such as Earth Wind And Fire, Ohio Players and The Isley Brothers. We've also included Fela Kuti, an artist who merged the funk stylings of James Brown with African music to produce a genre of his own – Afrobeat.  Through this selection you'll be able to see the influence some of these artists have had on acts such as Rage Against The Machine, Red Hot Chili Peppers and Soundgarden.
In subsequent #PopCasts, we will cover funk's evolution and its other proponents, all the while illuminating the vast enduring influence it has had on countless artists and genres of pop music.
Listen:
#PopCast 6 Funk Diis Synthsters: Funk by Popsplat on Mixcloud
00:00 – 02:09 – Introduction
02:09 – 05:13 – Hang Up Your Hang Ups - Herbie Hancock (1975)
05:13 – 08:55 – Hell - James Brown (1975)
08:55 – 9:24 – Nile Rodgers on Funki-ness
09:24 – 14:41 – In Time - Sly & The Family Stone (1973)
14:41 – 18:38 – I Need a man - The Pointer Sisters (1977)
18:38 – 21:24 – Funky Stuff - Kool & The Gang (1973)
21:24 – 24:54 – Brother Green (The Disco King) - Roy Ayers (1975)
24:54 – 27:45 – Shining Star - Earth, Wind And Fire (1975)
27:45 – 30:58 – The American Promise – RAMP (1977)
30:58 – 34:12 – Trying For Days – Maxayn (1974)
34:12 – 37:43 – Everything Scatter – Fela Kuti (1975)
37:43 – 40:37 – Fopp - Ohio Players (1975)
40:37 – 43:34 – i'm mad – Pleasure (1976)
43:34 – 47:15 – The Heat is on (Part 1 & 2) - The Isley Brothers (1975)
47:15 – 51:49 – Just Kissed My Baby - The Meters (1974)
Comments
comments