Welcome to the "Psychedelic Soul" edition of our "Funk Diis Synthsters" series. Psychedelic soul was a genre of music that took shape in the late 1960's with acts such as Sly And the Family Stone (who brought it to the mainstream) and lesser known artists such as Rotary Connection and the Chamber Brothers. The genre was an attempt by artists to fuse R&B and soul with 1960's psychedelic rock music (Jimi Hendrix being one of the genre's major catalysts). It was a pivotal moment in pop music that gave us classic songs like War by Edwin Starr and Papa Was A Rolling Stone by The Temptations and would eventually evolve (while incorporating Afro-Caribbean and Latin rhythms) into funk.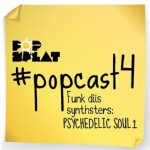 Today's #PopCast features the genre's pioneer Sly and The Family Stone, Norman Whitfield (an exponent of the genre who gave The Temptations some of their greatest tracks), various popular artists such as Earth Wind and Fire, Funkadelic and Stevie Wonder (who would eventually diverge from the sound into their own brands of funk), and other artists such as The Chi-Lites, Maxayn and Shuggie Otis that adopted its sound (We also have Dr John's more offbeat fusion of R&B and Rock).
Though the genre is often characterized by a more rock-flavoured sound, the emergence of synthesizers in pop music would eventually take it to new dimensions. So, to finish the #PopCast, we briefly cover its more synth-y iterations with a track by Syreeta (a Beatles cover produced by Stevie Wonder) and Sky as well as its more contemporary iterations with Sa-Ra and Janelle Monae.
Listen:
#PopCast 4 Funk Diis Synthsters: Psychedelic Soul I by Popsplat on Mixcloud
00:00 – 00:36 – Introduction
00:36 – 02:16 – "Adam and Charlene" – Phil Upchurch (1968)
02:16 – 04:35 – "(For God's sake) Give More Power To The People" – The Chi-Lites (1971)
04:35 – 07:48 – "The Assembly Line" – The Commodores (1974)
07:48 – 11:53 – "Ungena Za Ulimwengu (unite the world)" – The Temptations (1971)
11:53 – 14:34 – "M'Lady" – Sly And The Family Stone (1968)
14:34 – 17:35 – "Check Out Your Mind" – Maxayn (1973)
17:35 – 20:45 – "Do Yourself A Favour" – Stevie Wonder (1971)
20:45 – 23:40 – "Kalimba Story" – Earth, Wind & Fire (1974)
23:40 – 26:43 – "Danse Fambeaux" – Dr. John (1968)
26:43 – 30:25 – "Strawberry Letter 23" – Shuggie Otis (1971)
30:25 – 34:26 – "What Is Soul?" – Funkadelic (1970)
34:26 – 38:17 – "Put Some Love In What You Do" – Sky (1979)
38:17 – 41:52 – "Gemini's Rising (Feat. Rozzi Daime)" – Sa-Ra (2009)
41:52 – 43:57 – "Mushrooms And Roses" – Janelle Monae (2010)
43:57 – 48:13 – "She's Leaving Home" – Syreeta (1984)
Comments
comments