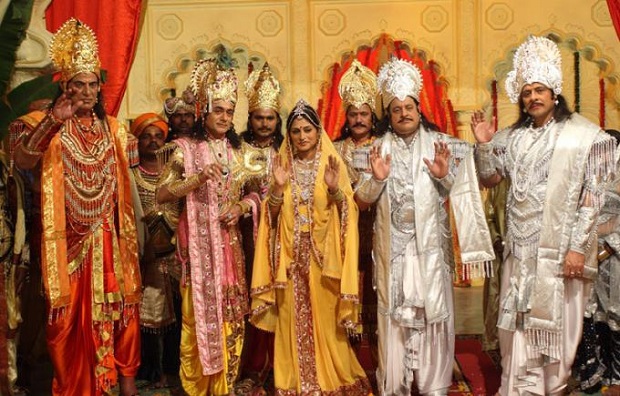 The reviews are in, the critics have commented, and the verdict is out- Star Plus's latest mythological venture, "Mahabharat," has passed. Folks are lapping it up, and ringing the bells of the telly temple. Super. But what if with a little tweak and twist, we are served a whole new dish but with the same recipe?
So, we've cooked up five things "Mahabharat" could do with
The beauty of a timeless classic is well, it's timeless, which makes it eligible to slip into any format or structure. Zap "Mahabharat" to modern day context – a corporate world, two families at war, godfathers, intermediaries and the rest follows.
It's 2013, and for once we'd like to see the men ditch the choking baubles and clunky armors and suit up. "Mahabharat" has a bevy of men, and it's time to show off the good looks.
Desire, envy, lust, jealousy, anger – when it comes to emotions, it's the women who call the shots in this tell all tale. So, instead of looking all ageless and prim and propah, why not throw in all age groups, all sizes and all looks to give it a more realistic touch.
Shuddh Hindi, phrases in Sanskrit, that heavy duty interaction – it's time to show it the door because let's face it – if one is trying to connect with the modern world, with the youth, then might as well speak their language.
Finally, for once we'd like the show to go the "Buddha" way – once a week, for an hour, and 52 episodes. Or better – convert it into a series, one that is seasonal and has us hooked to it.
Catch "Mahabharat" on Star Plus everyday from Monday to Friday at 8.30 PM.
Comments
comments