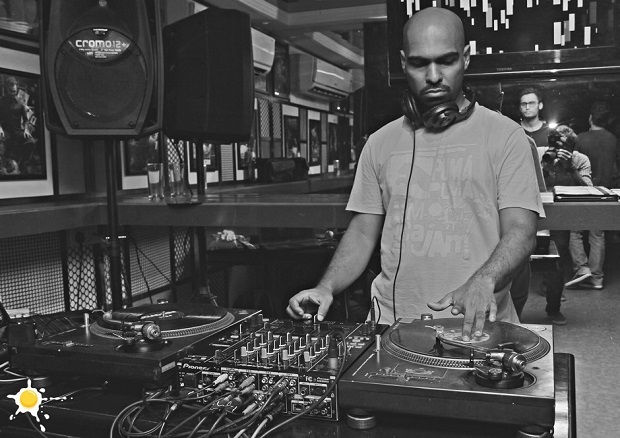 Mumbai's original party creator and now curator, DJ Reji who is also part of the faculty at True School Of Music, has been curating weekly dance music nights at the Den, Bandra called Mixtaped! for almost a year now. Only last week he pointed his party sensibilities due North and now curates DJ nights at The Little Door in Andheri every Thursday called Beat Blender. After starting out with the eclectic duo of Bajje Squad, this week DJ Reji will be taking over the console. We spoke to the master mixer about his set tomorrow, his "confused musical identity ," curating dance music and everything that gets his beats on.
Q-1. From being "Mumbai's best DJ" to now becoming an official party master, you have given a new lease of life to mid-week pub party culture in suburban Mumbai. How has the transition been from DJ to curator?
Very few people know this. I had tried something similar with a monthly night called One Sunday at H2O (Bandra) back in 2008 that focused on progressive house and techno. It ran successfully for a year back then, till I got busy with other work. Since then, a lot has happened, including a long phase of metamorphosis that led me to my current confused musical identity in the scene (its okay…. I get confused too at times). When I had the opportunity to have a weekly night of my own at The Den, I picked up the role as a curator out of sheer instinct, as I strongly felt that the city needed more nights like these. Also, I am sure that if I would have played there every Wednesday, the night would have shut shop in two months. So I started to carefully choose and invite performing guests on alternate weeks. Besides that, there are three main factors (the crowds, the venues and I) because of which I've ventured out into the role of being a curator or organizer much more seriously this year. Being a curator and programmer, I've learned quite a lot of things in the past year or so. And the support from venues like The Little Door and The Den is pushing me to explore and learn more about entertaining people with unconventional music programming. All the collective positive feedback & support from the crowds has pushes me further to just take it to the next level week after week. So, the honest and symbiotic foundations laid down between these three pillars a year ago has actually reached to its fruition now. All in all, I love this new role.
Q-2. What goes into curating the sound a suburban bar night as programmer and also DJ? What do you look for when you sign up artists to take over the console?
Primarily, I try to avoid styles and genres (in their purist event format and sense) that are commonly played during weekends, as anyway on those days there is a good influx of quality local and international talent playing at most of the top party spots in the city. So being an eclectic night by nature on a weeknight gives the performers and me all the freedom that we might need to paint unique sonic sketches out of sheer momentary instinct, irrespective to tempo, genre or era. While curating for these nights, what I look out for in DJs and guests, is the kind of connection and relation that they have between their musical knowledge and the dancefloor. So by keeping the dance floor in mind, their ability to make people sway and dance with their track selection is key. Their ability to DJ with their music, as a skill, would just help them translate these relations between different tracks in a much more clearer manner. So that's the second thing that I look out for. Also, I think weeknights are great slots for new and emerging talent to establish themselves well in their genre or sound of choice. Likewise (and inversely), I would like established DJs and artists to steer off their regular musical course on weekdays. These are some of the factors which make my programming decisions.

Q-3. The programming of Mixtaped! has been beyond just DJs. There have been producers, artists, experimental mixtape creators. Will Beat Blender programming be similar or different?
At the moment, I'm focusing more on DJs and established artists with the Beat Blender roster. Mixtaped! would still be a much more open platform for all other sorts of funky selectors. But collectively, I would like to keep the musical theme for both the nights really eclectic and varied as possible. I want to make that loud and clear for all the future performers and attendees.
Q-4. What will DJ Reji play at Beat Blender?
I've never planned my sets. Especially for any of my residency nights. Planning works till an extent when you are doing guest slots or when you are playing in festivals. Not on a night like Beat Blender or Mixtaped!, where I am the only person spinning music from the start till the end. I do consciously emphasize on quality music with longer shelf life though, minus a lot of tracks with short lived crass commercial appeal. However, if your would like me to "name drop" just to sound cool then I would say that my playlists are always an unpredictable blend of indie, reggae, rock, dub, dance hall, funk, soul, all sorts of breaks, disco, Baltimore, classic house/prog house/tribal house/techno, hip hop, electro, drum 'n' bass/jungle, swing, retro, dub step, mash ups and much more.
Q-6. Since you man the console every alternate Thursday and Wednesday at both The Little Door and The Den, does it become a challenge sometimes to keep things new and fresh. Or do you feel there is never any lack of material and channel for experimentation?
I believe there would be never any lack of material for me & for my style of DJing. Let's look at the current trend in the resurgence and revival of house/deep house music. The way how I look at it is that these sounds were all done till death through the 1990s, both good and bad. The current house music obsession that people have just gives DJs like me to blend in the 1990s gems with current productions, entertaining masses for hours and yet sounding timeless. Add to that my personal style of cross genre track selections just makes the possibilities infinite. I've always said & believed that no one can ever underestimate the listening capacity of any human being. And with technology and cheap internet leveling up the playing field over the years, people are now more open to listening to music (new or old) than ever before. So I just hit the experimentation dial to the max on such nights.
Q-7. Over all the years you've been playing, what is the best part about being a DJ?
Uniting everyone on the dance floor (irrespective to their individual roots & background) under one groove is the best part about DJing. No other DJ is ever going to deny that. Yes…. you do play God for those hours behind the decks.
Q-8. Lastly what do you prefer being called: DJ or Party Curator?
DJ of course. I was always one and hopefully, I will always be one.
Get your fix of your after-work party mix with DJ Reji on the decks at Beat Blender at The Little Door on March 13, 2014, 10 pm onwards. Entry free.  More details here. 
Comments
comments