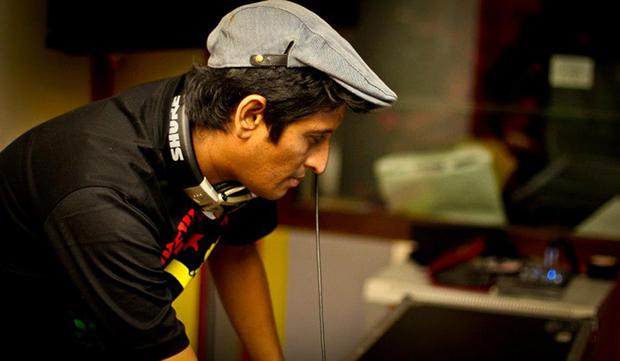 Circa 1990s. The now defunct Juhu club J49 was pulsing with hyper-energy and new grooves. Kris Correya played many a set here and introduced unsuspecting revelers to house, techno, funk, disco, R&B and mild trappings of drum 'n' bass. Since then Kris, who belongs to a generation of electronic music pioneers in India, has been defining and redefining dance music in the nation. The DJ and producer was creative head and resident DJ at the nightclub of the Nougties that changed the way Mumbaikars parties - Zenzi in Bandra and it's midtown outpost Zenzi Mills. There Kris experimented with dance music and also started the d&b trio Bay Beat Collective with Sohail Arora and former-member Raffael Kably - the troupe just finished a decade this year. Recently Kris, alongwith Delhi's Arjun Vagale and Nucleya, were followed around the Capital city by culture media giants  VICE for a documentary they are working on chronicling the electronic music revolution in India. Tonight, Kris will bring out his DJ wares at DJ Reji's weekly electronic music night, Beat Blender at The Little Door, Andheri. We spoke to Kris about what's playing in his head right now and what's cooking in his lab.
Q-1. After how long are you playing a DJ set in Mumbai, and what can people expect to groove to at Beat Blender?
I'm playing in Mumbai after a month and you can expect a mix of house and techno at Beat Blender that is going to be quirky. funky, warm and groovy.
Q-2. You have been playing clubs since the 1990s electronic music revolution in the country. You've seen Mumbai's dynamic nightlife change with venues opening and shutting and the scale of gigs growing. DJs have turned producers and artists. From your eyes, take us through the evolution that you witnessed and how your music changed over the years?
Honestly I believe the 1990s was a time of soul-searching  for club DJ's. We pretty much followed the footsteps of the likes of God's Kitchen and Creamfields parties, the Sasha and John Digweed era that we were exposed to at that time through travelling Djs.  We would play to a limited crowd, but I feel the revolution came about in the early 2000s once the Internet got stronger in India and that made most Indian DJs start researching for music online and I felt like they were looking through record stores and this opened up their ears. My preferences in music have also evolved as I really think that being a taste maker is a DJs job. However there are a few records that I hold close to my heart.

Q-3. Was Zenzi pivotal in the evolution? 
Definitely. When Zenzi was founded, I could literally count the DJs in the scene on my finger tips. But close to when Zenzi shut down, people were sending in demo tapes from all over the world, which meant that there was a positive growth in the scene. All you have to do is check the time frame of events at Zenzi and Zenzi Mills, you will know what I mean.
Q-4. What are the best and worst gigs you've played at?
I have always believed that no matter how much appreciation or criticism you get after you get off the console at the end of a set, it really doesn't matter. You have to be sure that you gave it a 100%. The past few seasons have only been good, therefore one can't decide by normal parameters about good or bad gigs
Q-5. You and Reji go way back. He wrote quite affectionately about you and the early days around Mixtaped! Do you consider each other friends? Will you share the console tonight?
Reji is a friend from back in the day who I have great  respect for. I really don't know what will transpire on the console but there are no issues about sharing a console. In fact I still like opening for all kinds of artists because it gives me that extra space to experiment.
Q-6. What is happening with BBC?
It's great that BBC is successful because it's a collective with passion for bass music right from the time Raffael was part of it too. We still do it the same way, but Sohail and me have such hectic schedules that it gets difficult to meet on a regular basis. We've been chatting about a new EP so now looking forward to that.
Q-7. What's cooking in the Kris Correya lab?
Well thats an ongoing process which never stops. How many of those experiments see the light of the day only time will tell. Godspeed!
Party with Kris Correya on the console tonight at Beat Blender at The Little Door, Andheri, 9 pm onwards. Entry free. Deets here.
Comments
comments