Songwriting
Production
Album Art
Tracklist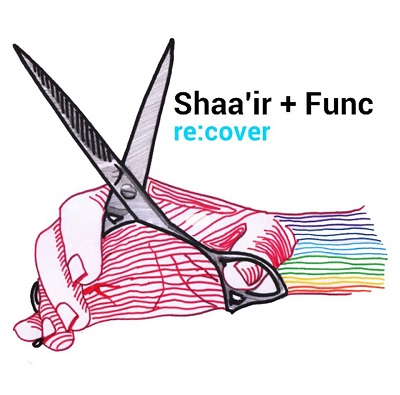 Let's put it out there, a reiteration. Shaa'ir + Func are conduits of pop-culture. In their eight-year-old record career, they have "broken all the rules" and embraced complete sonic "Freedom" that emanates from a life source of it's own. The duo of singer/songwriter Monica Dogra and producer/guitarist/songwriter Randolph Correia and their music is now ubiquitous. The symbiotic "Juxtapose" of spoken word poetry and synth-pop has become a signature sound of theirs, that the Indian indie listener first heard at a  time when he was still (re)discovering electronica. Shaa'ir + Func have bridged the gap between the obscure and the distinct over their three albums.
In their new EP "Re:cover" they revisit eight of their older tunes and strip them down to melodies and bare minimalistic electronica. There's the tambourine-slapping, flower-child disco groove of Who Says, the riffing chant of Hard To Forget, the spiraling vocoder of Swirl,  the habit forming opener Do it Again, the pop, power vocals of New Day, the rousing Freedom, the acoustic Juxtapose and the d&b track Hit.
There isn't any of the hyper-energy of thick beat production, but subtle invigoration through more string instruments and toned-down synth. If you're popping your Shaa'ir + Func cherry, then this is the EP to have your first with. "Re:cover" will hold your hand and gently introduce you to a world of sonic poetry. But you must remember as you progress into some of their more stage-whetted tracks, "their weapon is sound and their weapons are loud."
You can buy the EP here.
Comments
comments