Menu
F&B;
Pricing
Ambience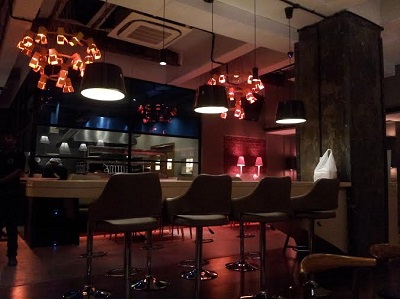 If you make the mistake of entering Kamala Mills, where Tilt is located, from the Lower Parel entrance, you're in for some trouble – especially if you're on foot, like we were. Located right at the other end (go past Smaaash and take a right just before the exit), the restaurant-lounge seemed like a haven of sorts when we finally found it and plonked into our comfy seats.
The décor is the brainchild of Busride Design Studio (who seem to be behind pretty much every hip opening in over a year), and it's an impressively furnished, well-lit space with lots of room to walk around or dance, without compromising on the number of tables. It's the changing colour and angle of the multiple lights that make up a single chandelier that give the space its name – for "tilting" effortlessly from an eatery by day to lounge by night. Right then.
We were greeted by super-friendly servers – refreshingly aware of when we needed their help and when we preferred to be left alone. To start with, we went with the Whisky Smash (Rs 950) and a Blueberry Mojito (Rs 550), both of which were recommended to us. The mojito, slightly bitter (we suspect it's the mint leaves) was refreshing. What set it apart from the way it's served at other places was that the crunchy seeds were part of the drink. Not that the glasses are tiny, but we were a bit disappointed with the steep prices of cocktails here. The whisky owes its price to the liberal use of Jim Beam bourbon. Mixed with lime juice, it was similar to a whisky sour, but slightly tart – not that we minded.
Speaking of steep, Tilt does have one piece de resistance that is anything but unreasonable. Their Treasure Chest (yet to officially be introduced on the menu) is a whopper of an actual chest, which makes a swish entry, carried in palanquin-style by the staff. You can opt for any cocktail on the menu to be converted to the chest (priced Rs 10,000 onwards), and the bar manager guarantees at least two litres of liquor in it. They don't have an official count of how many glasses the chest could fill, but it's safe to say that for a party of 10 or more, this is a deal that definitely works.
The music at Tilt night was extremely impressive for a night when the in-house DJ was playing to an extremely limited audience (yes, we went on a week night) of us, a table occupied by two middle-aged women and another one where a family was celebrating their toddler's birthday. Young owner Siddharth Bhatia (he's only 24-years-old, as deceptive as that may seem when you meet him) says that he'll have live acts very soon – mostly in the EDM genre. There's a lot more on his mind too – breakfast, corporate menus and some fusion desserts are in the pipeline.
On his recommendation, we picked two starters – Spanish Pepperoni Flat Bread (Rs 350) and Chargrilled Mustard King Prawns (Rs 475). Again, the prices gave us quite the start, but there's no denying how good they tasted. The flat bread, not very big a portion, had a thin, well-cooked crust and a generous smattering of pepperoni and black olives. The prawns, an attractive dish, were four king-sized pieces, sitting pretty atop a fresh, tabouleh-style salad. Make sure you swipe the pieces across the drizzle of balsamic across the plate. It really adds a dimension to the dish.
Bhatia also raved about one of Tilt's signature drinks – The Pink Panther (Rs 950; that expensive because of the liberal use of Jose Cuervo Gold Tequila) – telling us about he's seen the most butch men stand at the bar and proudly sip on the pretty pink drink that comes in a jam jar. Up for the challenge, our male companion wasted no time in ordering it, and true to what he was led to believe, he sipped on it quite happily for the rest of the evening. Meanwhile, for our own second drink, we went with the bartender's recommendation, called The Perfect Storm (Rs 550). The vodka-based concoction is a good pick, with passion fruit and kiwi being the dominant flavours. If there was a drawback, it was minor. We'd just have liked kiwi juice over the pulp that sat at the bottom of the glass.
We decided to take a break to ponder over main course, while sipping on our second round of drinks. it took us ten minutes and a little help to settle on the tempting-sounding Surf & Turf (Rs 1,800) and Green Tea Infused Scottish Salmon (Rs 995). The former is a dish we absolutely love, and its absence on the menus of various restaurants where it would feel just at home has always disappointed us. As part of the dish, Tilt promised us a filet mignon, baby lobster, mushroom risotto and wasabi froth. The server (top notch at his duties till this point) didn't ask us how we wanted our meat done, and the result was a mound of beautiful meat that was just too rare for our taste. Two bites were all we managed before we shifted our attention to the well-cooked lobster. The aforementioned wasabi froth was nowhere in sight. Instead, there was a blue cheese dip, served on the plate in the shape of a lobster claw. It did go well with both meats, but the star of the dish was undoubtedly the risotto. It was well flavoured (with truffle oil making all the difference), and cooked to perfection. It's the one element that we finished every bite of.
As for the salmon, it was a well cooked, generous portion of fish, but not a memorable dish for us. The promised hint of green tea was completely lacking.
By this point, we were more or less full, but dessert is a custom we never like to surpass. Bhatia hasn't introduced in-house desserts yet, but Tilt offers a handful of generic items prepared by his mother, a home baker. We were too stuffed to try any of them, so Bhatia suggested another alternative – the Tiramisu cocktail (Rs 550). Unfortunately, the drink was too potent, and the gimmick of putting in a piece of cake failed to work. It was just soggy and definitely not an alternative to a dessert.
Despite the shaky end, we'd go back to Tilt mostly for its ambience and great service. There enough space and a great setup for the makings of a good gig. Bar bites and a few cocktails (if not the Treasure Chest) should keep you suitably satisfied.
Comments
comments