When:
March 5, 2022 @ 5:00 pm
Where:
Blue Frog
Mathuradas Mills Compound
Senapati Bapat Marg, Lower Parel
Mumbai 400013.

Cost:
Rs. 350 or Rs. 1000 full cover post 9pm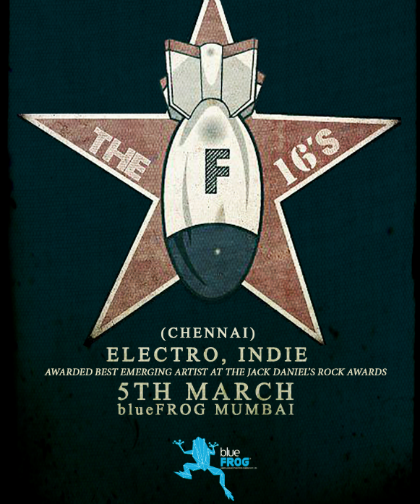 The F16′s are among the new wave of rock and roll bands from the southern city of Chennai, and the five piece outfit bring out a very peculiar genre-mix of rock and roll, indie and electronica, all balled into one.
Thematically the band covers topics of love, redemption, being young, and their musical arrangement makes for some fun listening and can also be danced to. Musically, they are what any rock and roll band need to be: extremely vivacious, with a double guitar attack, keyboards,drums, bass and a Macbook.
Among their influences The F16′s count bands such Foals,Arctic Monkeys, Mutemath, The Strokes, Vampire Weekend, in addition to ambient and electronic dance music genres. The band is one that has wowed audiences audiences from all over. Take stock of this: They won every award there was to win at IIT Mumbai's Livewire 2013.
Comments
comments