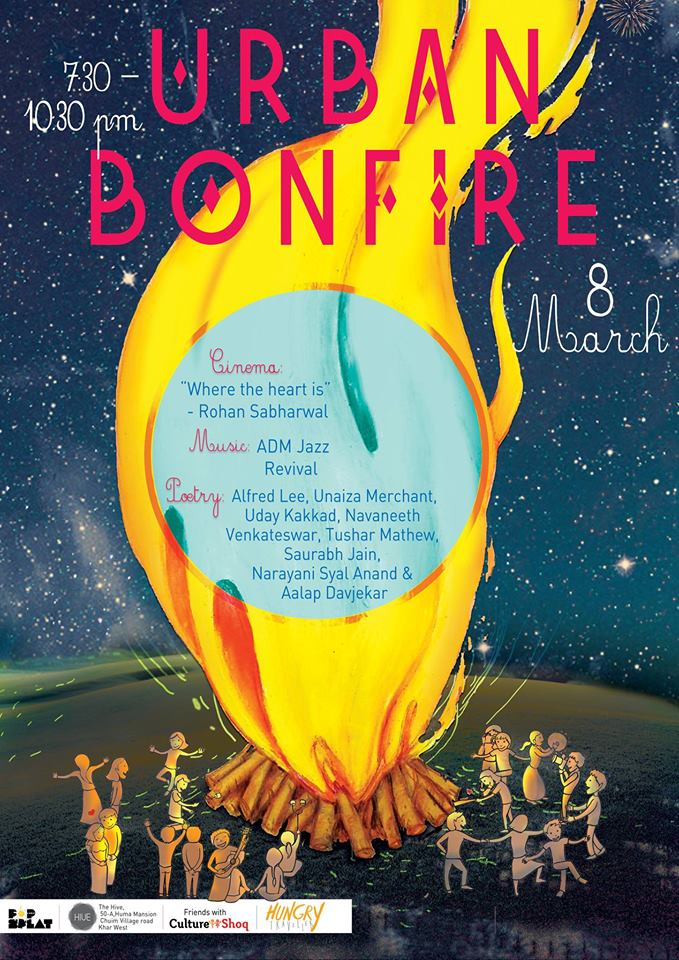 Long ago, when fire was our only source of light and warmth and all sound was natural. When man did not revel in his own supposed magnificence but adored nature in all its majesty: all form of entertainment was in storytelling, music and camaraderie. That's what Urban Bonfire at The Hive, Khar wants to relive. A feeling of togetherness through art that spreads the "one love, one heart" ideology. This first edition of the event will be held on March 8, 2022 from 7.30 PM to 10.30 PM and shall feature a movie maker and his tale, two musicians and their tunes, and 10 poets reciting their tones and tetrameters.
Movie by: "Where The Heart Is," Rohan Sabharwal,
Rohan Sabharwal is a 34-year old television and movie director who finished his graduation from London Film School, UK. He won the Kodak Student Commercial Award for editing commercial "Sarah and Wendy." Locally, he became widely recognized as a filmmaker after the Celebrate Bandra Committee picked his 25-minute short "Romson and Juliana" to show at the annual festival in 2007. His documentary "Where The Heart Is" follow the micro community of Jews who settled more than 2000 years ago in Kerala. The feature chronicles the community's cohesion among in the state, a fact that is difficult to find in most societies even today. While the documentary does present the historical side to the Jewish ways of life, Sabharwal travelled across the world to find people who were from the original Jewish community of Kerala, and also captured what it means to be assimilated into a whole new culture while maintaining a sense of connection to the original roots.
Watch: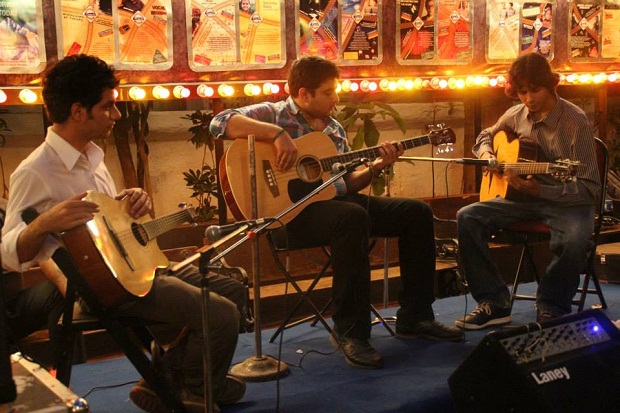 Music Performance by: Acoustic Dance Music Revival
Acoustic Dance Music Revival is a  Gypsy Jazz/ Swing project formed by guitarist Nicholas Vaz  in 2013, and developed into a trio with Arjun Thakur on bass and Nabeel Lakhani on rhythm guitar. Vaz  is a 22-year old violinist turned Jazz guitarist, who was introduced to music from a young age. He took up the violin classically before going on to explore guitar by ear and extensive improvisation. Thakur is 21 and with no formal training in music. This magician-turned-marketeer-turned-bass-guitarist, similarly explores music by means of ear and improvisation. Lakhani, is the 22-year-old rhythm guitarist who is tuning his ear to jazz. The trio have earlier performed at Thespo 15, Cheval, Olive Bistro (Pune) and also won the True School of Music's Band competition. Say Vaz, "I first began listening to jazz about a year ago, discovered Django Reinhardt soon after. I woke up one morning and decided I wanted to play some Gypsy Jazz. I find a great middle ground between classical tendencies of the music and heavy improve."
Listen:

Poetry performances by:  Alfred Lee, Nandram Aanand, Unaiza Merchant and Vineet Garg and more.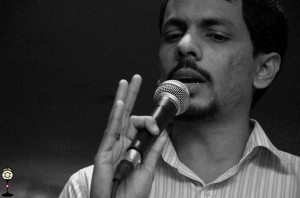 Alfred Lee is a 31-year old Associate Creative Director (Grey Digital) and has been a spoken word poet for five years now. He says "I think spoken word is a great medium of expression because it combines the soul of poetry with the adrenalin of the stage. I was drawn into it in 2008 when a bunch of us (Tarun, Varun, Husain, Sushil) began voraciously watching every episode of "Def Jam Poetry" we could find on YouTube. And from there it was as simple as saying 'Hey, we're poets. We can do this.'"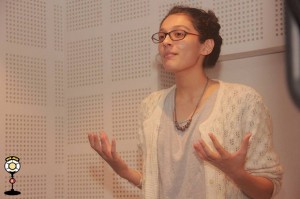 Unaiza Merchant, 21, is a TYBMM student and has performed just twice at a poetry event, out of which she won her very first Poetry on Big Mic. She only started writing poetry in 2012. She says "Spoken Word to me, has this wonderful function of voicing out the various oppressions of society and and the details of individual struggle. And there's so much in life that's upsetting and disturbing and misunderstood, and to be able to channel what I feel about all that is empowering and beautiful, especially through the medium of poetry. Putting rhythm into words has never been a bad move in the arts."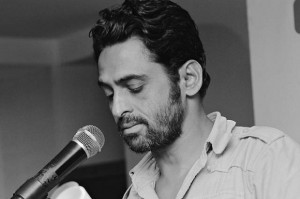 Nandram Aanand is a 37-year old poet and playwright who runs a theatre troupe called Barefeet. A degree in Dramatics holder from Rajasthan University, he moved to Mumbai in 2001 and has written acted and directed plays since then. He says "I think my life itself has pushed me towards poetry writing. My failed love affairs which were obviously a little bit one-sided (laughs) were a lot of help. Spiritually, I could find peace in writing poems and the best part of poems is you cannot manipulate them; it comes straight from the heart."
Vineet Garg is 30-year old writer who is currently into writing scripts for plays. A person who has been passionate about the arts, he says "I started writing poetry way back in 2003, but if I had to think serious poetry, that began in around 2009. My poetry in fact has been a product of college capers, where I would joke around with my classmates. They asked me to write jokes for a script for one of the plays. The play was a hit, and people loved my jokes. Incidentally, my love for writing soon metamorphosed into a love for writing poetry as well."
Also performing poetry at the event shall be Aalap Davjekar, Uday Kakkar, Navaneeth, Venkateswar, Tushar Mathew, Saurabh Jain, Narayani Syal Anand.
The first Urban Bonfire will be held at The Hive, Khar West on March 8, 2022 from 7.30 PM to 10.30 PM. Entry Rs. 150. For more details and updates, clicks here.

Comments
comments