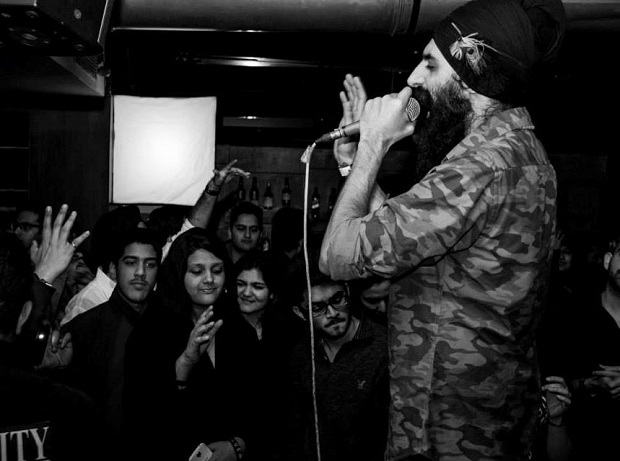 March 1, 2022: When you put an anthemic challenge in a club-full of Punjabis in it's robust, rich and restless heartland (Chandigarh), there is no way in hell you won't join in the furore. Especially when you are prodded with, "I say gaah, you say gaah." (gaah is a reclaimed Punjabi word of the current generation that literally translates into "losing it"). That's what happened when Humble The Poet kickstarted his India tour at The Blue Blazer in Chandigarh last Saturday.
The Toronto based MC/spoken word artist Kanwer Singh, Humble's off stage moniker, with his unique set of tattoos, long flowing beard, head wrap turban and silly smile commanded his audience's attention that was awe struck to say the least. Although he has performed in the capital of his motherland earlier in the winter of 2013 at a different venue, this performance was much more unique and enthralling than the previous one.
Humble is known for his influential lyricism, witty choruses and electrifying energy that he successfully displayed in his set that night. Even though the crowd, some unfamiliar with the Baagi Music artist, destroyed the dancefloor with high-energy jumps, flailing arms and fists in the air. There was also a subtle and calmer side to Humble's set that was retrospective in nature, something you don't associate gun-totting, modern day hip-hop with.
It was a full house at The Blue Blazer with an excited, packed audience and they were in for a treat as Humble delivered some of his best music, successfully involving the crowd with him, and performing hit after hit mostly from his more popular works like Baagi Music and few new tracks like Blame Honey Singh.  It was a critical form of hip-hop, a more expressive yet subtle one, something quite different from the usual.
Even when the music was seeming to become a tad monotonous, Humble brought out a unique aspect to his presence and made a fresh hard-hitting comeback each time. The fans sang along with zest and were quite impressed with the enthusiasm and spontaneity with which Humble made his audience, well, happy.
He was accompanied by DJ Su Real, a Delhi based artist and an ex creative director of TLR in Hauz Khaz Village, regarded as one of the country's most vibrant and progressive nightlife destinations, who complimented Humble really well in his two hour long performance.
Jus Reign, aka Jasmeet Singh, a Canada based comedian who is extremely popular on Youtube, along with Punjabi actor Rupan Bal were also present at the gig and he gelled well with the two, getting on stage frequently accompanying Humble and dancing along to his music.
The Blue Blazer is a popular nightclub in the city and a favorite of many international artists and DJs. The venue holds regular events and gigs with popular acts, artists and DJs. It was a subtle change from the usual EDM nights and very well appreciated by the local crowd. The sound and light set up were fabulous as usual and they magnified the performance to a whole new level. The programming and was very good and impressive. The dynamic production couldn't have been better.
It was a great night of inspirational music, heart pumping energy and an electrifying atmosphere which portrayed Humble's charismatic personality and endearing aura leaving his audiences asking for more. It is certain that this will not be his last act in the city.
Comments
comments