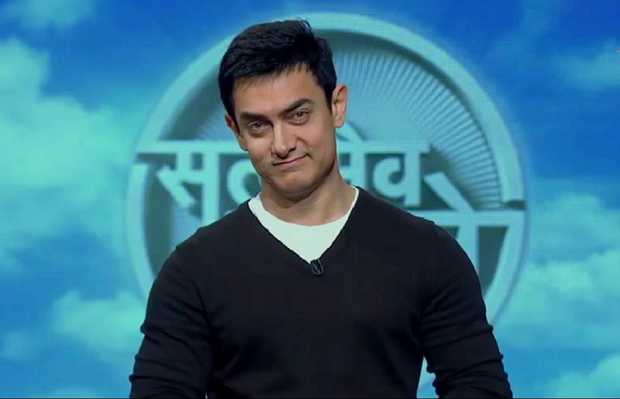 Aamir Khan has always known to shrug away the delusional fallacies of felicitation. While he's distinctly kept his long distance from India's multiple award shows that have sought to honour his contributions to cinema time and again, he did make that appearance on the red carpet of the Annual Academy Awards in 2001 when his debut production "Lagaan " was up for an Oscar. And we hurriedly forgave him that transgression. After all, Aamir would not support just any hollow gathering. The fact that he even showed up on the red carpet, meant for the average Indian, that maybe the Oscars was a big deal. That is the kind of credibility Aamir Khan lends to movies he makes, brands he endorses and even interviews he gives. The urban legend of a rehearsed Aamir Khan interview goes that he requires the question way in advance to pore over before he decides to go on record. The practice of decades-old restraint and creation of a perfect public image has always lent this Khan the gracious, more professional, sometimes perfectionist to a fault maybe, degree of being upright and conscientious.
So when Aamir decided to make his TV outing with a show that challenged the idea of social change in India, the platform couldn't have been more perfect. In it's first season the social talk show "Satyamev Jayate" broke viewership records, and made him almost as big a TV figure as Amitabh Bachchan is (he's still No 1 as the quiz master on "KBC.") It became the first Indian TV production that found syndication on cable (Star TV India) and network television (Doordarshan) simultaneously. Aamir even won the Inaugural America Abroad Media Award along with Oscar-winning director Kathryn Bigelow and the International Center on Non-violent Conflict (ICNC) in USA in October 2013, a whole year after Season One had finished airing in India.
Today Aamir returned to the small screen with the first episode of the second season of "Satyamev Jayate." In the two hour duration, this time he aired his views on a social affliction that caused a revolution of sorts in the country, starting last year. Rape. Survivors, victims, social workers and activists, lawyers and doctors all flocked to the couch and shared their betrayal from the Indian democratic system. But besides just discussing the Delhi Gang Rape of 2012 that caused implicit changes to Indian rape laws and propagated women empowerment, Aamir went beyond the headline-grabbing change and Arab Spring revolution it caused. He lay bare the chinks in the machinery that still exist within the police, the hospitals and the courts that were to be ironed out post the recommendations of Justice Usha Mehra Commission. Of course there were the tears (mostly Aamir's), the drama, the cracking voices, the blurred faces and the gut-wrenching gore of the instances recollected by the survivors and the families of the victims. And there was the call to the average Indian for further empowerment and social awakening.
For a whole year and more, the Indian media has filled our consciousness with campaigns to revisit safety of women time and again. But on "Satyamev Jayate," the stance hardly seemed jaded or even dated. The topic still remains as relevant as it did back in 2012 and it's menacing attack on our social consciousness still felt as fresh. And that really is the strength of the show. In it's production value and real-time, updated ground research, "Satyamev Jayate's" content is as current and as hard-hitting as is required. It's not overwhelming in it's dramatic quotient either, rather it injects just the right amount of  lucid intervals of facial and audio cues for the viewer to really take notice. In the Indian mass-y context, this is a real show. It's not loud, vile or paranoid like a host of current crime shows on Indian television are. And there is the entertainment value, which the show seems to do well enough as was established even in Season One, when they managed to do a two-hour special on something as technical as systematic pesticide poisoning of our food produce sound interesting.
Yes, there is the unfortunate addition of an "item song" at the end of most episodes that is totally avoidable. But I guess nothing in India can be done without a song or a dance. Leaving that aside, good going Aamir. You have our vote, even though you have stated in interviews you will stay away from politics and political content.
You can catch "Satyamev Jayate" S02E01 on the website here, plus a host of web exclusives.
Comments
comments