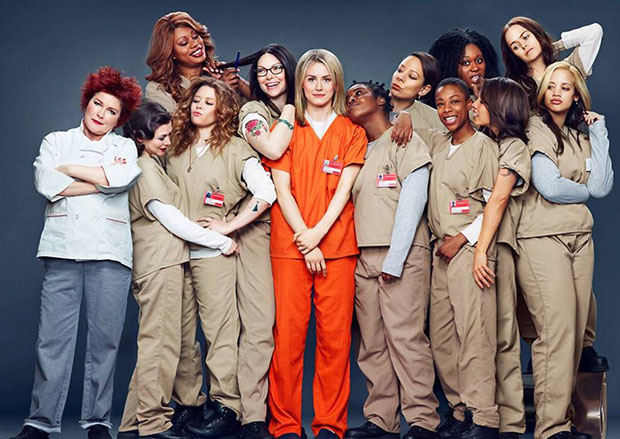 Since it's premiere last year, TV viewers have not stopped harping about just how awesome "Orange is the New Black is." If "Breaking Bad" and "True Detective" have changed sausage drama for men, "Orange is the New Black" is the perfect taco drama for women. TV critics like Emily Nassbaum from New Yorker has lauded the show and it's maker Jenji Kahon (who also created the equally brilliant drug sitcom "Weeds" (2005-2012)) and called it, "the love child of 'Oz' (1997-2003) and 'The L Word' (2004-2009)." Based on the real-life prison memoirs of former convict Piper Kerman of the same name, "OITNB" is an ensemble-cast drama that focuses complex characterization of women in a hierarchal prison system in the US. The show's second season premiered a few days ago, and we give you a ready reckoner of the characters to look out for in the show.
PIPE DOWN PIPER
The chief protagonist of the show, Piper Chapman played by Taylor Schilling spends most part of Season One integrating into the Litchfield Penitentiary. She's convicted of being a drug mule and she quickly realizes that whom she sticks with matter, but more importantly her enemies matter more. In Season Two, she will evolve into a badass and maybe her relationship with steady boyfriend on the outside with Larry (Jason Biggs) will be over.
ALEX 'WHUDUNNIT' VAUSE
The reason Piper is in jail is because of Alex Vause, the drug mama whose stash she was hauling. Played by That "'70s Show's" Laura Prepon. While in Season One, Alex is seen as an outcast she might have a bigger role to play in the new season. It's primed to be "awesome and shocking and ran and fans are going to be really happy," according to an interview with Alex.
BEWARE OF 'EM CRAZY EYES
The resident psycho on the show, Suzzane Warren aka Crazy Eyes (Uzo Aduba) marked her territory (yup, she peed) next to Piper's bed in Season One claiming her as the Crazy Eyes' property. In Season Two the character may be leaving the show. Whether she's going to be out on parole or being shifted to a new prison or worse her craziness goes a bit too far, is anybody's guess.
SHE'S 'TAYSTEE'
The comic relief on the show, Taystee Jefferson (Danielle Brooks) is a black gal who stays in her part of the hood. Throughout Season One, she's seeking to gain a plea bargain and in Season Two, we'll get to see her back story that the makers have kept under wraps for now.
THE NEW BAD RECRUIT
Undoubtedly, the villain in Season One was prison-guard George Mendez, played by Pablo Schreiber. Exchanging favours for a BJ, Pornstache (his name in the halls), he's so far been a real bad influence on the inmate-politics. In Season Two, we are promised a new villain in the form of inmate Vee (Lorraine Toussaint), a drug lord who unabashedly has used kids to run her cartel. She is here to threaten the current prison queen Red played by Kate Mulgrew, who runs the prison kitchen and keeps all the other inmates on a leash.
Power play and no prison break. This is going to be a helluva season.
Comments
comments