If independent music is a difficult concept to promote in a city predominantly sold out to mainstream media, metal, which has been stereotyped and name-called to death has obviously, only been meted out a worse treatment. Now this is not to say that the metal scene here is not pretty tight; plenty of good bands, an ever growing tribe of metal heads and scene kids, and some kickass gigs have reaffirmed the belief that the scene is progressing through.  But quite tirelessly, and at the risk of major losses, some people have worked to see things falling in place for metal in Mumbai.
One such guy is Kunal Choksi. Though extremely quiet and with an a virtual demeanour that reflects more of a animal-loving zookeeper's, Choksi, in his early 30's, has molded the way metal gigs are organized in the city. Owner of Transcending Obscurity- the webzine as well as indie label, there is practically no metal gig you will not see him at, either as part of the crew or promoting bands, both local and international. Through our conversation, we uncover this guy who quite literally makes the scene a better place.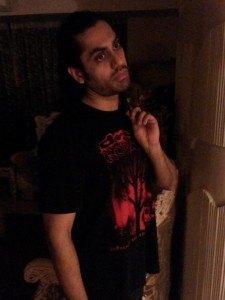 You are a man of many hats. Tell me everything that keeps you connected with the metal scene (there is so much, we don't want to miss anything)?
First and foremost, I'm a music fan. It all stems from there. I started writing in 2004, by 2005 I had my own site (Transcending Obscurity) where I began writing reviews and conducting interviews, donned the role of an editor and managed an international staff. In 2010, I turned it into a record label to help release music of bands I believed in. Last year I started another sub-label to extend the same to the Indian bands while also offering them shows and managing most of them . Late last year, I started offering PR services to help them meet the international level and give them what it takes to stand head-to-head with their international peers. Around the same time, I also started organizing shows and Thrashfest would be my second successful show where I was physically present (the first being Blavk).
In addition to all that, I'm also contributing to the international scene by writing for a handful of respected metal websites from all over (including Teeth Of The Divine and Dead Rhetoric). It's quite a lot of work and these days I'm struggling to maintain my momentum and also interest level. If there's no passion, all of this would be pointless. There are tons of challenges and criticisms but I'm a doer and not an armchair critic, so I'm happy to walk the talk so far. I wish people had helped me from the start and not waited till I struggled to stand up on my feet which would've made things easier but either way, I have to do what needs to be done. There's a certain level of good karma I'm trying to create which would keep my conscience clear and enable me to continue doing more and more.
You have been on the metal music scene for quite a while now, when did you decide this is what you wanted to do?
First, I had to remove the "I" from the equation. Only then I could go about doing something for the scene, so to speak. Yes, hard work has benefits and tangible rewards, but if you keep thinking about yourself all the time, you can't persist in this line. It's a good thing that I don't have a band of my own so that I can do things by default only for others. Sometimes it does seem ungrateful but on the whole things are positive. It was a headache initially but it snowballed into something bigger, for better or worse, and now a lot of things are involved as I mentioned above and the challenge is to not lose interest or get jaded and rope in as many people and bands you can for a higher goal. That said, I do have my preferences and I'm working on various levels to satisfy the goal and my personal taste - which remains in the underground.
From the position you are in, do you see an evolution in the way the scene is building up? 
It's never going to go on an autopilot mode - there has to be constant effort, lest people lose interest and drop out. The idea is to create a unity of sorts, come together for a greater good despite the disparities in the style of music or taste, and continue doing so. Evolution has happened - same time last year people were dreading or laughing at the idea of doing shows in Mumbai, but post Thrashfest, suddenly everyone wants to do shows or is feeling very, very optimistic about the music scene. I want to extend my services to bands outside of my managerial scope or distribution network by helping them put out releases independently regardless of the style of music and invest in merchandise for them when they're too broke to do so or have the technical know how. Most bands don't know how to go about putting out a release and that's vital for the survival of any band these days. In fact, I'm going to make it mandatory for any band wanting a slot at one of my shows to first have a release under its belt and based on its quality, get a slot rather than using influences or sucking ass - the bands have to work to deserve a slot and not just sit on their asses and suck up to people expecting shows to fall on their laps and have everything given to them easy. There's a difference between bands that are playing live for the fun/appeal and bands that are doing so for the sake of the music. I'd go out of my way to accommodate studio bands in my shows, if possible, than have bands that have few originals and just want to get on stage and "have a good time". That's short-lived; music isn't.
What are some of the best things about working on the scene, personally?
The fact that it puts a smile on the faces of those struggling musicians or gives them a ray of hope. Hope keeps the world running. Everyone has a tedious life, it's this music that allows them to dream, to go into "their zone". There's also a palpable sense of brotherhood albeit lacking a better moral sense but that's improving on the whole, as people are realizing that if they scratch others backs, only then their backs will be scratched, in a sense.

What is this upcoming Transcending Obscurity Fest going to be like and why exactly should no one miss this gig?
This fest is extremely important because it's the only one showcasing bands playing all styles of music - never before you had a Doom Metal band with a Grindcore band and a balanced mix of three Death Metal and three Black Metal bands, topped with a Heavy Metal/Thrash-tinged band in Albatross. It's important not only from the label's point of view, which is evidently doing something for its bands, delivering when others may or may not, but it's important for the audience to realise and experience different forms of music which is the future. It's not like before where only one style of music reigns supreme - it's vital that bands carve their own sound and this is just a baby step to promote individuality in a sense.
Given the task you hold of promoting the independent scene in the ways you do, how has the journey been? 
Tiring! People must realize that it's not direct competition, there never can be, because every individual scene has its own set of drawbacks and advantages. You just do what you can do, where you are placed. This terrible sense of competitiveness only creates further insecurity and fosters negativity and bitching. Be supportive, only then you'll get support.
What have been the most memorable moments from the time you started out?
Reading my first review get online, signing my first band and in a sense doing my first show despite all odds almost single handedly - Thrashfest, and watch it break records around the country. But like I said, it's not about me, I can't do something alone - it's with the support of everyone involved, including the fans. There's much work to be done still because people still don't know what it takes over here and there's much wrong emphasis in this style of extreme music on addictions and bashing religions, which is too easy but much more difficult to decipher. I'd rather focus on what I like than bash things I don't like.
Who is Kunal Choksi, the person, when not on the music scene?
I'm a self-critic, delve into contemplation and hungry for growth and self-improvement. Be it spirituality, art or fitness, I strive to grow and learn and remain humble always because that's the key. I still have a long way to go and would rather forget my achievements because that creates a sense of pride and position and remain relatable to anyone out there, because everyone is doing something in their life and it's equally important in the grand scheme of things. I don't want to indulge in something unproductive which is why I don't drink and waste time or sleep much for that matter yet at the same time I don't deprive myself of watching movies or having fun.
Transcending Obscurity Fest will be held on May 11, 2022 at Hotel United 21, Thane from 3 PM onward. Bands playing: Albatross , Djinn & Miskatonic, Fragarak, Gutslit, Halahkuh, Cosmic Infusion, Orion, Grossty and Stark Denial. Entry. Rs 600 at gate. For more deets, click here.


Comments
comments