Direction
Acting
Screenplay
Music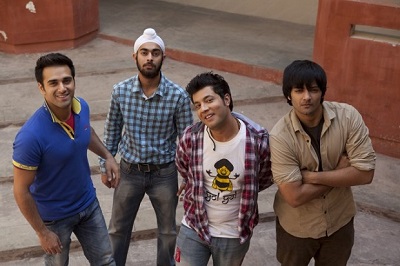 Hunny, Choocha, Lali, Zafar, Bholi, Neetu, Pandit, Priya – these may very well be you and me. This is India. A country of jugaad. We are like this only, and "Fukrey" gets it right. At least this part.
Director Mrighdeep Singh Lamba has a knack of creating colourful  characters out of the oddballs and screwballs who surround us, those who resonate with life as it is and its many shades of reality. He did that in his first film "Teen They Bhai" (unfortunately, it bombed at the Box Office). With writer Vipu Vig, you get to see that in "Fukrey" – in Hunny (Pulkit Samrat) and Choocha's (newbie Varun Sharma) failed attempts at clearing the board exams and fantasies of trotting on a horse (that's right) to a classy college just to score with the girls (yes, it's a certified boy thing). In Lali's (Manjot Singh) desperate efforts to get in a college and impress his crush, and match up to the big boys, and their big fancy cars. And in Zafar's (Ali Fazal) silence, failure and helplessness.
"Fukrey" presents the story of these four middle class boys from the organically connected backlanes of Delhi, brought together courtesy an outrageous scheme to mint money overnight. Literally. You see, Choocha (enacted spectacularly by Sharma), has these whacko dreams and with Hunny's interpretations (he can give Sigmund Freud a run for his dreams), these lead them to the winning lottery number. It's a shortcut to a quick buck and the boys use it to acquire 50 grand they need for a leaked board exam question paper. At the same time, Lali needs Rs 2,00,00o  for admission to college while Zafar for his ailing father's medical bills. In steps, the crafty college gatekeeper Pandit (essayed by the supremely talented Pankaj Tripathi) with his show-me-the-money-and-I'll-show-you-admission-stamp bait, and the cussing vicious queen of vices, Richa Chadha as the lady don with a 'Sinderella' tattoed at the nape of her neck.
The scheme for easy money, the rave trap and police chase, the dead ends that come with shortcuts to life – "Fukrey" takes us through everything, including the rickety benches, the worn off walls and sarcastic Masterji of a government school and a hilarious Mata Ka Jagran (our favourite).
While Priya Anand as Priya falls flat, Vishakha Singh as Neetu comes through. It's the eternal optimist and fun loving Sharma as Choocha who steals our hearts. Pulkit as Hunny is bang on – over smart, over confident to the point of being cocky. Manjot as Lali is so real, and Zafar adds a handsome face to the brooding soul in him.
Very few films that reel out of Bollywood these days have the power to hold their own post interval. "Fukrey," from the house of Excel Entertainment (Ritesh Sidwani and Farhan Akhtar) picks pace after interval, although the director could've snipped off couple of scenes easily. Ram Sampath's music is peppy. You won't be wasting your money on "Fukrey."
Comments
comments