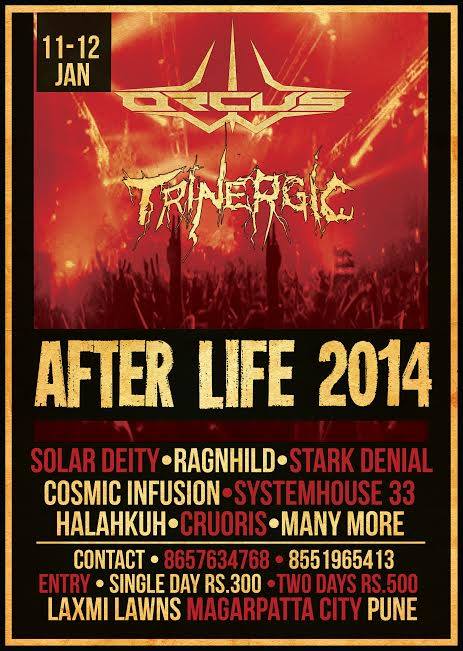 Gig cancellations, especially of the metal kind in India is barely any news. Bands opting out days, even hours before going on stage is common knowledge too. But dropping seven metal bands of a city from a gig hosting 24 artists in a single day, has our attention. Independent music programming company Simple Concepts announced a two-day metal fest Afterlife 2014, that is scheduled to be held on January 11 and 12, 2014 in Pune. The fest was hosting Orcus, Stark Denial, Solar Deity, Cosmic Infusion, SystemHouse33, Paratra and Trinergic as part of the lineup. One day before the gig was to be held, Simple Concepts CEO Avinash Singhal circulated a text message amongst members of the Mumbai bands cancelling their slots at Afterlife 2014. "I came to know that bands are doing negative publicity of my event Afterlife 2014 and they are getting more demanding so we have decided to cancel all the Mumbai bands,"  Singhal wrote. The negative publicity was allegedly caused when a eight band playing at the fest Albatross cancelled their confirmation at Afterlife 2014.  
Members of all Mumbai bands playing at the fest are shocked. Orcus seem especially peeved. Vocalist Adit Khanzode gave us a whole lowdown of what transpired not from this impending gig, but from almost two weeks back when the band played at a pre-event for Afterlife 2014 in Pune on New Year's Eve, December 31, 2021 alongside Cruoris, Tattva, Trinergic, The UV Project and Dashamlav.  "The worst part is that we were called for the same show by the organizer on December 31, 2013. The bus was supposed to come at 9 am in the morning and it came at 2 pm in the afternoon. The event was to start at 7 pm and was supposed to go on till 4 am. It started at 8.30pm, and after 3 bands we did our set up. The organizer suddenly turned up and said the DJ will play for 15 minutes and then you guys can continue, but the DJ played on and on and on until 12.30. Finally, the cops came in and they shut the show down. We were promised rooms and food facilities which we didn't get. 15 people were packed in a single room and we ate bhurji pav at 4 am in the morning and slept (remember, this is New Year's Eve)," says Khanzode.
Since Orcus was already confirmed to play Afterlife 2014 this weekend, they let go of the chance to perform at IIT Madras' rock event Decibels to be held on January 12, 2014. "The organizer also called two days ago and told us that our rooms have been sorted, out travel has been taken care of. We'd be getting a nice time slot and can play our whole set and we were damn excited as this was technically our first gig in Pune. We are feeling cheated as we did a lot of publicity for this event. Many of our friends from Pune were going to attend this gig. This has been the worst experience we have faced till today. We are going to make sure that we get MOU signed from organizers henceforth and if such mishap happens we take remuneration from them."
Cosmic Infusion front man  Sushan Shetty says, "Right from the day when we had announced that we'd be playing at the gig, we were getting messages from fans and metalheads from Pune, saying how excited they were to have us come down, asking us what time we were playing etc. For us, it feels like we let them down, although it was beyond our control. We really hope not to face such unprofessional organizers in the future because it also inadvertently ruins the reputation of the city."
Riju Dasgupta, bassist of Albatross, who had already decided to move out of the gig's line-up explains what he feels is often taken for granted. "The first thing gig promoters need to realize is that when you're booking a band, you're not just booking a bunch of musicians. You're booking their time away from work and their personal life, you're booking many hours of practice, and you're booking many sacrifices that the band has made on their way to the stage. The second thing they need to remember is that it is not easy to pull off an event, even with 3 bands. With 5 bands, it is a nightmare. With 10 it is a gargantuan nightmare. With 20 or more, you're better off taking a knife and stabbing yourself in the kidney. Make sure you have your sponsors locked before you approach the bands."
Aditya Mehta, vocalist of Solar Deity minces no words when he says "I think this is the organizer's way of saving money. There was no negative publicity; in fact, there was no publicity. We (the bands) are laughing so hard… It's funny that people who can't do one thing right are called organizers. Anyway, we're going to start working on our next EP."
Dasgupta, although has some more to say, and any musician, especially a metal one would agree when he says, "The third and most important thing is, do not go back on any promises you've made. A show means a lot to a band…it is a forum which allows them to present their art to an appreciative audience. If you've made a promise, do not back out. Make it happen even if it leaves you bankrupt. This is if you love and respect metal, of course. If not, fuck you anyway."
Singhal, though presented his own bleek side of the story with much anger and threatened us with "quitting" when we asked him about the turn of the events. He first assured us that even though the event page on Facebook has been pulled down, the event is on as scheduled.  Singhal told us that he ended up selling his family gold in order to organize the gig. Here's the full transcript of his answer:
"The event Afterlife was a brainchild of 4 people all from different places of the country in late June 2013.All of us are from middle class families and decided to do a small rock band competition at a very low level but 2 people from our team decided to do it at a huge level.We are not from event management background. We are engineers and management students who have never done an event before and we planned this event Afterlife-2013 on 27th and 28th September 2013. We approached more than 80 companies for sponsorship but didnt got any as people in India dont pay a penny for bands to be very practical.One of my partner asked his parents for money and he invested rupees 1 lac and booked laxmi lawns.Total costing of the Lawn was 5.5 lacs so we paid the venue manager in installments (1+2+2.5). We did not have any funds to take this event forward but still we all called our parents and they supported us by giving 15 lacs.I myself got the money by selling some of the gold kept by my mother and we tried really hard to make this event a success. We booked venue and we got all the necessary permissions required."
The fate of the event hangs in the balance, and we are still skeptical if it will be held as per scheduled.
Prakhar Soni, vocalist and bassist of Pune band Halahkuh that will be playing at Afterlife 2014 says.  "What I heard from my friends from Mumbai is that the organizers do not answer their phone calls. If discussing such factors and being vocal about it on a social media platform is negative publicity, then I believe the organizer has got it all wrong. The broader picture of this whole situation is that if Mumbai bands are treated in such a way, then I believe it would be hard for the upcoming bands in Pune to get an opportunity to play in Mumbai, considering this organizer has indirectly created a rift between the scenes of the two cities respectively. I hope this does not happen and people need to be told about what exactly happened with all the bands associated with this particular event. Also, to avoid getting into such a situation I believe the bands should sign an MOU in the first place with the organizer so as to avoid such confusion."
For those still willing to try their luck at attending Afterlife 2014, the event will be held on January 11 and 12, 2014 at Laxmi Lawns, Pune, 11 am onwards. Entry is free. If you're going, please do let us know if you manage to attend the gig.
Comments
comments