Menu
Pricing
Ambience
F&B;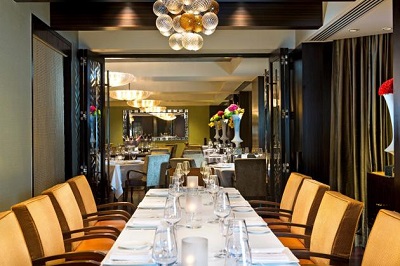 Not many people know about Le Cirque's Mumbai outpost. It's a huge opening, considering the first outlet in New York boasts of Hollywood royalty as regular clientele, but its launch in the city, a little over a month ago, hasn't exactly created waves.
Le Cirque in Delhi opened much earlier, and was received with rave reviews for food. The service, however, was termed as snooty and judgmental by many. Being a more relaxed city in comparison, we did expect a more chilled out vibe at the Mumbai restaurant, which has the daunting task of filling a Leaning Tower of Pisa-sized hole in the city's Italian fine-dine scene.
Althought it's owned by an Italian gentleman, Le Cirque's cuisine is vastly American-inspired. Don't be surprised by the fried calamari and Caesar salad (both of which we ordered) on the menu.
In New York, Le Cirque boasts of guests like Madonna, Leonardo DiCaprio and Woody Allen (he faithfully shows up every week, apparently). In fact, every single President of the USA – since the opening of the restaurant in 1974 – has dined there. Sadly, then, when we walked in on a weeknight, we were the only patrons till about 9.30 pm, when only two other tables were occupied. A lot might have to do with the location, but Chef Matteo Boglione insists that the response has been better than he anticipated for the initial few months.
Service at this swish eatery is impeccable (we wouldn't expect anything less for their super-escalated prices). As per our server's recommendations, we started with Fried Calamari (Rs 850) and Caesar Salad (Rs 1,250). The former was standard fare – crisp and not rubbery, accompanied by tartare and tomato sauces. The portion was pretty generous too.
It was the salad that introduced the wow factor. On a trip to our table to say hello, Boglione told us how Le Cirque is internationally considered a school for plating, and it was evident in the unique presentation of a staple like our salad. The chef turned the dish on its head, presenting it in a deconstructed manner. Layers of lettuce came generously swathed with parmigiano cheese and topped with anchovies. An egg, sunny side up, sat prettily between a circle of bread. We almost didn't want to take it apart, but that would mean missing out on a dish that tastes as good, if not better than it looks.
Boglione also insisted that we try one of his specialties – Pecorino Cheese Crème Brulee (Rs 850) – and we're glad we did. The idea of a savoury brulee is refreshingly unique, and we loved the dish. It came with lavash-like traingles of bread to scoop up the light, not-too-cheesy brulee and its topping of red onion marmalade (again, thankfully, not too sweet). The smoky and sweet flavours come together well, and make this a must-try dish.
With three appetisers between us, we were moderately full, given the generous portions, so a break between courses was much needed. We took the opportunity to get ourselves a flute of champagne and a decently made Whisky Sour.
20 minutes later, our mains arrived. The Lobster Risotto (Rs 1,950) is a dish that Le Cirque fans across the world count among their favourites. We quite liked it too, but we weren't exactly blown away. What we did appreciate was the generous amount of fresh lobster served. No other restaurant in the city would offer even half the meat.
Our other main was the Paupiette (Rs 2,450) – a dish highly recommended by our server. Again, the plating made this dish look super delectable. A perfectly cooked fillet of halibut, crisp on the outside with a potato crust, and just-enough red wine sauce constitute the dish. We only managed to finish a little over half of it, but the freshness of the fish was a major plus point.
Needless to say, we were stuffed at this point, and anywhere else, we'd have skipped dessert. But a trip to Le Cirque is incomplete without feasting on the Crème Brulee (Rs 550). The restaurant is famous for introducing this supremely dessert popular to the world. In fact, owner Sirio Maccione was recently feted for the same. The dish came to us in a standard looking oval dish, but the best was saved for last. Each bite of the impeccable dessert reveals part of the surface of the crockery, which has the recipe of the crème brulee printed on it.
Boglione's enthusiasm and our love for the unusual also led us to try another dessert – an eggplant based one. As bizarre and unappetising as it sounds, we're happy to report that we loved the Eggplant Mille Foiglie (Rs 550). Once again, the brilliance of the chef, his plating skills and the ability of the restaurant to push the envelope came to the fore. The eggplant factor was in some crisp wafers, which sandwiched white chocolate mousse. Interestingly the dish has no sugar or egg. We found the mousse slightly sweet, but it's still a dish worth trying, and we give it an "A" for effort.
To be completely honest, Le Cirque's food is not entirely worth the deep hole it'll burn in your pocket. But if it's a birthday or anniversary and you're in the mood to splurge, it may be worth your while. Our tip would be to blindly go with the advice of Boglione and his wait staff, whose recommendations turned out to be the most solid dishes of the day.
(PopSplat writers review restaurants anonymously and pay for their meals)
Comments
comments