Direction
Cinematography
Acting
Screenplay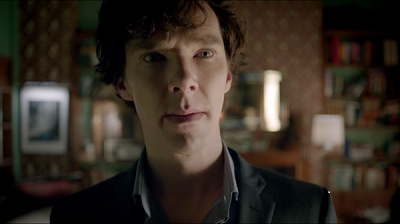 We're not going to lie about it. When Sherlock Holmes (Benedict Cumberbatch) plunged to his death in the finale of Season Two, we died a little with him, and all the fan fiction in the world couldn't change how we felt. Now that we've established our obsessive love for this show, let's come to the good part. The day finally arrived. After a lot of internet scouring and stalking, Season Three is here. But was the season premiere everything we envisioned and more? Not quite, but it did come cl0se.
Without fuss and fanfare, "The Empty Hearse" opened with Sherlock recapping what happened the last time the show took over our screens. Holmes fell to his death seconds after telling John Watson (Martin Freeman) to keep his eyes on him. His escape involved an elaborate bungee jump ending with a suave kiss planted firmly on Molly Hooper (Louise Brealey). And we wondered, could it really be that show creators Steven Moffat and Mark Gatiss were giving away the big reveal so easily? Still your beating heart, for they are not so kind. It was a conspiracy theory concocted by ex-Scotland Yard detective Philip Anderson (Jonathan Aris) about how Holmes faked his death. Right then we realise that this secret is never going to be revealed.
The 90-minute episode takes a while to get into the thick of things. The thick being Holmes' reason for coming back from the dead. But before our beloved detective can get right down to the nitty-gritties of his new mission, we're regaled with what has transpired over the two years since that fateful leap. Watson has grown a tash, its unpleasantness a running gag throughout the duration of "The Empty Hearse." He's got himself a girlfriend whom he plans to propose to. Plus, we learn he's fallen out of touch with sweet old Mrs Hudson (Una Stubbs) at Baker Street. Hooper, on the other hand, has apparently moved on and become engaged to a man with an uncanny resemblance to our protagonist. The thing is, despite our aversion to such recaps, they are inevitable in the grander scheme of things and vital to the flow of events. That said, we sure wish it was more economical in its rendering.
London is graced with Holmes' presence on his brother Mycroft's (played by creator Gatiss) insistence that he help thwart a terror attempt on the city. Before this premise reaches its pinnacle, we were made to sit through a very confusing game of deductions between the brothers. A witty, albeit confusing, back-and-forth between the two ends with Sherlock trying to make Mycroft admit to being lonely. This is not the only head-scratcher Moffat and Gatiss have written. There's a bizarre hoax orchestrated by Anderson involving a skeleton that, for the life of us, we couldn't figure out the point of. Perhaps it's a preamble to the former detective's role in the upcoming episodes.
There was an unusual amount humour injected into the episode; more than we're accustomed to from this show. Most of it comes from the initial interactions between Holmes and Watson, and of course, Mrs Hudon's usual suspicions of homosexuality. It's a riot, though, right from the time the detective tries to get Watson to see through his French garcon disguise down to Holmes pulling a fast one on Watson during a high-tension scene at the end.
The creators know what works, and that is the chemistry between H and W, but their fast quips, aggressive taunts and borderline-flirting are also the result of great acting. Plus, now there's Watson's girl Mary Morstan (Amanda Abbington); a sweet addition to the family.
Do not misunderstand us, we loved "The Empty Hearse." Unfortunately, it's more due to the fact that Sherlock Holmes has actually, really come back. It was inevitable, the slow build-up, the recapping, the re-initiation with the characters. We understand it couldn't have come back with a bigger bang. It's most definitely a deliberate attempt to build up the momentum. Plus, there's new antagonist this season, one who knows how much Watson means to Sherlock and who has the cojones to bomb London. It looks like exciting times are ahead and we can hardly wait.
Watch the next episode of Sherlock Season Three air on AXN India on Jan 10, 2013, 9 pm. 
Comments
comments