The first golden night of the year kicked off in great style, scandal and slurring vocal mishaps as the curtains went up at the Golden Globes 2014. The annual award season's first show set the tone for what could follow with the Screen Guild Awards, Emmys and the coveted Oscars ceremony in the coming months. Both TV and film stars were out in their full finery fresh out of New Year  revelry, atleast that's what we gathered with a few acceptance speeches and red carpet faux pas. While the worthy names won top honours this year, including "12 Years A Slave," "American Hustle," "Gravity," "The Wolf Of Wall Street," "Brooklyn Nine-Nine" and TV royalty "Breaking Bad." Others like "Captain Phillips" got the royal snub by the Hollywood Foreign Press. Nonetheless, there was plenty of jabs and confessions to go round. Here is PopSplat's list of the best moments from Golden Globes 2014.
HOSTESSES WITH THE MOSTEST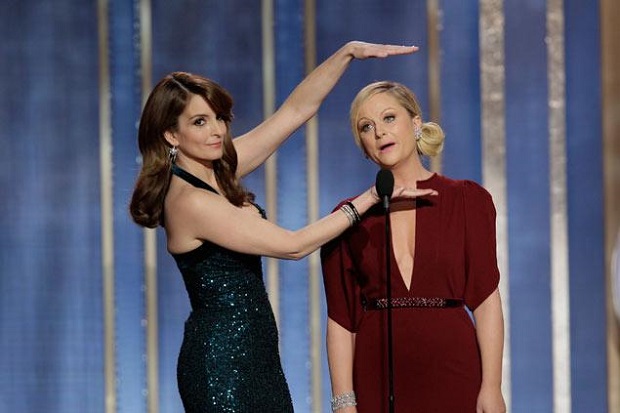 He had his chance, rather three as host of the Golden Globes for three straight years as Hollywood Foreign Press Association hoped he would get his act together. But Ricky Gervais' dry British offense was too much to take as his pentomime-ish gig as host of the award ceremony met with unceremonious exit  this year. Rather TV stars and comics Tina Fey and Amy Poehler got their fun bitches out of the 71st annual Golden Globe Awards, 2014. Their opening monologue spared no one from Girls star Lena Dunham ("If they are forcing the nudity, let us know and we will call child services") to Quentin Tarantino ("The star of all my sexual nightmares"), Ben Stiller, Kathryn Bigelow ("When it comes to torture, I trust the lady who spent three years married to James Cameron") to Sandra Bullock ("George Clooney'd rather float away in space than spend one more minute with a woman his own age").  Poehler and Fey's crisp and cocky humour even bled off stage when the "Parks and Recreation" star Poehler grabbed the opportunity to plant a celebratory kiss on Bono's lips when she won the Globe for Best Actress in a TV Series (Musical or Comedy)
ALFONSO CUARON WON'T GIVE YOU HERPES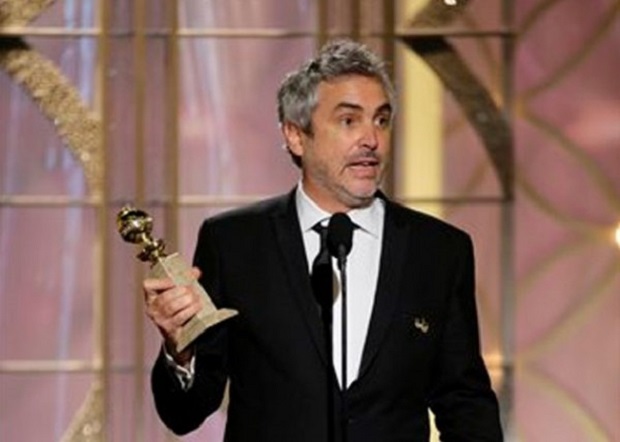 You can rest assured you'll be saved that misery, even as the charming Mexican filmmaker made the reference in jest when he walked up on stage to accept the award for Best Director (Motion Picture) for his expansive tale "Gravity." We almost hastagged #truestory with him when Cuaron praised the film's star Sandra Bullock for being an "amazing collaborator. I want to thank you for not quitting when you thought that I have told you, 'Sandra, I'm going to give you herpes,' when I really meant to say, 'Sandra, I'm going to give you an earpiece.'" Cuaron's witty and sharp speech was endearing and humbling. Something the roomful of Hollywood biggies should take a cue from.
JACQUELINE BISSET SLURS AND SWEARS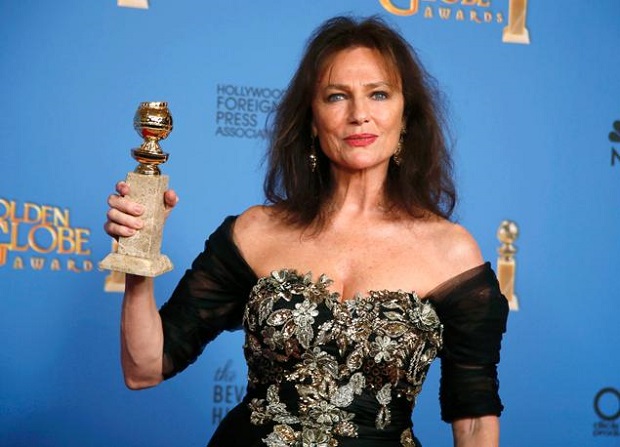 Oh yes she did. The vet Brit actor presented live television it's umpteenth awkward moment, her cringe-worthy, refuse-to-get-played-off-stage speech when she hobbled on stage to accept her Globe for Best Supporting Actress in a mini series for "Dancing On The Edge." If we didn't know any better, we'd be forced to think she still acting out the movie moniker as she took ages to get on stage and then struggled to get a word or two out edgeways. From her ramblings, all we got was "I'm stunned" and "thank you to those who gave me pleasure and shit." Halfway between ranting about how she's been nominated so many times to sounding like Deepak Chopra, Bisset hoped we'd forgive her for being a horrid drunk because she genuinely thought she'd not win. Oh Bisset.
LEONARDO DICAPRIO FINALLY WINS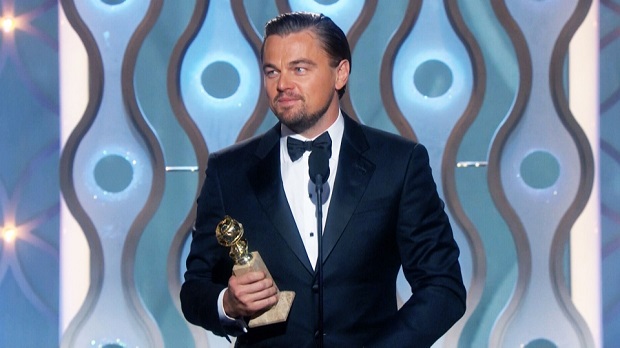 They say second time's lucky and we truly hope so too. It cannot be said enough that the horribly talented DiCaprio has been cheated on many a win in the past, more so of the Oscar kind. The actor has only won an earlier Golden Globe for "The Aviator" in 2004 and this time he picked up his second Golden Globe for his portrayal of Wall Street legend Jordan Belfort in "The Wolf Of Wall Street." We are hoping the Academy Awards will take a cue and honour his talent this year. We are rooting for you Leo.
DIANE KEATON DRESSES UP AS WOODY ALLEN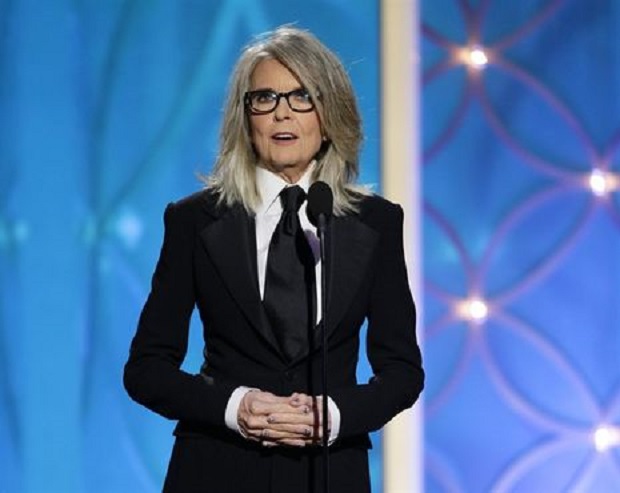 Because Woody Allen wasn't at hand to receive the Cecil B DeMille award, friend and actor who's worked with Allen in "Annie Hall" Keaton came to offer a tribute and receive the honour on his behalf. Keaton came sporting a black tux, tie and Allen's signature frames as she lauded Allen for his movie-making and writing aesthetics. "It's kind of hard for me to wrap my mind around the fact that 179 of the world's most captivating actresses have appeared in Woody Allen's films," she said. "And there's a reason for this. And the reason is, they wanted to. They wanted to because Woody's women can't be compartmentalized. They struggle, they love, they fall apart, they dominate, they're flawed. They are, in fact, the hallmark of Woody's work. But what's even more remarkable is absolutely nothing links these unforgettable characters from the fact that they came from the mind of Woody Allen."She finished her tribute to Allen by singing an a capella version of the Girl Scouts song, Make New Friends. Oh yeah, we were plenty bored from Keaton's address that started off awesome and then went downhill to flattery. Yuck.
EMMA THOMPSON's MARTINI 
Emma Thompson hit the stage with a martini in hand and also her shoes in hand. Because she wasn't wearing them ("I just want you to know, this red, it's my blood," she said about the bottom of her Louboutins). She (almost) sipped her drink mid sentence, refocused on the task at hand, saying "I present the nominees, well, not me the Voice of God, for Best Screenplay." And then she sipped. What she did not have with her onstage was the envelope. It was brought to her, she threw her shoes and handed off her drink.
For all those, who missed out on all this action and the awards, fear not. Here is the complete list of winners at this year's Golden Globes. Think we missed out on your favourite moment? Tell us all.
Film Winners:
Best Motion Picture (Drama) - "12 Years a Slave"
Best Performance by an Actor in a Motion Picture (Drama) -  Matthew McConaughey, "Dallas Buyers Club"
Best Performance by an Actress in a Motion Picture (Drama) - Cate Blanchett, "Blue Jasmine"
Best Motion Picture (Comedy or Musical) - "American Hustle"
Best Performance by an Actor in a Motion Picture (Comedy or Musical) - Leonardo DiCaprio, "The Wolf Of Wall Street"
Best Performance by an Actress in a Motion Picture (Comedy or Musical) - Amy Adams, "American Hustle"
Best Director (Motion Picture) - Alfonso Cuaron, "Gravity"
Best Screenplay (Motion Picture) - Spike Jonze, "Her"
Best Foreign Language Film - "The Great Beauty"
Best Animated Feature Film - "Frozen"
Best Original Song (Motion Picture) -  U2 Ordinary Love, "Mandela: Long Walk to Freedom"
Best Original Score (Motion Picture) - Alex Ebert, "All Is Lost"
Best Performance by an Actor in a Supporting Role in a Motion Picture - Jared Leto, "Dallas Buyers Club"
Best Performance by an Actress in a Supporting Role in a Motion Picture - Jennifer Lawrence, "American Hustle"
Television Winners:
Best Television Series (Drama) - "Breaking Bad"
Best Television Series (Comedy or Musical) - "Brooklyn Nine-Nine"
Best Performance by an Actress in a Television Series (Comedy or Musical) - Amy Poehler, "Parks And Recreation"
Best Performance by an Actor in a Television Series (Comedy or Musical) -  Andy Samberg, "Brooklyn Nine-Nine"
Best Performance by an Actor in a Series, Mini-Series or Motion Picture Made for Television - Michael Douglas, "Behind the                                                                                                                                                                                                                 Candelabra"
Best Performance by an Actress in a Series, Mini-Series or Motion Picture Made for Television - Elisabeth Moss, "Top of the                                                                                                                                                                                                                     Lake"
Best Performance by an Actress in a Television Series (Drama) - Robin Wright, "House Of Cards"
Best Performance by an Actor in a Television Series (Drama) - Bryan Cranston, "Breaking Bad"
Best Mini-Series or Motion Picture made for Television - "Behind The Candelabra"
Best Performance by a Supporting Actor in a Series, Mini-Series or Motion Picture Made for Television - Jon Voight, "Ray                                                                                                                                                                                                                                          Donovan"
Best Performance by a Supporting Actress in a Series, Mini-Series or Motion Picture Made for Television - Jacqueline                                                                                                                                                                                                                                       Bisset, "Dancing On The Edge"
Comments
comments