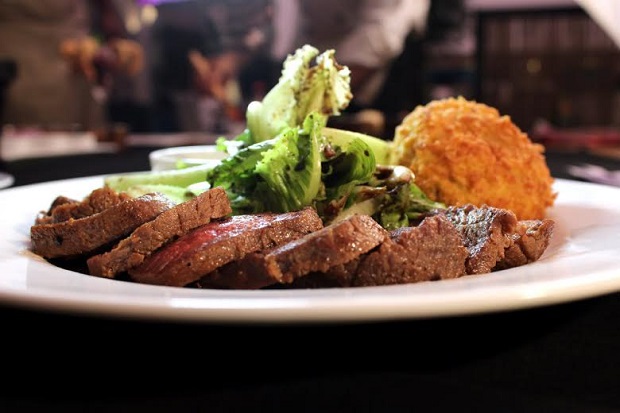 What: Swiss Food Festival
Where: Out Of The Blue, Bandra (W) and Powai
Dates: till January 31 in Bandra and from February 1-9, Powai
PopSplat Recommends: We don't often see food festivals at this local favourite restaurant, but boy, were we glad for this one. The Swiss are known world-over for two foods – cheese and chocolate – and they've used them to their advantage to put together this menu. Out Of The Blue's owner, Mr Bajaj tells us that the idea from the festival stemmed from the fondues that his restaurant has been famous for since over a decade. Of course, we had to sample one then. We picked the most unusual of the lot – made with spinach, garlic and artichoke in addition to the best quality cheese. An adequate portion of crisp bread and veggies ensures that you'll get to the bottom of the fondue dish and event want to lick it clean. We also tried a potato and leek soup, which has a fluffy but thin sourdough cover that must be broken to unveil the soup – an ideal winter dish. Of course, there's shreds of cheese in this one too, but they thankfully don't mask the flavour of the potatoes and leeks. The quiche, Mr Bajaj's favourite, was also subtle in its use of the ingredient. Props to OOTB for serving three mini pieces instead of one giant, heavy one. We also tried some rabbit meat with fettucini, but the dish was a little sweet, and on the whole, pretty ordinary. We didn't try to finish it in order to save room for a Lindt fondue, served with equal halves of dark and white chocolate from the reputed luxury brand. Needless to say, we were very full by the end of our meal, and extremely thrilled with our decision to visit. You should too, because their comfy ambience (they've even done up the place for the festival) teamed with pocket-friendly prices makes it a must-visit.
What: Thai Food Festival
Where: at 24/7, The Lalit, Andheri (E)
Dates: till January 31
PopSplat recommends: The minute we settled in, the server offered us a Mango Galangal juice, which we ended up having four glasses of. The drink is very simple – it's just mango juice, with a kick of bird's eye chilli and kaffir lime – but it's very addictive. The buffet changes every day, but there's ample variety for vegetarians and non-vegetarians. We started with fish and chicken satays, which we're happy to report, were high on flavour. The accompanying peanut sauce too was bang-on. Salads included Som Tam, which we usually dislike for being too spicy. But here, we didn't feel the kick as much, so we enjoyed it. We also tried Khao Phad Kaprao, a rice preparation with veggies, basil and garlic. Here, however, the use of bird's eye chilli was unnecessary and overpowering. There were some delish curries too, and not all coconut-heavy. The red chicken curry was our pick of the lot, and we were happy to dig into a bowlful without any rice or noodles. Avoid the pork, however. It's a very flavourful dish, but the pieces of pork are too tough. From the dessert counter, we had to settle for Kaffir Lime Cheesecake, which was the only Thai-inspired sweet available that day. Full marks to it, for incorporating the flavour subtly and with good results.
Also worth checking out:
Outlets of Pico Express around town are celebrating Republic Day with a street food festival till January 31. Try dishes like Baked Vada Pav, veg and non-veg samosas and even cutting chai as part of the promotion.
Hakkasan is celebrating Chinese New Year from January 27 to February 1, from 7 pm onwards every night. At Rs 2,500 plus taxes per head, indulge in a feast of special dishes that will be available only for the festival.
Pan Asian at ITC Maratha will also usher in Chinese New Year with a festive menu that's available for lunch and dinner, between January 28 and February 4. The a la carte menu will feature home-style dishes like Pan Fried Sea Bass With Honey Pepper Sauce, Mixed Bean Curd And Mushrooms In Soya Garlic Sauce and Boiled Sticky Rice Dumplings.
Indulge in Wazwan food at a Kashmiri Food Festival at Lotus Café, JW Marriott till February 2. Guests will be treated to a buffet with dishes like Rogan Josh, Yakhni, Tabakh Maaz, Modur Pulaav, Sheekh Kebabs, Kheer and Phirnee among several other dishes. The buffet is available only for dinner, for Rs 1,700 per head.
Renaissance Mumbai Convention Centre Hotel in Powai is hosting Friday Grills, an outdoor dining experience at their restaurant Lake View Café. Every Friday, from 7.30-11.30 pm, try their grilled and barbequed dishes with a range of sauces, and spices ranging from Jamaican to Madrasi.
Try signature dishes from three kitchens – Indian, Oriental and Italian – at a newly refurbished Flamboyante in Cuffee Parade. Their new menu boasts of dishes like Cottage Cheese Sticks, Tandoori Jhinga, Lehsuni Khada Palak among others. The buffet is priced at Rs 515 per head. There's also a range of teas and coffees from around the world. For those who crave cocktails, try the Spider Bite or Mint Julep concontions.
Popular Asian eatery Mamagoto has introduced a seasonal menu at its three outlets – Ghatkopar, Kala Ghoda and Bandra (W). On offer are dishes like Crispy Lotus Stem With Burnt Garlic, Tangtze River Grilled Fish/Tofu and South Sulawesi Sticky Rice Wrapped In Banana Lleaf.
Fans of Vikas Khanna's new show, "Twist Of Taste," can now taste some special dishes, which have been given a twist by the celebrity chef. On weekends from January 25 till February 16, Hard Rock Café will serve their popular dishes that have been given a make-over by Khanna. They include Southern Spiced Chicken Taco, Bhuna Chicken Spring Roll, Tandoori Chicken Slider and Caramelised Cucumber Cake. What's more, the dishes are all priced reasonably, with all items between Rs 300-450.
Comments
comments